Elder abuse is a terrible crime that risks the welfare of one of the nation's most vulnerable populations. Unfortunately, elder abuse is much more common than most people realize. According to data from the National Council on Aging, approximately 1 in every 10 seniors over the age of 60 experience elder abuse. The Elder Abuse Suspicion Index is an important part of the effort to try to identify and reduce incidents of elder abuse in the United States.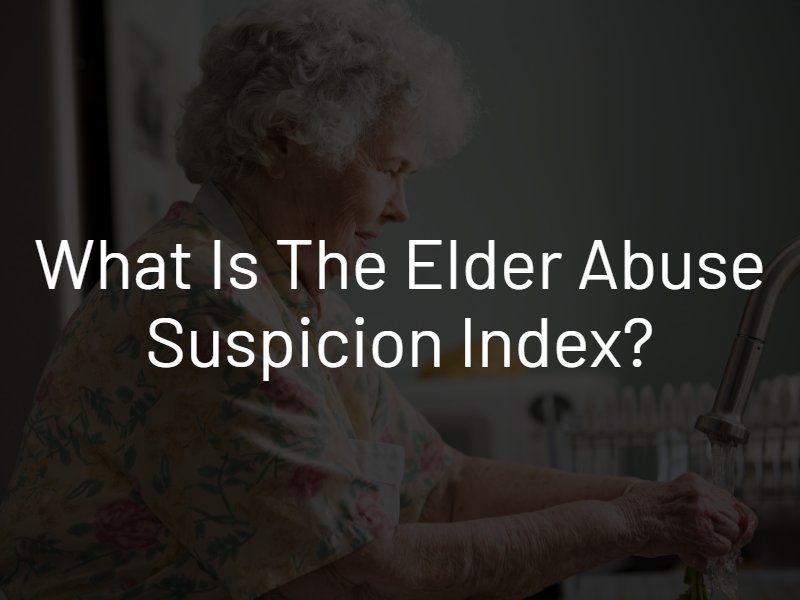 What Is Elder Abuse?
Elder abuse occurs when someone in a position of power over a senior citizen takes advantage of this power to intentionally harm a victim. For example, a staff member at a nursing home may abuse a vulnerable elderly resident physically, verbally or emotionally. Other types of elder abuse are neglect, abandonment, mental or psychological abuse, sexual abuse, and financial exploitation. Elder abuse is a heinous crime that can have serious consequences for a victim, including debilitating physical injuries and an overall decline in health.
The underreporting of elder abuse is a significant problem. Elderly victims often do not come forward to report abuse themselves. This may be due to the physical inability to communicate, the mental incapacity to understand what is happening, fear of not being believed by others or fear of retaliation by the abuser. The National Council on Aging reports that just 1 in 24 cases of elder abuse are reported to the authorities. A system that was created to improve reporting rates is the Elder Abuse Suspicion Index (EASI).
What Is EASI?
The Elder Abuse Suspicion Index is a list of six questions created to help medical professionals who work with senior citizens identify elder abuse and report it faster. The EASI questions are given directly to senior citizens in hospitals, nursing homes and other long-term living facilities. With help from the attending medical professional, the EASI questions can help identify potential cases of elder abuse or exploitation. The questions are as follows:
Within the last 12 months:
Have you relied on someone else for bathing, dressing, shopping, banking and/or meals?

Has anyone prevented you from obtaining medical care, medications, glasses, hearing aids, food or clothing or seeing your loved ones?

Have you felt upset because someone treated or talked to you in a way that made you feel shamed or threatened?

Has anyone tried to force you to sign anything or use your money in a way that you did not want to?

Has anyone hurt you physically, touched you in a way that was unwelcome or made you feel afraid?

For the doctor – did you notice any of these today or in the last 12 months: withdrawal or isolation, malnourishment, lack of eye contact, poor hygiene, cuts or bruises, inappropriate clothing, or failure to comply with medications?
The recipient of the questionnaire should answer yes or no to these questions. After all six have been asked, a response of "yes" on one or more of questions two through six should raise a red flag for potential elder abuse and warrant further evaluation by experienced professionals, such as adult protective services. A study of the EASI questionnaire concluded that 97.2 percent of health care professionals found that the assessment would impact their practice for these cases.
What to Do if You Suspect Elder Abuse in Omaha, NE
If you suspect any form of elder abuse as a health care professional, nursing home staff member, or friend or loved one of a senior citizen, take immediate steps to protect the victim. Remove the individual from the care of the alleged abuser and take him or her to a safe place. Report your suspicions to the proper authorities, including the police, management at a nursing home or hospital, and adult protective services. Then, contact an elder abuse attorney in Omaha to discuss the senior citizen's legal rights.