The "greying" of America is a very serious issue that is discussed on news shows on a nearly daily basis.  While the news reports are typically concerned with financial issues such as social security, what goes unmentioned is the rising number of elderly individuals who are making the move into nursing homes and other assisted living facilities.  We are living longer than ever and many families do not have the appropriate resources to care for their aging parents.  Therefore, nursing homes and assisted living facilities offer a convenient option for families who want to ensure their loved ones receive the care they need during this stage in life.  However, the knowledge that our loved ones have been subjected to ongoing abuse at the hands of their caregivers can send a wave of guilt over us for essentially placing them in harm's way.  It is important to remember that it was not your actions, but the actions of specific workers which led to ongoing elder abuse, and these individuals should be held accountable.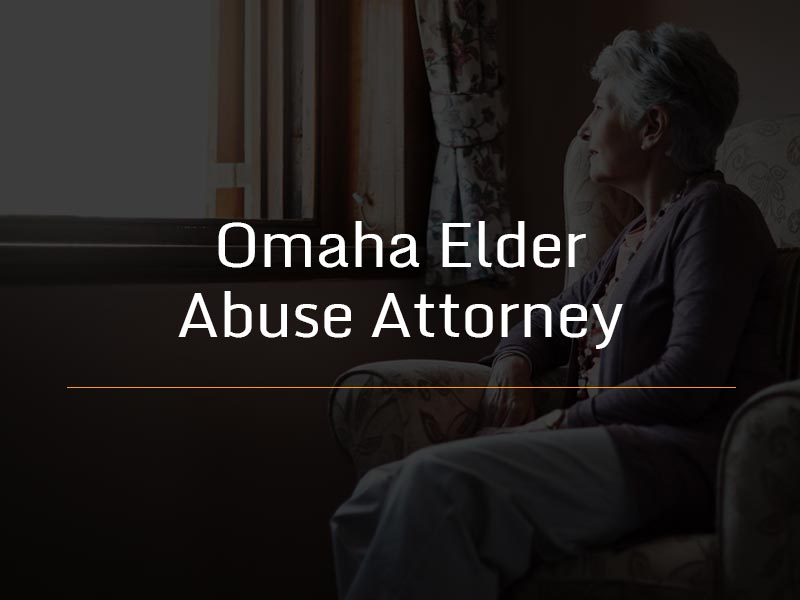 Elder Abuse Facts
Elder abuse has been a long-recognized problem for the last twenty years.  In 1996, studies indicated that approximately 450,000 adults over the age of 60 were victims of some form of elder abuse.[1]
Elder abuse is often broken out into two different categories: physical and psychological abuse.  Both types of abuse can either be caused by intentional or negligent behavior.  Intentional physical abuse will often lead to obvious physical harm to the elderly victim.  As a family member, you should often be on the lookout for any signs of physical abuse, including bruising.  Physical abuse may also stem from negligent caregivers who do not appropriately care for your elderly loved one.  This is often indicated through severe bedsores and related injuries.  Many caregivers will assume that family members will not be able to see physical injuries to their loved ones, especially in situations where the elderly family member is unable to communicate.  Therefore, it is often up to you to continuously observe the interactions and movements of your family members.
Psychological abuse is often the hardest to track, as it can impact your loved ones in a number of ways.  Nursing home staff may attempt to receive financial compensation from your loved ones, such as through coercing your loved one to include them in their will, requesting that your loved one co-sign on a large purchase, or even simply turning your loved one against you.  Nursing homes and assisted living facilities can appear to be a type of jail for several elderly residents, and finding a perceived "kind" ear to listen to their trials and tribulations is often what leads to ongoing psychological abuse.  It is therefore important to always stay involved in your loved one's care.
Different Forms of Elder Abuse
The more you know about elder abuse, the easier it can be to identify and stop an abusive situation. Within the two main categories of elder abuse are additional types of abuse: verbal, emotional, mental, sexual and financial. Elder abuse of any kind could cause significant and even fatal injuries to an elderly victim.
Physical abuse. Intentionally physically harming a senior citizen is a criminal act of abuse. Using physical force that results in bodily injury, pain, distress or death is physical abuse. This can include punching, slapping, kicking, stomping, biting, suffocating or burning.
Emotional abuse. Verbally, mentally or emotionally abusing a senior citizen can lead to significant harm. Examples of emotional abuse are harassment, intimidation, threats, humiliation, and isolation.
Sexual abuse. Sexual abuse is any sexual touching, fondling, intercourse or other sexual activities with an older adult against his or her will. Sexual activities when the elder is unable to consent, threatened or physically forced are sexual abuse.
Neglect is the intentional or careless failure to fulfill the needs of an elderly person. This can include physical, emotional or psychosocial needs. Neglect can lead to infections, bedsores, malnutrition, dehydration, emotional distress, an overall decline in health and wrongful death.
An elder could also suffer financial abuse or exploitation. Financial abuse can cost the victim thousands of dollars in monetary and asset losses. Financial exploitation can come in the form of deceit, fraud, scams or intimidating the senior into making changes to his or her will. Financial exploitation may come with physical or emotional abuse.
Types of Elder Abuse Injuries
Physical elder abuse can be detrimental to a victim. A physical abuser can inflict serious, life-threatening injuries on a vulnerable senior citizen. Physical abuse can cause new injuries as well as exacerbate existing conditions. Be aware of the most common types of injuries associated with elder abuse to detect whether your loved one is suffering an abusive situation in a nursing home or by a caregiver.
Broken bones
Bruising or lacerations
Dislocation or sprains
Bedsores
Internal organ damage
Malnutrition
Mental health declines
Ask questions about a recent injury your loved one has suffered or frequent trips to the hospital. If the explanation seems suspicious or does not make sense, contact an attorney at the Knowles Law Firm about potential elder abuse. Call the police and remove your loved one from the nursing facility if he or she is in imminent danger.
Ways to Prevent Elder Abuse
It is always better to prevent elder abuse than to have to deal with the aftermath of abuse. One of the best ways to prevent abuse is to be careful in choosing the caregiver or nursing home in charge of your loved one's care and wellbeing. When choosing a nursing home, look for positive reviews and testimonials. Visit the nursing home in person to see what it is like. Look for signs of a potential problem such as unsanitary or dangerous premises, staff members yelling at residents or each other, low-quality meals, or unkempt residents. Interview multiple caretakers or visit several nursing homes before making your decision.
Stay in touch with your elderly loved one after he or she enters the care of a third party. Visit and communicate as much as possible. Keeping in touch will allow you to see your elder's typical disposition, appearance, and state of mind. This can allow you to notice changes, such as declines or depression, faster. Avoid isolating your loved one. Let him or her know you are available to listen and can help with an abusive situation. Never allow your loved one to live with a person or family member who is prone to domestic violence, abuse or angry outbursts.
Elder Abuse Liability
The assisted living home or the nursing home should be held liable for any form of elder abuse that occurred in their facility.  While only one staff member may be responsible for the abuse, the facility has a duty to ensure their staff has been through rigorous background checks and training.  The victim of elder abuse is entitled to receive compensation for their injuries, as well as compensation to cover the psychological impact of these injuries.  A consultation with an experienced personal injury attorney will help you determine the total amount of damages your loved one is entitled to receive.
The Knowles Law Firm | Omaha, Nebraska
If your loved one has been the victim of elder abuse, do not hesitate to contact the attorneys of the Knowles Law Firm.  Our attorneys have years of experience in assisting victims with recovery after instances of elder abuse.  Contact our Omaha, Nebraska office today for your initial free consultation.
[1] http://www.ncea.aoa.gov/resources/publication/docs/finalstatistics050331.pdf
ACCOLADES AND NEWS