Brain injuries have moved to the forefront of a national conversation regarding the seriousness of mental disease and the impact small head traumas may have on this.  Brain injuries are often difficult to receive accurate settlement offers from since many small brain traumas will have a lasting impact in the years to come, which may be difficult to predict.  However, brain injuries are now recognized for the serious injury they are, and the party accountable for the accident leading to the injury should be held liable for the resulting injuries, including the future projected costs of treating the injury. If you've been the victim of another's negligence which led to your traumatic brain injury, contact the Omaha traumatic brain injury attorney at Knowles Law Firm.
Why Choose Our Omaha Traumatic Brain Injury Lawyer?
We have a

track record of success

and over 50 years of legal experience. Our brain injury attorneys can take on even the most complicated case.

We care about our clients. We know a brain injury case is about much more than financial gain, and will personalize our legal strategies to address your unique needs. 
Our lawyers operate on a contingency fee basis, meaning we don't charge a fee unless we win your case. You will pay your brain injury lawyer $0 upfront.
How Can a Traumatic Brain Injury Lawyer Help?
Brain injury cases in Nebraska are complex. They often require medical experts to testify regarding how the brain injury will impact the victim's life and future. This can allow a jury to see the effects the injury will continue to have on the victim, such as future estimated medical costs. A lawyer can hire experts who are at the top of their field to testify during your case. Your lawyer can also conduct a thorough investigation of the accident that gave you the injury and collect evidence to support your case against one or multiple defendants.
No matter how much a brain injury has upended your life, an insurance company will not have your best interests in mind during settlement negotiations. You may be faced with bad-faith tactics such as inadequate settlement offers or a wrongful claim denial in an attempt by the insurer to save money. An attorney can protect your rights during conversations with an insurer and negotiate aggressively for optimal case results. In the event that your case has to go to court, a lawyer can represent you at trial to fight for maximum financial compensation.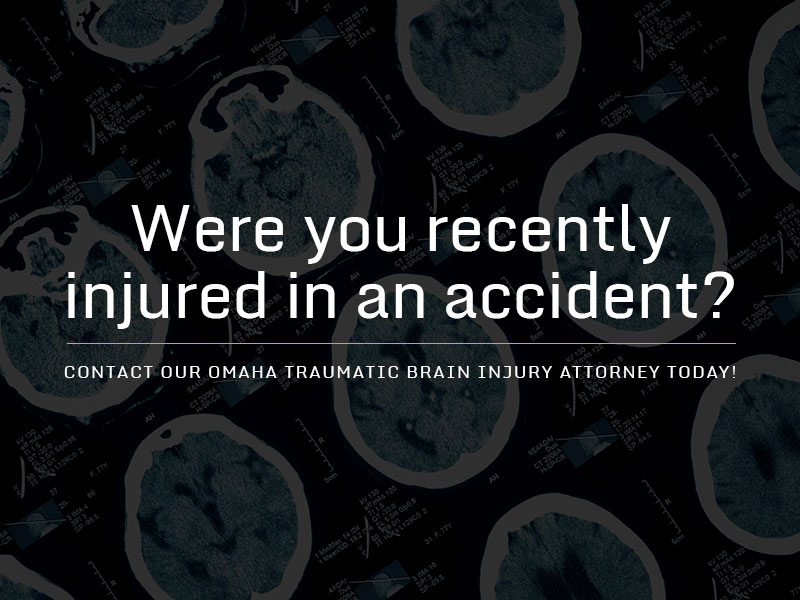 What Is a Traumatic Brain Injury and How Is it Diagnosed?
A traumatic brain injury can occur when something impacts the head or brain with enough force to cause damage. A brain injury can temporarily or permanently affect brain cells. This can cause physical and/or cognitive changes in the victim. A traumatic brain injury comes from external forces, while an acquired brain injury stems from internal trauma.
If a victim notices potential signs of a brain injury, he or she should see a doctor. The doctor will perform a physical examination of the patient, including reflex tests. Then, the physician may order additional scans and tests, such as CT scans, to detect damage in the brain. Brain injuries such as swelling or bleeding may appear on CT scans and x-rays. From there, the physician will refer the patient to a specialist or recommend treatment.
Traumatic vs. Acquired Brain Injury
 Nebraska has founded several councils dedicated to raising awareness on the prevalence of brain injuries, many of which go undetected for years.  Brain injuries can be categorized into various levels of severity, including:
Traumatic brain injury
Acquired brain injury
Mild brain injury
Traumatic brain injury refers to an injury caused by a direct blow to the head and can range from mild to extremely severe.  Acquired brain injury is an injury which is non-traumatic, such as brain injuries sustained from drowning, stroke, or lightning strike.  A mild brain injury does not refer to the scope of the injury itself, but to the physical trauma which caused the injury.
Brain injuries are often the result of a car accident, boat accident, or other unfortunate accident.  As a result, these injuries are often treated shortly after the accident but may be overlooked in terms of future recovery.  An experienced Omaha personal injury attorney will be able to assist you in better forecasting an appropriate level of damages
Types of Brain Injuries
Traumatic brain injuries can take many forms. Each kind of brain injury can have different potential consequences based on the severity of the damage and the location of the injury. It is often said that there is no such thing as a minor brain injury, as even one that is classified as mild can result in life-changing symptoms for the victim. Common types of traumatic brain injuries are: 
Concussion

Contusion

Hematoma (bruising)

Edema (swelling)

Hemorrhage (bleeding)

Diffuse-axonal injuries

Coup-contrecoup injuries

Penetrating brain injuries

Second-impact syndrome
At Knowles Law Firm, our personal injury attorneys can help if you or a loved one has been diagnosed with any type of brain injury after a preventable accident in Omaha. We have decades of experience helping clients with traumatic brain injuries, and understand what these cases need to succeed. We stay up to date about the latest information on the effects that brain trauma can have on a survivor to achieve the case results that they deserve.
Traumatic Brain Injury Causes and Cases
The Centers for Disease Control and Prevention have recognized that traumatic brain injuries are the cause of about 30 percent of all injury deaths.[1]  Traumatic brain injuries often occur after serious accidents involving a blow to the head which can jolt the normal function of the brain.  In 2010 along, about 2.5 million emergency visits and hospitalizations involved traumatic brain injuries. Children are especially susceptible to lasting injuries after a blow to the head since their brains are still developing.
The brain is a delicate organ that can suffer damage in many different circumstances. Any impact that causes the brain to move around in the skull or strike its sides could cause a significant injury. Certain victims in Omaha have higher risks of sustaining brain injuries than others. Trauma to the head or brain via an open or closed head injury could occur in many types of accidents.
Penetrating head injuries
Workplace accidents
Struck-by object
Acts of violence
Sports impacts
Diving accidents
Amusement park rides
Identifying the cause of a brain injury could help the victim hold someone liable. The party most at fault for causing the brain injury could be financially responsible for damages. In these situations, the injured victim may have grounds to file a tort claim against the at-fault party or parties. A brain injury lawsuit starts with recognizing who caused the accident.
Types of Traumatic Brain Injuries and Symptoms
A common kind of brain injury is a concussion. This is a mild traumatic brain injury. Other types of injuries to the brain include hematoma, diffuse axonal injury, edema, hemorrhage, contusion, and a penetrating injury. When the brain sustains damage, the victim can suffer many different symptoms. Each patient will have a unique experience. The type of brain injury and its effects will depend on the part of the brain injured, the severity of the impact and many other factors.
Confusion
Disorientation
Dizziness
Memory loss
Trouble speaking
Sensory issues
Headache
Nausea or vomiting
Sleep problems
Mood changes
Seizures
Loss of consciousness
After any potential signs of a brain injury, a patient should seek medical treatment. Traumatic brain injuries are extremely serious. A patient can change status in a matter of seconds. The best thing a patient with a brain injury could do is get immediate medical care. A serious injury may require surgical intervention to stop bleeding in the brain or release pressure due to swelling. Sometimes, brain injury symptoms occur hours or days after the injury. It is important to go to the hospital after hitting your head in an accident, whether you notice symptoms right away or not.
Brain Injury Symptoms vs. TBI Symptoms
A traumatic brain injury affects the body differently than a non-traumatic or acquired brain injury. While traumatic brain injuries occur in one-time disasters, non-traumatic brain injuries can stem from internal factors, such as a loss of oxygen reaching the brain, a stroke, a tumor, an aneurysm, and infection or exposure to toxins. The potential symptoms of a non-traumatic brain injury include:
Impaired physical abilities

Muscle weakness or spasms

Forgetfulness

Trouble concentrating

Altered personality or behaviors

Changes in sleeping patterns

Fatigue or lethargy

Depression or chronic anxiety

Impaired ability to communicate

Seizures

Loss of consciousness
A traumatic brain injury can have many of the same symptoms as an acquired brain injury. However, TBIs caused by a bump or blow to the head are often accompanied by a persistent headache, vision problems, nausea and other physical symptoms. Both types of brain injuries can inflict lifelong impairment or disability on a victim.
Common Testing for TBI
Health care providers rely on a variety of medical tests and procedures to diagnose a traumatic brain injury. If a patient visits a hospital with potential signs of a brain injury or after being involved in an accident, a doctor will start the assessment with a physical examination and neuro-check. This is a series of questions and tasks to assess how well the patient's brain and body are working. Then, the doctor may recommend the following tests: 
Imaging tests:

scans such as x-rays, CTs and MRIs are used to take images of the patient's brain. A complete picture of the brain can show whether it is bruised, bleeding, swollen or has other damage. A device known as an intracranial pressure monitor may also be placed inside the head to measure the amount of pressure inside the victim's skull.

Glasgow Coma Scale (GCS):

this scale is used to measure the severity of a TBI using the patient's level of functioning in three areas – ability to speak, open the eyes and move. A rating of 13 or higher on the GCS represents a mild brain injury, 9 to 12 is a moderate TBI, and 8 or below is a severe TBI.

Measuring the level of the TBI:

a

physician may gauge the level of the TBI using the patient's level of consciousness, memory loss and GCS score. If a patient does not lose consciousness and has a GCS of 13 to 15, it is a mild brain injury, while being unconscious for more than 24 hours with memory loss that lasts more than 7 days and a GCS of 8 or lower is a severe TBI.

Ability tests:

a doctor may perform various ability tests to determine the extent of the brain injury, such as speech and language tests, communication tests, swallowing ability tests, breathing and lung function tests, cognitive tests, and neuropsychological assessments.

Blood tests:

blood tests can be used to detect two proteins that have been identified as being released by the brain into the bloodstream when a mild concussion occurs. Using a blood test as a preliminary test can determine if a TBI is unlikely to appear on a CT scan, eliminating the need for unnecessary testing.
Visiting a doctor right away after a head injury can make sure the proper tests are performed to promptly and correctly diagnose you with a traumatic or acquired brain injury. Keep in mind that the symptoms of a TBI are not always immediately apparent. Visit a hospital immediately, even if you initially feel fine. A doctor can perform the appropriate tests to diagnose your brain injury (and treat it) before symptoms arise.
Brain Injury Recovery
Brain injuries often go undetected shortly after an accident, which only leads to further complications in terms of treating the injury as well as correctly projecting the correct amount of damages after an accident.  Personal injury claims are often brought after an accident and will include medical expenses, lost wages, and other items in the full claim.  However, in cases such as brain injuries, it may be difficult to fully project what type of expense an injured party will need in the future, especially when the full scope of the brain injury does not manifest itself until years, even decades later.
An experienced personal injury attorney can assist you in working through these issues and will take into account medical professional's opinions, as well as your ongoing progress to recovery in calculating an appropriate claim amount.  Many brain injuries will lead to a full recovery while others may result in a slow deterioration of mental cognition.  The attorneys of the Knowles Firm will closely consult with many different medical professionals to ensure you receive the amount in damages you deserve for your injuries.
Long-Term Effects
Unfortunately, some people never fully recover from brain injuries. Many doctors refer to the treatment process as lifelong recovery. Most patients experience rapid improvement in the first six months. From there, however, progress can plateau and occur more slowly with time. The long-term effects of a traumatic brain injury can include cognitive problems, developmental delays, learning issues, speech impediments, physical challenges, memory loss and more. A patient could be permanently disabled from a bad brain injury. With treatments and rehabilitation, however, many patients can make full recoveries from brain damage.
Potential Recoverable Damages
The damages or monetary awards recoverable in a traumatic brain injury claim can range from medical expense reimbursement to punitive damage awards. You and your family could recover the full costs of your brain injury: hospital bills, future health care, lost wages, lost earning opportunities, physical pain and emotional suffering. A severe brain injury could be worth a significant amount of money with help from an attorney.
What Is the Statute of Limitations on a Brain Injury Claim in Nebraska?
A statute of limitations is a legal deadline by which a plaintiff must file a claim in Nebraska, or risk losing the right to recover financial compensation forever. The courts typically refuse to hear a case that is filed past its deadline. Each state has different statutes of limitations. In Nebraska, the general deadline for a personal injury claim is four years from the date of the accident or the date the injury was discovered (or should have been discovered with reasonable diligence).
However, there are some exceptions to the rule. If you suffered a brain injury in an assault, for example, the statute of limitations is just one year. If you do not discover your brain injury immediately, the statute of limitations will be tolled, or paused, until the date of discovery. In addition, injured minors are given more time to file; their statute of limitations is four years from the age of majority, which is 19 in Nebraska. The best way to ensure you meet your deadline is by contacting a brain injury attorney as soon as possible.
Work With Our Omaha Traumatic Brain Injury Lawyer
If you or a loved one have received a brain injury after an accident, do not hesitate to contact the attorneys of the Knowles Law Firm.  Our attorneys have years of experience in handling brain injury claims and we have many different experts we turn to in calculating the amount in damages related to brain injuries.  Contact our Omaha, Nebraska offices today for your initial free consultation.
[1] http://www.cdc.gov/traumaticbraininjury/get_the_facts.html
ACCOLADES AND NEWS