Playgrounds represent a common location for young children and their parents. Playgrounds are easy places to take children for interaction, stimulation, and exercise. As parents, our trust in playgrounds may shatter after a playground accident occurs which can be caused by a defective product, the actions of another child, or the negligent behavior of a caretaker in properly supervising your child. If your child was injured in a playground accident, you may be entitled to bring a claim for damages against the responsible party.
Why Choose Knowles Law Firm?
We stand by injured children and their parents. We are a client-centric firm that cares about the safety of children in the Omaha community.
We have spent years in personal injury law. Our attorneys spend each and every day fighting for the rights of injured accident victims.
We have won millions of dollars for past clients. Our case results prove our ability to obtain a fair recovery for clients.
We offer 100% free initial consultations. You can receive answers to all your questions from an attorney at no charge or obligation
Does Your Family Need a Lawyer?
Playground injuries can be severe for children. A playground injury could cause temporary disability, physical growth impacts, changes in development, social isolation, missed time from school and other serious problems for your child. An Omaha playground injuries lawyer from Knowles Law Firm can help you and your family fight for full compensation for these damages from the accountable party. One of our attorneys will not allow an individual, school, government entity or insurance company to take advantage of you during the claims process. We will stand by your side.
Playground Injuries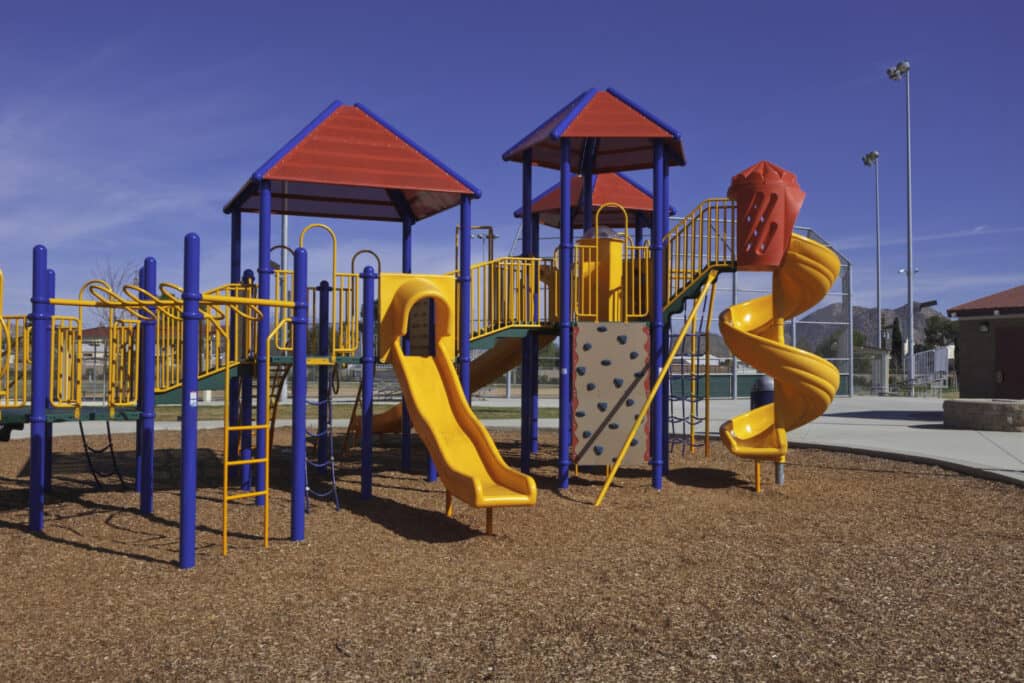 According to the Centers for Disease Control and Prevention, about 200,000 children are treated for playground injuries each year. The vast majority of these injuries occur in public playgrounds, although the majority of deaths caused by playground accidents occur on private playgrounds. Children are more likely to injure themselves on "climbers" within public playground sets than any other item. The most common playground injuries include:
Bone fractures
Concussions and head injuries
Cuts and scrapes
Dislocations
Fall injuries
Pinched skin or fingers
Sprains and strains
Strangulation
It is easy to see how parents who have playgrounds in their backyard eventually put enough faith in the safety of the playground equipment and their child that they do not consistently supervise playtime.  However, children who are visiting the private playground may not be aware of all the quirks of one playground set or may not be experienced enough to be on a playground by themselves. Failure to supervise a child on a playground can cause serious injuries and even death. Swings are a common cause of injuries for private playgrounds, although any piece of a playground set can cause serious injuries.
Premises Liability for Playground Injuries
The foundation of many playground injury cases is premises liability. This doctrine states that the owner or controller of premises will be legally responsible for what happens on those premises – including accidents that cause guest injuries. A property owner may face financial liability for a guest's injuries if he or she negligently failed to prevent the accident. The owner of a playground could be liable for child injuries on the premises if it reasonably should have prevented them through responsible property maintenance.
Regularly inspecting the playground for hazards
Repairing or replacing broken playground equipment
Paying attention to recalls on defective playground equipment
Installing safe ground materials
Posting signs warning guests of known risks
Providing adequate lighting and security
Protecting children from dog attacks
Separating equipment for older and younger children
If a school, organization, individual or the government fails to properly maintain a playground in its jurisdiction, that party could be liable for subsequent child injuries. It will be up to the parent or his or her attorney to prove the entity negligently breached one of its duties of care and that this is what caused or contributed to the playground accident. A lawyer from Knowles Law Firm can help with this burden of proof, fighting for fair compensation on your family's behalf.
Playground Injury Recovery
Property owners are often the responsible party for any injuries which occur on playgrounds. However, depending on the type of injury, the playground manufacturer may also be held liable. If you leave your child with a neighbor or friend, you should expect that the individual will properly supervise your child when they are on playground equipment. The failure to properly supervise your child may result in liability against this person for their negligent behavior.
A manufacturer may also be liable for a defective product as part of the playground equipment. A personal injury attorney will have the tools to fully investigate the source of the liability and bring a claim against the appropriate individuals.
Playground injuries can have a lasting effect on your child, both physical and psychological. The responsible party can be held liable for the following expenses:
Medical expenses
Rehabilitation expenses
Future earnings (in unique situations)
Pain and suffering
The defendant may also owe you compensation for your legal expenses and punitive damages, depending on the circumstances. A personal injury attorney will work closely with you to fully develop the claim and all related calculations.
Can You Bring a Claim Against the Government?
Many playground accident lawsuits name the government as the defendant. This might be the case if your child suffered an injury at a school in Omaha or on a public playground. Public schools and school districts are government entities. Claims against the government work differently from claims against private parties in Nebraska. These lawsuits must obey the stipulations of the Nebraska Tort Claims Act.
You or your lawyer will need to file the correct claim form with the State Risk Management Board if your case is worth $5,000 or less, or the State Claims Board if it is worth $5,000 to $50,001. If your case is worth more than $50,001, the Nebraska State Legislature will need to approve your claim. If the board denies your claim, your lawyer may then bring it to court. Claims against the government often come with tighter deadlines than typical tort claims. Act fast if your child suffered a serious injury on a publicly owned playground to avoid missing your time limit.
What If Your Child Is Injured on a Private Playground?
If your child was injured while playing on a private playground, such as at a private school, private daycare, privately owned recreational facility, private company or someone's home, you still have legal recourse. Rather than naming the government as the defendant, you can name the owner of the private property in your claim, if the owner was at fault for failing to maintain safe premises. You may have grounds to hold a private property owner liable if any of the following injured your child:
A property hazard. If the injury was caused by defects on the premises, such as poor property maintenance or old and rusty playground equipment, the private property owner can be held responsible for failing to ensure a safe play area for children.

A fall accident

. Playground hazards such as uneven play surfaces, rocks or sticks, cracked cement, tree roots, and climbing equipment can lead to painful fall accidents for children. The failure to prevent a fall can place injury liability on the property owner.

A lack of supervision. On private property, it is the property owner's responsibility to ensure the safety and wellbeing of child guests. This includes properly supervising children on the playground. A lack of supervision can point to property owner negligence.

An attractive nuisance. An attractive nuisance is something dangerous on a property that is also attractive to children, such as a swimming pool or trampoline. Property owners in Nebraska have special duties of care regarding attractive nuisances. Failing to keep children away from the hazard – including trespassing kids – can lead to fault for an injury.

A dog attack

. If your child was attacked by a dog while playing on a private playground, the owner of the property and/or owner of the pet could be held liable. Keeping the property free from dangerous and vicious dogs and properly controlling pets are a property owner's legal responsibility.
If the private property owner should have done more to prevent your child's playground injury, he or she can be held personally responsible. A private property owner will most likely pay through his or her homeowner's insurance or renters insurance policy. If your child was injured at a privately owned business, the owner's commercial insurance may pay for your bills. It is up to you or your attorney, however, to prove your playground injury claim against a private property owner.
Deadline to File a Playground Injury Claim in Nebraska
All personal injury claims in Nebraska have a deadline called a statute of limitations. This is a law that limits the amount of time an injured victim – or the victim's parent – has to file a civil claim. This deadline can vary according to the type of accident and the age of the victim. In most cases, a personal injury lawsuit in Nebraska must be filed within four years of the date of the accident or injury discovery. Cases involving injured children, however, are exceptions to the rule.
When a child suffers an injury because of someone else's negligence, the statute of limitations is "tolled," or paused. The courts will pause the civil statute of limitations until four years after the child has turned the age of majority – which is 19 in Nebraska. In other words, a child has until age 23 to file a claim for his or her own losses connected to a playground accident, such as a permanent disability or pain and suffering. 
The parents of the child, however, will still only have four years from the date of the accident to file a claim for medical bills and their own losses. If a child passes away from a deadly playground accident, his or her parents have two years from the date of the death to file a wrongful death lawsuit in Omaha. Protect your family's rights by contacting an attorney immediately after a playground injury in Omaha.
The Knowles Law Firm | Omaha, Nebraska
If your child received an accident on a public or private playground, do not hesitate to contact the attorneys at Knowles Law Firm. Our attorneys have years of experience in handling all sorts of personal injury cases. Contact our Omaha, Nebraska office today for your initial free consultation.
ACCOLADES AND NEWS