Much of the United States has worked hard to catch up to the pedestrian-friendly cities of Europe.  This has led to a revitalization of downtown communities, new attractions within walking distance of each other, and safer crosswalks.  However, this increase in the number of pedestrian-friendly locations has not increased the attention of car drivers on the roadways of the country. 
Car and truck drivers continue to ignore pedestrians, bicyclists, and motorcyclists on many intersections, crosswalks, and other protected areas, resulting in an increased number of pedestrian accident victims. If you or a loved one have been injured in a pedestrian accident, you may be entitled to receive compensation for your injuries with the help of an Omaha Personal Injury Attorney.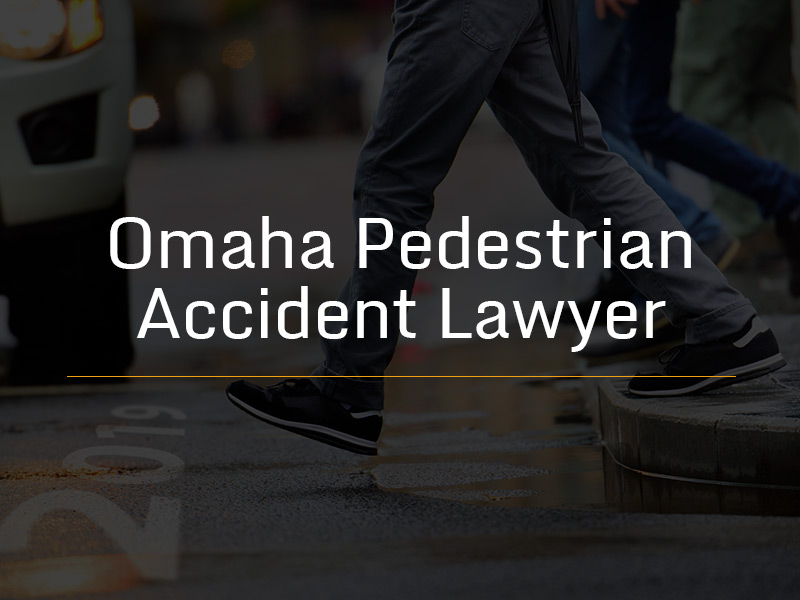 Rate of Pedestrian Accidents
The growing awareness of pedestrians on the roadways has helped to bring down the number of pedestrian accidents tremendously throughout Nebraska. The number of pedestrians injured in accidents has dropped from nearly 700 in 1990 to nearly 400 in 2014. This is almost a 50% decrease in the number of pedestrians involved in accidents. The number of pedestrians killed in Nebraska has experienced a similar decrease in numbers, from a peak of 26 in 1990 to only 9 in 2014. While these numbers should be zero, the decrease in the number of injuries and fatalities represents a step in the right direction and a better awareness of our surroundings.
However, a similar trend is not visibly evident on a national scale, as the number of pedestrian fatalities has remained relatively stagnant in the last ten years. In 2004, the National Highway Traffic Safety Administration reported 4,675 pedestrian fatalities compared to 4,735 reported in 2013. The majority of pedestrian accidents occur in an urban setting, and commonly at intersections.
Who Is Most at Risk?
All pedestrians are vulnerable road users, regardless of age or disability. They all deserve special care and attention from drivers in Omaha. Yet some pedestrians are more at risk than others due to physical or mental incapacities. Drivers should take extra caution around pedestrians when they recognize certain at-risk roadway users.
The elderly
Children
Distracted pedestrians
Pedestrians who are texting and walking
Alcohol-impaired pedestrians
Blind pedestrians (those with sticks or seeing-eye dogs)
Pedestrians with physical disabilities
Pedestrians in wheelchairs
Drivers need to be extra careful in zones where these vulnerable pedestrians are more likely to cross the road, such as near schools, daycare centers, nursing homes, community centers, and hospitals. Areas with increased foot traffic are also higher danger zones for pedestrians. This includes downtown Omaha, Lincoln, and other urban areas in Nebraska. Drivers need to always share the road carefully with bicyclists and pedestrians.
Who Is Liable?
The liable, or at-fault, party in a pedestrian accident case will be the person or entity most responsible for causing the collision. The most obvious liable party is the driver that struck you. If the driver was texting and driving, speeding, running a red light or ignoring your right-of-way, he or she could be accountable for your damages. Another possible defendant is the City of Omaha. The city could be responsible for paying you if a defective sidewalk, poorly designed crosswalk, broken traffic light, dangerous construction site or another hazard contributed to your accident. Our attorneys can investigate your collision case to help you determine fault.
Pedestrian Accident Recovery
Pedestrians have almost no protection when faced with a motor vehicle barreling directly at them. As such, injuries can often be severe, requiring weeks of medical care. You should not be forced to cover medical expenses and the potential loss of a job when you were simply taking advantage of a great day outside. The responsible motor vehicle driver should be held liable for any injuries sustained in an accident. An experienced personal injury attorney can better assist you in walking through your individual claim and calculating out the total amount of damages your injuries are worth.
Past medical bills – paid or outstanding
Future health care costs for a permanent injury
Disability expenses and special accommodations
Physical pain and suffering
Emotional, mental and psychological distress
The loss of a loved one's care and companionship
The loss of parental guidance
Lost quality of life
In a pedestrian accident case involving a drunk driver or another act of gross negligence or recklessness, an Omaha judge may also award punitive damages as a means of punishing the defendant. Punitive damages may also be appropriate if your damages were severe enough that the judge believes a compensatory award is not sufficient to help you recover. Working with one of our attorneys can help you maximize your damage award.
What to Do After a Pedestrian Accident in Omaha
At Knowles Law Firm, our team cares about clients. We advocate for pedestrian rights and more Complete Streets in our community. We help injured pedestrians fight back against reckless and careless drivers as well as negligent city planners. Another way we help is by talking injured pedestrians through the steps to take after a bad accident in Omaha. When in doubt, give our local law office a call after suffering a major injury in a pedestrian car accident.
Stay calm and safe. Remove yourself to a safe spot to wait for the police to arrive.
Call 911. Call the police and report the pedestrian collision if you have any injuries.
Get information. Ask for the driver's name, auto insurance information and contact number.
Take photos. Use your cellphone to photograph the vehicle, the street, and your injuries.
Get help. Request an ambulance or go immediately to the nearest hospital for medical attention.
Do not admit fault. Be careful not to admit fault to the driver or the police.
Make an insurance claim. Call the at-fault driver's insurance coverage company to file a claim.
Contact Knowles Law Firm. Call (402) 999-4839 for a free crash consultation.
Unfortunately, the driver's automobile insurance coverage will not want to maximize your recovery. You may struggle with conversations with claims adjusters. They may try to get you to slip up and say something that hurts your case. Stay on the safe side by minimizing what you say. Stick only to the facts, and only offer details if asked. Do not agree to give a recorded statement or accept a settlement offer until you have spoken to one of our attorneys and gotten legal advice.
The Knowles Law Firm | Omaha, Nebraska
If you or a loved one have been injured in a pedestrian accident, do not hesitate to contact the team of experienced attorneys of the Knowles Law Firm. Our attorneys have years of experience in handling pedestrian accidents and have noted the increase in the number of pedestrians on our city streets. This encourages all of us to take advantage of the weather and promote a healthier way of life. We should not be punished for choosing to walk rather than drive. The more often drivers are held accountable for their actions, the fewer pedestrian accidents will occur on our roadways. Contact our Omaha, Nebraska law offices today for your initial free consultation.
ACCOLADES AND NEWS