The advent of the molecular gastronomy food movement has only increased the entire country's focus on food preparation and the restaurant industry. Restaurants are now preparing bolder and unique entrees to entice diners to step outside their comfort zone. While this offers whole new food experiences, it should not lead to the negligent preparation of food at the same time. Restaurants must follow a very strict health and safety code. Any deviation may result in liability after sickening a customer. If you've experienced food poisoning due to the negligence of another, contact an Omaha food poisoning attorney today.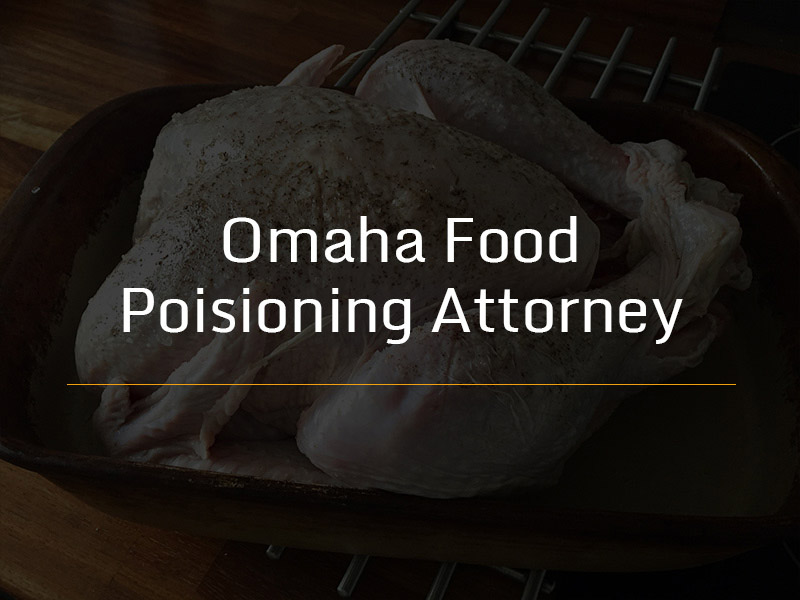 Food Poisoning
Food poisoning is a serious condition that can emerge virtually overnight. You are often out of commission for several days. Every year, approximately 130,000 people are hospitalized around the country due to food poisoning illnesses, and approximately 3,000 die from foodborne diseases.[1] However, according to the Centers for Disease Control and Prevention (CDC), around 48 million people get sick every year due to food poisoning (or one in six people nationwide).[2]
Extensive studies by the CDC have indicated that produce commodities (such as fruits and nuts) accounted for nearly half of all reported foodborne illnesses, while meat and poultry accounted for around 25%.[3] Leafy vegetables were further found to contribute to the highest number of food poisoning cases.
While some restaurants may do all they can to prevent food poisoning, they may purchase produce or meats from a contaminated location which can easily lead to foodborne illnesses despite all the precautions put into place. Therefore, it is the job of a personal injury attorney to track down the responsible parties.
Types of Food Poisoning
Many illnesses can come from eating contaminated food. Each type of food poisoning comes with its own symptoms, causes, and prognoses for recovery. An official diagnosis of your type of food poisoning can be the first step toward treatment and recovery. It could also give you an idea of what may have caused your food poisoning, allowing you to pinpoint where you consumed the contaminated food.
Staph infection. Foods that are not cooked to kill germs after handling could lead to the Staph virus, such as deli meats, sandwiches, and pastries.
Any contaminated food could lead to this virus, which can cause symptoms in 12 to 48 hours. Common culprits are leafy greens, fruits, water, and shellfish.
This type of food poisoning comes from bacteria in raw or undercooked chicken, turkey or other meats, as well as eggs, unpasteurized milk, and raw vegetables.
E Coli. Consuming raw or undercooked meat, particularly ground beef, as well as raw milk, juice, vegetables, and sprouts could lead to E. coli.
Other common types of food poisoning include Clostridium perfringens, Clostridium botulinum, Vibrio, Listeria, Cyclospora, and Campylobacter. These are different foodborne germs that can come from contaminated foods such as meats, vegetables, greens, and seafood. Raw and undercooked foods are common causes of food poisoning, as are improperly fermented or canned foods.
Common Symptoms
Food poisoning symptoms can arise minutes to days after the consumption of contaminated food, depending on the type of illness. Staphylococcus aureus, for example, can show symptoms within 30 minutes, while listeria can take as long as four weeks to show symptoms. While just one symptom might not mean food poisoning, multiple symptoms could require a trip to the doctor.
Nausea or upset stomach
Vomiting
Diarrhea
Abdominal pain or cramps
Bloating or gas
Muscle cramps
Fever
Fatigue
Severe food poisoning cases can result in symptoms such as bloody stools, bloody vomit, diarrhea for longer than three days, weakness, dehydration and blurred vision. Abnormal sensations such as tingling or numbness could also be a sign of a severe food-related illness. If you notice any of these serious signs, see a doctor. You should also visit a doctor if you have a fever of over 102 degrees Fahrenheit.
Long-Term Effects of Food Poisoning
Although most people only experience upset stomachs and flu-like symptoms that last a few days from food poisoning, eating contaminated food could lead to serious and even life-changing illnesses. The body may not be able to withstand a serious illness, resulting in long-term effects. One common long-term effect is gastroenteritis or inflammation of the stomach lining. This can cause symptoms such as stomach cramps, diarrhea and vomiting. If medication cannot treat gastroenteritis, complications such as dehydration can occur.
Serious bouts of food poisoning could lead to long-term health problems such as kidney failure, brain damage, nerve damage and chronic arthritis. About 5-10% of people with E. coli, for example, suffer life-threatening complications. The impact a foodborne illness can have on the mind and body could lead to an overall decline in health, especially for small children, pregnant women or older individuals. In the most severe cases, food poisoning can be fatal.
If you or a loved one suffered a major or life-changing food poisoning incident in Omaha, our lawyers can help you get to the bottom of your case. We work with investigators who may be able to trace your illness back to a specific meal, establishment or food company. We can then file a claim against the at-fault party in pursuit of compensation for your medical bills, long-term damages, physical pain, emotional suffering or the loss of a loved one. A party could owe you compensation on the grounds of negligence, breach of warranty or product liability.
Recovery After Food Poisoning
Many food poisoning cases stem from the actions of the restaurant and its workers. This may be caused by meat which was left out too long, improperly washed produce, or failing to thoroughly wash hands. However, other foodborne illnesses may be caused by the source itself and the food companies which handle the food prior to its delivery. You are entitled to seek recovery from the responsible party whose actions led to your illness, although sometimes there may be a joint liability situation.
A personal injury attorney will carefully examine the facts of your case to determine the extent of liability for each party. In unique situations, all members of the food distribution chain will hold a percentage of liability, while in other cases it is clear that the illness was caused by the actions of one person.
You are entitled to seek compensation for your injuries from the responsible party, including:
Medical expenses
Lost wages
Future earnings
Pain and suffering
Food poisoning packs a serious punch to all its sufferers and can sometimes take weeks to recover. This can have a lasting physical impact and a psychological one as well.
The Knowles Law Firm | Omaha, Nebraska
If you or a loved one have experienced severe food poisoning after eating at a restaurant, do not hesitate to contact the attorneys at Knowles Law Firm. Our attorneys have years of experience in bringing personal injury claims against the responsible parties. Food poisoning is one of the worst illnesses that has impacted nearly all of us at some point in our lives. Severe cases can often lead to long-lasting injuries, and the responsible party should be held accountable. Contact our accident attorney at Omaha, Nebraska office today for your initial free consultation.
[1] http://www.cdc.gov/foodborneburden/
[2] http://www.cdc.gov/foodborneburden/attribution/overview.html
[3] http://wwwnc.cdc.gov/eid/article/19/3/11-1866_article
ACCOLADES AND NEWS