The day Apple released its first iPhone model, we reached a new age in technology. While texting had played a large role in cell phone communication for years prior to this point, many cell phone companies implemented steep fees for text messages.  The iPhone changed the face of cell phone communication, including that of texting and mobile internet use.  It seems so long ago now to think back on days when we could not look up an address on our Maps app with a few presses of a button, or respond to a text from a family member during an important meeting.  The evolution of cell phones have brought all this technology to a handheld device, but have also brought dangerous conditions to roadways around the country.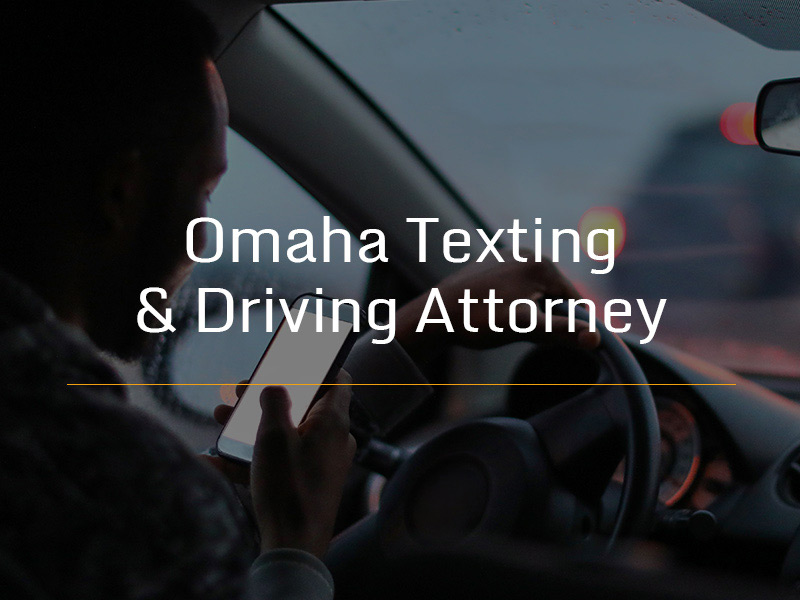 The Risks of Texting and Driving
It is extremely dangerous to read, write or send text messages behind the wheel of a motor vehicle. According to the National Highway Traffic Safety Administration (NHTSA), almost 3,200 people died in distracted driving accidents in 2017 alone. Most of these fatal accidents involved a driver who was using a handheld cellphone while driving. About 3% of all drivers in the U.S., or over 6.7 million people, text and drive using handheld cellphones.
Texting and driving is so dangerous because it distracts a driver in all possible ways. Texting is a manual distraction because it forces the driver to use his or her hands to type the message. It is a visual distraction since drivers have to look at the touchscreen to read and type. It is a cognitive distraction because the driver is thinking about what the text message says. This combination can lead to deadly consequences. Looking at a text for just five seconds while driving 55 miles per hour is the same as traversing a football field blindfolded, according to the NHTSA. 
Cell Phone Use Statistics
In 2017, 157 drivers in Nebraska got into traffic accidents involving cell phone-related distractions. This was the second-highest number in 10 years, after 160 drivers in 2015. Sixty-seven (67) of these car accidents caused personal injuries, while none were fatal. The total number of distracted driving accidents in Nebraska in 2017 was 4,699: 1,546 injury crashes and 19 fatalities. Many drivers believe they can safely text and drive, but this is not the case. No driver can dedicate 100% of his or her attention to driving while simultaneously texting.
Nationwide, teenagers have been found as more likely to be involved in car accidents due to texting and driving.  While the number of accidents caused by teen drivers and cell phone use only represented approximately 25% of all accidents in Nebraska, this is still a large amount considering the total teenage population in Nebraska.  Teenagers are more apt to check their phones and do not have the experience to understand that other drivers, pedestrians, and bicyclists can appear out of nowhere on roadways.  Accidents caused by texting and driving are often devastating because these accidents are so easily preventable.
Texting and Driving Repercussions
While many states, including Nebraska, have implemented laws that ban texting and driving, it still occurs on a daily basis.  One of the best ways to counter these rising trends is to hold all drivers accountable for their actions if they cause an accident while texting and driving.  As the victim of a car accident caused by texting and driving, you are entitled to receive compensation for your injuries, including the following:
Medical expenses
Lost wages
Future earnings
Pain and suffering
Loss of consortium
While the financial impact of car accidents caused by texting and driving is often easy to calculate and estimate, the emotional burden of these accidents requires a different method of calculation.  Car accidents often do not solely impact your physical health, but may lead to lasting psychological fears which are often difficult to put a dollar amount on.  An experienced personal injury attorney will be able to more fully walk you through these figures and come to an amount that will compensate you for your physical and psychological injuries.
It is important to speak with an attorney shortly after your accident and to avoid speaking with the responsible party's insurance agent.  The insurance company is in the business of saving money through not paying out accident claims, and as a result, will often attempt to coerce you into signing a settlement claim.  While the settlement claim may appear enticing at the moment since it represents immediate compensation, it will likely only cover a small fraction of your injuries, and will not include any injuries that are not readily available to be calculated.  Signing an insurance claim settlement may also diminish your opportunity to bring a personal injury claim in the future.
When to Hire a Lawyer
If you were recently in an accident with a driver who was texting and driving, you may be able to file a claim with his or her insurance company. Under Nebraska's fault car accident laws, the person responsible for causing the collision will have to pay for your expenses. The distracted driver's auto insurer may offer you a settlement for your medical bills, property damage repairs and other out-of-pocket costs. The initial settlement offer, however, might not be fair to you.
An auto insurance company may try to convince you to settle for a low amount unless you have a lawyer representing your case. Insurance companies want to save money on claims, not maximize your payout. With help from an attorney, however, you can argue for just compensation for your texting and driving accident. It is especially important to hire a lawyer if the crash inflicted serious, catastrophic or life-changing personal injuries.
How to Prove a Texting and Driving Claim
One of the good things about cellphones is that they record all activity and send it to the cellphone company. After an accident where one driver believes the other was texting, that driver could request a full transcript of the other's cellphone records. Cellphone records could provide concrete evidence that the at-fault driver was one his or her cellphone watching a video, scrolling through social media or typing a message at the time of the accident.
Most cellphone companies will not release this information to just anyone; however, a lawyer from the Knowles Law Firm could subpoena cellphone records on your behalf. With proof that the driver was texting and driving, your lawyer will then need to establish that this is what caused your accident and that you suffered compensable damages in the wreck.
Proving causation may take accident re-creation, photographs of the scene, interviews with eyewitnesses or testimony from crash experts. Proving your damages may require copies of your medical transcripts, hospital bills, paystubs, hotel receipts, and statements from you or your family about how the accident impacted your life. Our attorneys can help you with each element of proof during a texting and driving car accident case.
The Knowles Law Firm | Omaha, Nebraska
If you or a loved one have been injured in a car accident caused by texting and driving, do not hesitate to contact the Knowles Law Firm.   Our attorneys have years of experience in handling all types of car accident cases, including those relating exclusively to texting and driving. Contact our Omaha, Nebraska office today for your initial free consultation.
ACCOLADES AND NEWS