Omaha Car Accident Attorney
Why Do I Need an Omaha Car Accident Attorney?
Car accidents have unfortunately become a way of life throughout the United States. No longer is it shocking to hear of the involvement of a loved one in a motor vehicle accident. It is almost expected that you will end up the victim of a car accident at some point in your life. This is due to many factors including the increased number of cars on the road and an increase in driver distraction (cell phones) and driver inexperience. However, simply because auto accidents have become so common does not mean that you should be forced to cover the expenses of a car accident such as your medical care and lost wages. If you've been involved in an accident, contact an Omaha car accident lawyer to help you build your case.
No fees unless we win your car accident case

100% free consultation

Millions recovered for families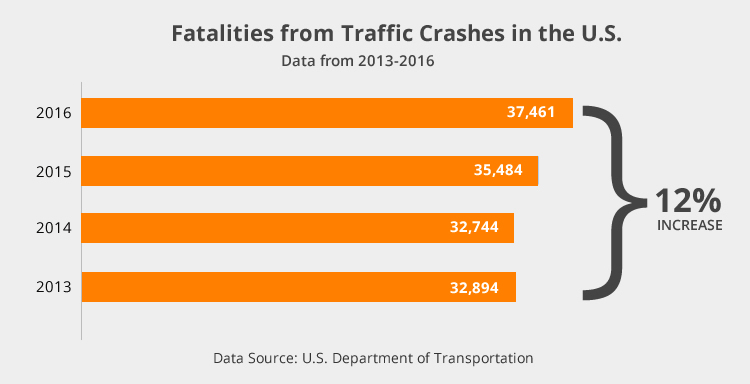 Car Accidents in Nebraska
Henry Ford likely did not consider the toll that car accident deaths and related injuries would have on the whole of the American population over the past hundred years. Cars have very nearly become machines of death in certain situations despite ongoing efforts to combat accidents through "smart" vehicles and new state laws.
In 2015 almost 16,000 people were injured in car accidents in Nebraska and approximately 250 people were killed as the result of car accidents.  In Nebraska, this number of car accidents is mostly due to one or more of the following factors:
Cell phone use
Work zones
Car accidents are not limited to accidents between two motor vehicles. They include pedestrian and bicycle accidents which frequently lead to more severe and life-threatening injuries.
Driving Speed
If the statistics of speed-related car accidents prove anything, they indicate that slightly more drivers may be following the speed limit. From 2003 to 2014, the number of speed-related car accidents has fallen by about 50 percent from around 1,200 accidents in 2003 to 670 in 2014. This is a promising sign, as it tends to indicate that drivers are following speed limit signs and paying better attention to the road. The number of fatalities due to speed-related car accidents has remained relatively stable, but the fact that the number of such car accidents is declining is promising. However, car accidents are still more common than we would like them to be, and therefore all car accident victims should consult with an accident attorney to determine their next steps after an accident.
Seat Belts
Nebraska law provides that if you fail to wear a seat belt in a car accident and that if you had been wearing it you would have been injured less, then your damages can be reduced by up to 5 percent of your total damages. The mere failure to wear a seat belt is not in and of itself sufficient to reduce your damages. It is the defendant who must prove by the greater weight of the evidence that you would have been injured less had you been wearing a seat belt.
Rear-End Collisions
Rear-end collisions are the most common type of car accident and frequently occur due to driver distraction or driver inexperience.  The National Highway Traffic Safety Administration completed a study in 2003 to better understand the cause of rear-end collisions and how to prevent these accidents from going forward.  The end conclusions of the national study found that the majority of rear-end collisions involved teenage drivers or drivers over the age of 70. Teenager drivers are often the likely cause of many car accidents due to their lack of experience in anticipating an accident, as well as ongoing distractions.
Nebraska statistics seemed to match the national trend, noting that teen drivers made up about 26% of all rear-end collisions in the state in 2013. This represents a high number out of the total population involved in rear-end collisions, indicating just how important it is to maintain focus while driving.  The majority of rear-end collisions are caused by one driver's distraction, even if it is only a second glance away from the road.
Fatal Car Accidents
The number of fatal car accidents throughout the state of Nebraska has fallen in recent years, only to rise again in 2014.  Approximately 200 car accidents resulted in fatalities throughout the state of Nebraska in 2014. Out of this number, nearly half were alcohol-related.  The number of alcohol-related fatalities dipped to a low in 2010 but continued to rise thereafter.  Out of the 200 fatal car accidents, 20 involved motorcycles.  Car drivers often do not observe motorcycles on the road and have a tendency to swerve into motorcyclists, causing severe injuries and even loss of life.  The number of motorcycle fatalities reaches an all-time low in 2000, but this number has skyrocketed recently, almost back to its peak numbers.  It is clear that car drivers and motorcyclists alike need to maintain constant vigil while driving.
The increased use of child restraints has helped curtail the number of child fatalities after a car accident, with only 7 reported fatalities in 2013 on the Nebraska roadways. While distracted driving tends to lead to a high number of car accidents each year, these accidents result in relatively few fatalities, with only 14 out of a total of approximately 3,600 distracted driving accidents resulting in fatalities.
Car Accident Checklist
Starting from the second another car hits your vehicle, time seems to slow down. To its victims, car accidents often seem to happen in slow motion, while the events which follow often feel fast-paced.
During the time after the accident occurs, it is important to keep the following car accident checklist in mind:
Collect Insurance and Other Related Information
While it may seem like a routine task after any car accident, many people forget to ask the other car driver for a copy of their insurance card . . . or perhaps feel uncomfortable pressing the matter. It is very important that you collect, at the very least, the name of the other driver, the name of his or her insurance company, and the policy number. You should additionally make a note of the make and model of the other vehicle.
Inspect Damage
It may seem rude to immediately jump out of your car and inspect any damage caused by the accident, but it is important to get a preliminary look at the damage to both vehicles. You should also take pictures to send to your insurance company. A lot can change overnight including the damage to the vehicles, and it is important to chronicle this initial damage.
File a Police Report
Many drivers will try to convince others that calling the police is unnecessary. However, for purposes of both property damage and personal injury claims, a police report is one of the most reliable sources of the facts. A police report will carefully report the driver's information including automobile insurance.  Without a police report, it is not unusual at all to run into resistance from the other driver's insurance company.
Gather the Names of Witnesses
If you are able, it is important to determine the identity of any witnesses after an accident. Police records often record the names of witnesses and will take initial statements of the victims shortly after the accident. A personal injury attorney will often request to speak to the witnesses independently and sometimes take a recorded statement. It is important to take a statement from a witness quickly after the accident before memories begin to fade. The more you delay in bringing a claim, the greater your chances are that the witnesses' testimony will change.
Visit a Doctor
Even if you do not believe you were injured seriously in the accident, it is always a good idea to get a thorough evaluation by a medical professional. Many injuries sustained in car accidents will not reveal themselves until days later. A medical professional is well-trained to recognize tell-tale signs of injuries especially those involving a head injury which often goes undetected until it is too late. Many internal organ injuries will also reveal themselves to the injured party days after the accident. Medical professionals will know which tests to run shortly after the accident to ensure everything is okay.
What Are Common Car Accident Injuries?
The type of car accident often has an impact on the severity of your injuries and recovery time. Simple rear-end collisions are often not as severe as rollover accidents. However, each accident is different, and the facts of your case will dictate the amount of recovery you are eligible to receive.
Severe car accidents lead to extensive recovery time. During this time, you often have to focus solely on your recovery and little else. This may mean the loss of a job. At a minimum, it almost always means lost wages during the many months spent rehabilitating. As the victim of a terrible car accident, you should not be forced to cover these expenses on your own. The responsible party should be held accountable for their actions.
Car accidents can lead to many different types of injuries, including the following:
Broken bones
Amputations
Internal organ damage
What Type of Damages Can I Recieve From a Car Accident Claim?
These injuries have the potential to severely restrict your ability to function normally in the future, and you may have to learn a whole new way of life. You should not have to think about the hassle of all of the paperwork, dealing with insurance companies and its team of well-trained adjusters, and filing your legal claim. An experienced car accident attorney can assist you in all of these administrative matters while you solely focus on your recovery. Insurance companies for the responsible party will often hound victims to sign paperwork. It is important that you not sign any documents from the responsible party before speaking with an experienced injury attorney. The insurance company may tempt you with the offer of immediate monetary compensation for your injuries while a legal dispute may take months to settle, but the amount the insurance company offers is often much lower than the amount you are entitled to receive for your injuries.
As a victim of a car accident, you may be entitled to receive the following forms of compensation:
Medical expenses
Rehabilitation expenses
Lost wages
Future earnings
Pain and suffering
Loss of consortium
An insurance company cannot offer the type of compensation to cover these expenses without further documentation, and therefore a legal claim will often have to be filed in order to ensure you receive the compensation you deserve.
Speak to an Omaha Car Accident Lawyer
If you or a loved one have been the victim of a car accident, you may be entitled to receive compensation for your injuries. Contact Knowles Law Firm at your earliest convenience. Our accident attorneys have years of experience in handling car accidents and related personal injury claims. We understand that this is a difficult and upsetting time for you, and we will work tirelessly to ensure that you receive the compensation you deserve for your injuries.
Contact our Omaha office today to schedule your initial free consultation during which we will discuss the facts of your case.
"Everything happened so suddenly! After my car accident, I found myself hurt and confused. Luckily, I found an attorney who truly cares for his clients. Bob Knowles was able to provide me with guidance to get the help I needed. Anytime I had questions or concerns, no matter how small, Bob was always available to help me through this traumatizing experience." – Karen O.