No fees unless we win your truck accident case
100% free consultation
Millions recovered for accident victims
Heavy trucks first appeared on highways shortly after the invention of the automobile.  Henry Ford had to invent a larger form of motor vehicle which could ship and transport his Model T cars.  Heavy trucks slowly evolved over time to the oversized 18-wheelers which are a prominent fixture on highways of the nation.  While heavy trucks certainly play a pivotal role in commerce throughout the nation, they also play a role in the number of accidents each year. If you've been involved in a truck accident, contact the Omaha truck accident lawyer at Knowles Law Firm.
Truck Accidents
The number of heavy trucks on the road has increased in recent years due to the ongoing advances in all kinds of e-commerce, as well as the increase in oil and gas operations throughout the country. Furthermore, Nebraska is a hub for many large trucks to pass through, and as a result, many car accidents involve heavy trucks. While heavy truck drivers may not always be the responsible party, any impact or crash into a heavy truck can result in severe injuries for everyone involved. Nationally, nearly 4,000 people were killed in heavy truck accidents in 2012. This increase in the number of heavy trucks is directly correlated to the increase in the number of truck accidents throughout the country and the state of Nebraska.
Causes
According to data from the Federal Motor Carrier Safety Administration , the cause of truck accidents is split into critical events and critical reasons on behalf of the driver. Critical events include running outside of the travel lane (32%), loss of vehicle control (29%), or rear-ending a vehicle (22%). Critical reasons include:
Speeding (6.5%)- Driving too fast for conditions can prevent a large truck from stopping in time to avoid a collision. Trucks need more stopping distance than passenger vehicles, making it even more important for truck drivers to obey speed limits.
Careless driving (4%)- Careless driving can refer to many behaviors, from merging without looking to rolling through stop signs. Drivers may make careless mistakes that have serious consequences.
Driver distraction/inattention (5.7%)- Distracted drivers may not notice roadway hazards such as a stopped big rig or crossing pedestrian. Cellphones, food, radios, GPSs, passengers, and external distractions could all cause a truck accident.
Failure to yield the right-of-way (4.5%)- Truck drivers owe a duty to yield the right-of-way at stoplights and intersections, when applicable. Ignoring the right-of-way could lead to a T-bone accident or head-on collision.
Impairment (4%)- Driver impairment by drugs, alcohol or fatigue can increase the risk of collisions. Driver impairment can make it impossible to respond correctly to changing roadway conditions.
Associated factors include problems with the vehicle such as a braking failure and environmental and hazardous road conditions. Driver negligence causes most trucking accidents in Nebraska. If every driver paid more attention to the road and obeyed traffic laws, it would significantly decrease the rate of accidents.
Involvement Rate of Large Trucks in Injury Crashes Per 100,000 Registered Trucks
Source: Nebraska Department of Transportation
Nebraska Truck Accident Statistics
Thousands of commercial trucks move through Omaha daily. Nebraska is an important state in the trucking industry. The state Department of Transportation reports that the number of fatal accidents over-represents heavy trucks, meaning they cause fatal accidents more often than their passenger vehicle counterparts.
In 2016, 2,050 accidents total involved heavy trucks. Forty-five of these accidents were fatal, while 610 caused injuries. Heavy trucks accounted for 3.5% of all crashes in Nebraska yet about 15% of all fatal crashes. The most common types of heavy trucks involved in traffic accidents in Nebraska are utility trucks, followed by standard pickup trucks and heavy trucks.
Most Common Times for Trucking Accidents
The most dangerous time for truck accidents in Nebraska is in the daytime and during the middle of the week. Statistically, more fatal truck accidents happen between 12:00 p.m. and 3:00 p.m. than at any other time of day. Midday drowsiness and distracted driving could contribute to these accidents. The weekdays are more dangerous than the weekends due to a higher rate of commercial truck activity.
Sunset can also be a deadly time for truck accidents. When the sun goes down, long-haul truckers may still have hours to go before they can rest. Driving alone late at night can lead to driver drowsiness and dangerous habits, such as texting or watching videos to stay awake. A drowsy driver may be more likely to speed, drift out of the lane, ignore rights-of-way and cause head-on collisions.
Truck driver fatigue is a well-documented issue. One year, the FMCSA reported at least 13% of commercial drivers involved in serious accidents suffered from fatigue at the time. Truck driver fatigue can stem from poor nutrition, obesity, sleep apnea, trouble falling asleep in the sleeper berth, long hours alone on the road, using stimulants such as caffeine and ignoring hours of service regulations. Driver fatigue can make it dangerous to be on the road with truck drivers at any day or time.
What Are The Most Common Injuries in Truck Accidents?
Truck accidents often result in severe injuries to all victims of the accident which lead to lengthy hospital stays and long recovery periods. These injuries often include:
As the victim of a truck accident, you are entitled to bring a claim for your injuries. Truck accidents often pit an ordinary motor vehicle against a vehicle that is 4 times its size. An ordinary sedan or sports utility vehicle cannot easily offer protection from a heavy truck. While cars are now equipped with more safety features, these often do not make much of a difference when a severe truck accident occurs.
A truck accident claim can consider the following expenses when calculating the full amount of damages:
Hospital expenses
Rehabilitation expenses
Lost wages
Future earnings
Pain and suffering
Loss of consortium
While many of these damages can be easily calculated in time, a personal injury attorney with experience knows how to project future damages that will impact your life in the years to come. If you suffered a serious injury that results in a complete alteration to your daily life, you will need to factor in ongoing medical expenses and rehabilitative care, as well as the emotional distress which occurs from this type of injury. Many victims also experience a loss of income during their recovery period if their employer does not offer disability leave. An injury attorney will take into account all of these factors in calculating the resulting claim.
It is important that you do not sign a settlement agreement immediately after the accident occurs. The responsible party's insurance company will often try to settle their claim with you shortly after the accident occurs. However, keep in mind that anything you sign could relinquish your ability to bring a claim for damages later on. While an insurance company may promise you a set amount of money immediately, you may be entitled to a larger amount. Contact the best Omaha car accident lawyers to help.
What Are Federal Trucking Regulations?
Unlike standard motor vehicles, commercial trucks and the companies that operate them must obey federal safety and procedural rules. These rules are enforced by the Federal Motor Carrier Safety Administration, also known as the FMCSA. If a trucking company or one of its employees violates any federal trucking regulations and causes a truck accident, the broken rule could place liability for the collision with the company. Violated federal safety rules commonly cause truck accidents in Nebraska and throughout the country.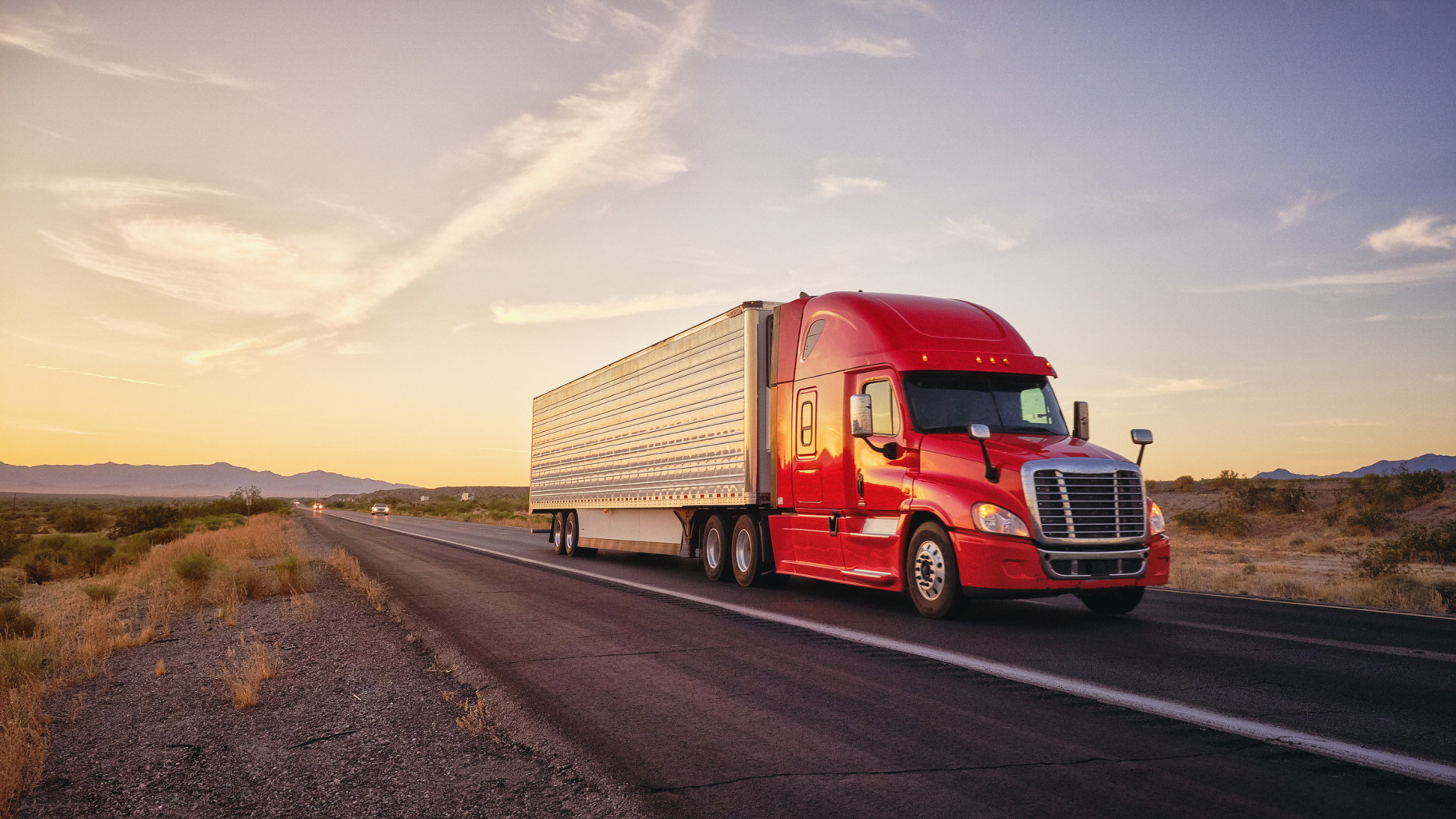 Federal trucking safety regulations include:
Hiring and training procedures. Before a trucking company can hire a prospective truck driver, it must verify that the driver has a commercial driver's license. The driver also should not have a history of serious traffic offenses, such as drunk driving. Once the driver is hired, the company is responsible for properly training the driver to operate the big rig.
Required medical exams. Part of the truck driver hiring process is a required Department of Transportation medical examination for all new truckers. This exam tests the driver's physical fitness to operate a large truck. It will look at the driver's medical history and physical state to search for any conditions that could compromise his or her ability to operate the truck, such as sleep apnea or diabetes.
Hours-of-service limitations for drivers. No commercial truck driver may drive for more than the maximum hours-of-service limits under federal law. These limits are in place to prevent drowsy driving accidents. In general, there is a 14-hour daily driving window limit, in which an 11-hour driving limit exists. There is also a weekly limit of 60 hours in 7 days or 70 hours in 8 days.
Mandatory drug and alcohol testing. In an effort to prevent drunk driving truck accidents, trucking companies must submit their drivers to mandatory drug and alcohol tests during the hiring process, after accidents, and at random. If a driver fails a test, corrective or punitive action against the driver must be taken before the driver can return to his or her job.
Rules against cell phone use. It is against federal law for any commercial truck driver to use a handheld cell phone or another mobile electronic device while operating a commercial vehicle, except in emergencies. This includes using a handheld device to talk on the phone, text, send emails, watch videos, or access social media. A truck driver may use a hands-free device, but only if he or she does so safely.
Truck maintenance requirements. A trucking company has a legal responsibility to properly maintain its fleet of vehicles. If a trucking company cuts corners to save money or time during truck inspections, maintenance or repairs, it can make the truck unreasonably dangerous. The truck may experience a part breakdown in transit and cause an accident.
Cargo securement rules. The parties responsible for loading cargo into a trailer and securing the cargo down must comply with all applicable securement regulations. Federal law has specific rules for which tiedowns to use, how to organize cargo in a trailer, truck weight limits, and more. If someone breaks these rules, the truck could lose or drop cargo on the road and cause car accidents.
These are just some of the many federal laws that trucking companies, cargo companies, truck drivers, and others involved in the commercial trucking industry must obey. Any deviation from these rules and requirements can compromise a delivery and present a hazard to others on the roadway. If you believe that a trucking company is guilty of violating a federal regulation in connection to your recent accident, the truck accident attorneys at The Knowles Law Firm can investigate for signs of fault.
Employer Liability for a Truck Accident
Truck accidents are unique in that they do not just involve two vehicle drivers. They may also involve the trucking company, truck owner, leasing company or cargo loaders. An employer's vicarious liability for its employees applies to most truck accident cases. Although most truck drivers operate as independent contractors, trucking companies will still be liable for their actions and misconduct under federal law.
Holding a truck company accountable for a truck driver's negligence takes proving that the driver breached a duty of care and that this action or omission caused the collision. It will also take proving that the truck driver was performing work-related duties at the time of the accident. A truck company may also be responsible for an accident due to its negligence, such as a lack of proper driver training or failing to conduct background checks.
The Knowles Law Firm can help you hold a trucking company in Nebraska accountable for your injuries. We have years of experience in this practice area. We are not afraid to go up against the largest trucking corporations in the country in pursuit of damages on your behalf. Our accident attorneys can help you prove the trucking company's liability using available evidence. We can help you get the most for your claim.
Manufacturer Liability for a Truck Accident
Some truck accident lawsuits involve product liability rather than a trucking company's negligence alone. Product liability is a product manufacturer or distributor's financial responsibility for injuries and deaths that defective items cause. A semi-truck accident claim may involve product liability if the truck or passenger vehicle contained a defect that contributed to injuries.
Tire blowout: Tire blowouts on 18-wheelers can cause the truck to lose control and rollover. A tire may experience a blowout when it contains manufacturing defects such as thin walls or a lack of tread.
Bad brakes: A truck's brake system must function optimally for the safety of everyone on the road. Defective brakes may give out at a crucial time, causing the big rig to jackknife or careen out of control.
Loose cargo: Trucking companies and cargo loaders must obey federal cargo securement laws. If the load straps and locks they use contain defects, however, the truck could lose its load on the road. Lost loads can cause deadly personal injuries.
Hydraulic problems: The hydraulic pumps in a commercial truck could malfunction and cause an accident if they contain defects. Defective or dangerous hydraulic pumps may leak fluid, overheat or fail during transport.
Defective safety equipment: Regardless of who caused the crash, if the airbag or seat belt did not perform as intended, the item's manufacturer could be responsible for injuries. Defective safety equipment in a commercial truck or passenger car could contribute to serious injuries.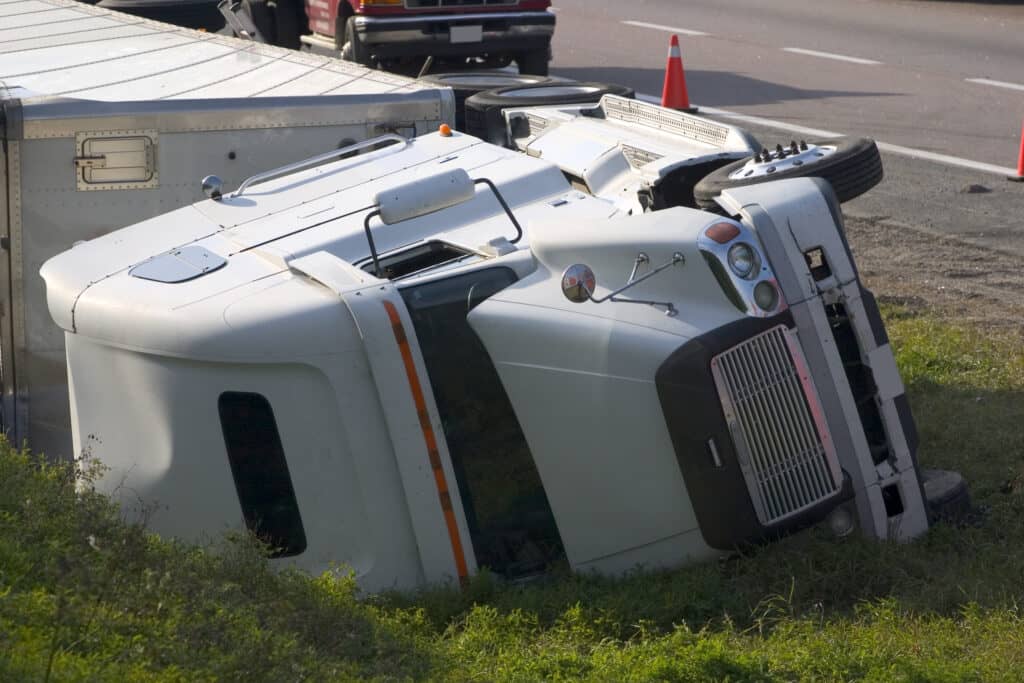 Defective truck equipment could be the manufacturer's fault if the item had a defect when it left the factory. It could also be the truck company's fault if the product became defective over time due to a lack of proper maintenance. Poor fleet maintenance has contributed to thousands of serious and deadly truck accidents over the years. It is a company's responsibility to properly inspect and repair its trucks.
Steps to Take After a Truck Accident
Despite the confusion and fear of the aftermath of a commercial truck accident, it is important to take certain steps to protect your legal rights, if possible. The actions that you take after a crash can make a difference to your injury claim. If you're too injured by the crash to handle these steps on your own, an experienced attorney can help. Otherwise, take the following steps after a truck accident in Omaha:
Check for injuries and report the wreck.

Find out if you or anyone else has injuries. Then, call the police. In Nebraska, reporting a truck accident is typically required. It is also important for your own purposes – to provide evidence during an insurance claim. A police accident report can contain key information about the truck accident that you need for an insurance claim, such as the time, date, location, vehicle descriptions and the truck driver's information.

Exchange information with the truck driver.

While you're waiting for the police to arrive, swap information with the truck driver. Get the driver's name, contact information, insurance company and policy number, license plate number, trucking company name, and truck number. Do not admit fault for the truck accident while speaking to the truck driver.

Gather evidence.

Before you leave the scene of the crash, take pictures and gather any other types of evidence available. Take photographs of your property damage and the crash scene as a whole, including any important road signs or marks. If anyone witnessed the collision, get their information. Work with an attorney for assistance collecting other types of evidence later, such as the truck's black box.
See a doctor without delay.

Get medical care right away after a truck accident. While most truck accidents cause injuries that are immediately obvious, you may also have delayed injuries, such as a brain injury or back injury you don't notice right away. A delay in medical treatment could give an insurance company a reason to deny your claim. As you recover from your injuries, follow your doctor's treatment recommendations and document your recovery in an injury journal.

File an insurance claim.

In Nebraska, the person or party at fault for an accident is responsible for paying for the related costs. If you believe the truck driver is at fault for your wreck, call the trucking company's auto insurer to file a claim. Do not admit fault for the collision and do not agree to give an insurance adjuster a recorded statement about the crash.

Be cautious when speaking to claims adjusters.

When answering questions about the accident, stick to the facts. Do not embellish the story or offer more information than what is requested. The insurance company will want to minimize your payout, not help you make a financial recovery. Do not rush into a fast settlement, even if the insurer says it is the "best" or "final" offer. Instead, consult with an attorney before accepting a settlement or signing anything sent to you by the insurer.

Contact a truck accident lawyer.

Trucking accident claims are unique and complex. The trucking company may refute fault, the insurance company might reject your claim or you could encounter challenges getting the money you need. If you have serious injuries, it is especially important to hire a lawyer. Your case may be worth more than a trucking company is offering.
A lawyer can help you with all of the steps that you should take to recover and move forward after a truck accident in Omaha. At the Knowles Law Firm, we know how physically devastating and emotionally draining a truck accident can be. If you are too badly injured to do anything except focus on your recovery, we can help you build a strong truck accident claim regardless.
When to Call an Omaha Truck Accident Attorney
A commercial truck accident in Omaha is not your standard car crash. Determining liability and proving fault can be difficult against a trucking company in Nebraska. Many parties could share fault for the accident. You may face countersuits alleging your responsibility for the accident. Hiring an Omaha injury lawyer attorney can remove the burden of the claims process from your shoulders.
While you focus on medical treatments for your injuries, your attorney can investigate your truck accident and determine its proximate cause. Your lawyer can gather evidence such as the truck's black box information and the driver's electronic logging device records. Your attorney will build a case against the defendant(s) in pursuit of fair compensation on your behalf. A lawyer will know how to negotiate for maximum compensation.
The Knowles Law Firm | Omaha, Nebraska
If you or a loved one have been involved in a truck accident, do not hesitate to contact the Knowles Law Firm. Our truck accident attorneys in Omaha have years of experience in bringing truck accident claims on behalf of victims of these accidents. We understand the intricacies of truck accidents and how different they are from ordinary car accident claims. Our injury attorneys will work through your claim with you and ensure that we are accurately representing the facts of the case to get you the maximum amount of compensation you deserve for your injuries. Contact our Omaha, Nebraska office today for your initial free consultation.
"I have known Jim Knowles, Jr. for more than 20 years. I was seriously injured in a motor vehicle accident and have not been able to work since. The responsible insurance company initially denied my claim. Mr. Knowles filed suit on my behalf and, through his efforts, I was able to obtain a settlement sufficient to replace my loss of income. He has remained my attorney and friend ever since. I have referred several family members and friends to him through the years and would not think of using a different lawyer." – Ray T.
ACCOLADES AND NEWS