Man's best friend has played a pivotal role in civilization and modern life. It is difficult to walk through any neighborhood without glimpsing a dog walker out for a stroll with his or her four-legged companion. However, as familiar as this sight may be throughout the state, it is important to exercise caution around unfamiliar dogs, especially with your children. If you or a loved one have been injured in a dog bite attack, contact an Omaha dog bite attorney. You may be entitled to receive compensation for your injuries.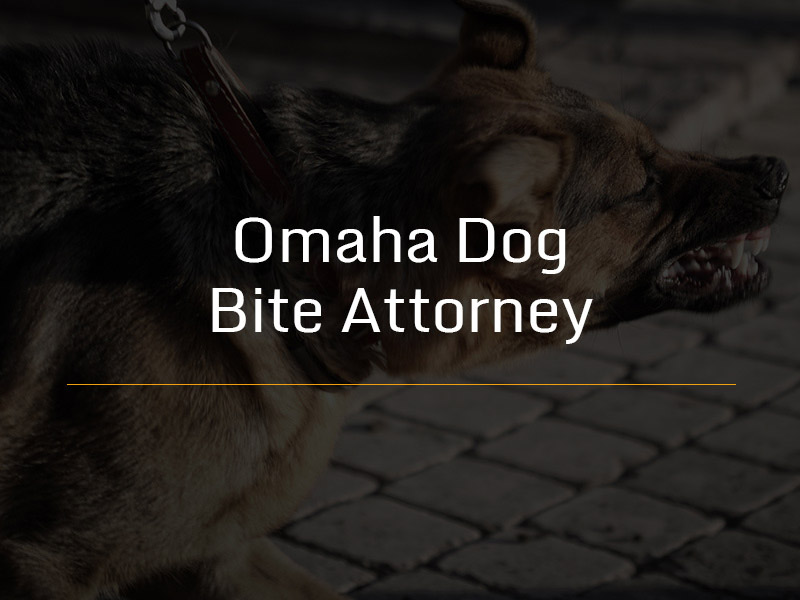 Nebraska Dog Bite Laws
Nebraska is one state which provides greater deference to the victims of dog bite attacks. A dog owner will be held strictly liable for any injuries and damage caused by their dog to anyone other than a trespasser. Similar to the duty of care a property owner has for all guests on his or her property, a dog owner has a similar duty of care to all guests in the vicinity of the animal. However, a trespasser does not receive the same level of protection under the animal laws in Nebraska.
Nebraska's dog bite statute provides that the dog owner will be held liable to any person (aside from a trespasser) for any damages that occur as the result of a dog bite or a dog chasing any person. The Nebraska statute is unique in that it provides for recovery after both a dog bite and other injuries caused by dogs.  The broad wording of this statute will often cover injuries sustained by a dog knocking down or chasing a person. However, Nebraska court cases have held that the statute is not broad enough to cover "playful" dog behavior.
Common Dog Bite Injuries
Dog bites can be disastrous due to the nature of these attacks. When many aggressive dogs bite, they do not let go. A violent dog can sink its teeth into a victim several times, or yank and twist the bitten limb before someone is able to intervene and pull the dog away. Dog attacks often cause similar injuries among victims, many of which can be permanently disfiguring and highly traumatic.
Puncture wounds
Lacerations
Crush injuries
Bruising
Nerve damage
Broken bones
Permanent scars
Disfigurement
Many dog bite victims require emergency medical care such as wound debridement to remove dirt and debris, as well as sterilization to prevent infections and stitches. If the dog that bit the victim was not up to date on its vaccinations, the victim may also require rabies shots. Catastrophic dog bite injuries may also need surgeries, blood transfusions, and skin grafts.
Most Likely Locations for a Dog Bite
Although a dog can bite a victim anywhere, certain body parts are more likely than others to cross within the pet's path. Some dogs bite to kill, targeting vulnerable areas such as the face and neck. Breeds such as pit bulls are statistically more likely to target these areas, according to national dog bite data. Other dogs bite extremities that appear threatening, such as someone's hand as the person reaches out to pet or touch the dog.
Face
Neck
Head and skull
Hands
Fingers
Forearms
Lower extremities
Many factors could affect the type and location of a dog bite injury, including the victim's height and age, the breed of the pet and the circumstances of the attack. Often, dog attack victims make full recoveries, but sadly, some do not. Dog bites in a vulnerable place or of extreme severity could prove fatal for a victim. Children and the elderly are most at risk of suffering fatal injuries in a dog attack in Omaha.
Recovery After Dog Bite
Dog bites can, unfortunately, cause very serious injuries. A complete veterinary record of the dog will need to be completed in order for medical professionals to fully understand whether the dog has received all of its immunizations. In extreme cases, serious infections can occur as a result of a dog bite. Unfortunately, children are more susceptible to dog bite injuries, since they are not yet cautious enough to stay removed from an unfriendly dog, and they make easier targets for aggressive dogs.
Dog bite injuries not only lead to serious physical injuries for children but can also cause severe emotional trauma. Therefore, any claim for damages must take into account not only the physical injuries (and the resulting medical expenses) but the often-times accompanying emotional trauma. An experienced Omaha injury lawyer will be able to fully assess the number of damages that should be claimed as a result of a dog bite or dog chasing claim.
What to Do After a Dog Bite Injury
If a dog attacks you or someone you love in Omaha and causes serious injuries, get to a safe location and call the police. Get the pet owner's name and contact information if the owner is present. Take photographs of the scene of the attack if you can: where it happened, the dog that attacked and the victim's injuries. If the injuries are not serious, you may not need to involve law enforcement. You should still, however, report the dog bite to the local animal control center.
Get to a hospital for injury treatment right away. Delaying medical care could be detrimental to the victim's health, as well as increase the risk of infection. It could also make it more difficult to prove that the dog caused your injuries during an insurance claim. Keep copies of your medical records, bills, and any police or accident reports. Then, call the pet owner's insurance company to file a claim.
Most pet owners have coverage for dog attacks through their homeowners' insurance plans. Since pets are officially property in Nebraska, homeowners' insurance companies will generally cover property damages or personal injuries that pets cause. If the pet owner does not have insurance, he or she may owe you damages out of pocket. A personal injury lawsuit against the pet owner could lead to a positive outcome for you and your family during this difficult time.
How to Report a Dog Bite in Omaha
Reporting a dog bite can make Omaha a safer place. It can create a record of the number of times the dog has bitten other dogs or people, holding the owner responsible for future attacks. It could also lead to important rabies quarantines and testing, as well as potential penalties against a negligent pet owner. Report a dog bite in Omaha to the Nebraska Humane Society, either online or at (402) 444-7800. An officer will come to your location, investigate the situation and may take the dog into custody for testing. The Humane Society will not put a dog that has bitten someone down unless it has rabies or the dog poses an ongoing threat to others.
The Knowles Law Firm | Omaha, Nebraska
If you or a loved one have been injured as a result of a dog bite or dog chase, do not hesitate to contact the attorneys of Knowles Law Firm. Our dog bite attorneys understand the difficult situation you may find yourself in after such an incident and will assist you in drafting a claim for your injuries. Contact our Omaha, Nebraska office today for your initial free consultation.
ACCOLADES AND NEWS