The media is increasingly reporting on the repercussions from concussions received in sports and the degenerative effect these concussions have on the brain. Concussions are also a common injury received as a result of car accidents. If you or a loved one have received a concussion after an accident, you may be entitled to receive compensation with the help of an Omaha concussion lawyer for your injuries.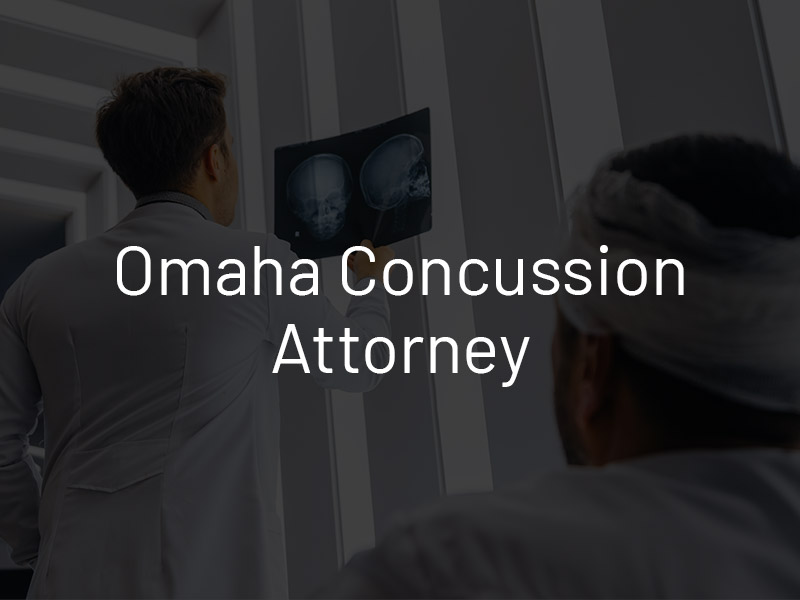 Why Choose The Knowles Law Firm?
We have used our hard work and determination to obtain tens of millions of dollars on behalf of injured accident victims.
We have a firm philosophy founded on putting our clients' interests first. We know if we put client care first, the rest will follow.
We have decades of legal experience exclusively practicing personal injury law – including handling many brain injury cases over the years.
Our Omaha personal injury lawyers accept Omaha concussion and brain injury claims on a contingency fee basis, with no fees unless we succeed.
Why You Need an Omaha Concussion Attorney
It is a common misconception that concussions are minor brain injuries. Physicians often say a minor brain injury does not exist. All brain injuries are serious and could lead to long-term complications for the victim, including cognitive and motor function challenges. Hiring a lawyer to represent your concussion claim may be the best way to make an insurance company treat your case with respect. An attorney can handle communications with insurance claims adjusters on your behalf, negotiating for a fair settlement value depending on your damages, while you focus on healing. If negotiations do not end in a reasonable settlement, your lawyer can help you proceed to court in pursuit of maximum compensation.
Concussions After Accidents
A car accident can change your life in the blink of an eye. A concussion is a common injury sustained in any type of car accident. Unfortunately, it all to often is left untreated (and sometimes undetected). Concussions and traumatic brain injuries are some of the most dangerous injuries that result from a car accident in part because victims often shrug off the injury. That can be a tragic mistake, as concussions can lead to very serious brain injuries without further medical evaluation.
Common concussion symptoms often include:
Confusion
Memory loss
Sensitivity to light and noise
Loss of consciousness
Slurred speech
Nausea and vomiting
Headaches
Dizziness
Fatigue
Concentration problems
If you experience any of these symptoms after a violent jolt to the head, you should immediately contact a medical professional to properly determine the extent of your injuries. Even if you do not notice any symptoms, still see a doctor after you bump your head in an accident. Some concussions have delayed symptoms. Going to a hospital right away can diagnose a concussion before you notice the red flags.
Potential Long-Term Effects of a Concussion
In most cases, rest, water and a healthy diet will allow the brain to fully heal from a concussion within several days. More severe concussions, however, may require additional treatments or time to abate symptoms. A physician may recommend mild pain relievers, ice and follow-up appointments for continued care. It is possible to suffer continuing complications from a concussion in some cases.
Post-concussion syndrome. Symptoms that last longer than 10 days after a concussion could be a sign of the post-concussion syndrome.
Post-traumatic symptoms. Headaches, vertigo or other symptoms that last days or weeks after a concussion.
Second impact syndrome. Suffering a second concussion before the first has healed could lead to swelling in the brain – a serious and potentially fatal complication.
Cumulative trauma. Suffering multiple concussions throughout a person's life could potentially cause damage or death to the brain cells.
The losses associated with a concussion may range from expensive medical bills to missed shifts at work during bed rest. Days or weeks of treatments could take a serious toll. If someone else caused your brain injury, you should not have to pay for related damages out of your own pocket. The at-fault party may owe you financial compensation for causing the concussion.
Is Someone Else Liable for Your Concussion?
Another person or party may be liable, or financially responsible, for your concussion if that person had the power to prevent the injury yet negligently failed to do so. If a motor vehicle driver should have obeyed Nebraska's texting and driving law, for example, but failed to do so, he or she could be responsible for your concussion after crashing into your car. Proving liability for a concussion takes four main elements.
The defendant's duty to exercise reasonable care.
The defendant's breach of duty (negligence).
Causation between the breach of duty and the concussion.
Compensable damages, such as injuries or medical bills.
An attorney from The Knowles Law Firm may be able to help you gather evidence to prove one or more defendants' fault for your concussion. Our lawyers have the experience and investigative resources to determine the cause of your concussion, name the defendant and present evidence to an insurance company (or courtroom) to achieve fair compensation.
Concussion Recovery
A concussion injury can lead to severe and long-lasting brain injuries if not properly treated shortly after the trauma. If you suffer a concussion or other brain injury as the result of an accident that was not your fault, the responsible party should be held accountable including the cost of all medical treatment and time missed from work.
Nebraska is a comparative negligence state which means that an injured party can recover if they were less than 50 percent responsible for the accident. A personal injury case may become complicated if a prior concussion existed and the accident led to a second concussion and greater brain trauma. A personal injury attorney will consult with medical professionals to determine the nature and extent of the damage attributable to the accident. Even if you had a pre-existing concussion, it is important that you keep in mind that a secondary concussion would not have occurred but for the actions of the negligent party who caused the accident.
As the victim of an accident leading to a concussion, you are entitled to seek damages related to the following expenses:
Medical expenses
Rehabilitation care
Lost wages
Future earnings
Pain and suffering
It is important that you and your attorney discuss the emotional distress aspect of a concussion, as many concussions and traumatic brain injuries will have a lasting impact on your way of life. This may affect your ability to interact with others, hold a job, or even perform basic daily functions.
The Knowles Law Firm | Omaha, Nebraska
If you or a loved one have received a concussion as a result of a personal injury accident, do not hesitate to contact the attorneys at Knowles Law Firm. Our attorneys have years of experience in handling these sorts of claims and will work with medical professionals to fully develop your claim including the cost of all likely future treatment. Contact our Omaha, Nebraska office today for your initial free consultation.
ACCOLADES AND NEWS