Slip and fall accidents are often depicted in pop culture and news reports as being caused by a spill on the grocery aisle or related property. These reports are not far from the truth, as any wet or slick surface can lead to extensive injuries when you least expect it. If you have been injured after falling from a wet floor incident, you may be entitled to compensation for your injuries.
Wet Floors and Injuries
Wet floors can have any number of causes, although they often result from some type of spill or leak. The sheen from a wet floor can often make it invisible to guests on the property, but a property owner owes a duty to warn guests of unsafe conditions. As a business owner, this means having procedures in place that are designed to immediately detect and clean any spill occurring on the premises. As a property owner, it may mean actively supervising your guests and/or placing signs around areas prone to leaks or drips. Properties which contain a pool are more at risk of wet surfaces as guests traipse in and out of the pool dripping water along the way. Restaurants and dinner party locations are also at a greater risk of a guest spilling a liquid or food item on the floor and not informing the property owner. In many of these situations, guests end up falling and injuring themselves, sometimes seriously.
Women and children are frequent victims of accidents caused by wet floors. Women often wear heels, many times while carrying a child, and do not expect a surface to be wet. Heels are difficult enough to walk in without the added factor of a slippery surface.
Injuries and Liability
Wet floors are often the responsibility of a property owner but may also be the responsibility of a tenant depending on the situation. Whoever the responsible party is, he or she may be held liable for the following elements of damage after a wet floor accident:
Medical expenses
Lost wages
Rehabilitation
Future earnings
Pain and suffering
Each wet floor accident often result in serious orthopedic injuries. It is important to discuss any personal injury claim with an experienced attorney but especially one involving those sorts of injuries. We recommend that you avoid discussing the incident with the property owner's insurance company prior to discussing your potential claim with an experienced attorney. Insurance companies often attempt to settle injury claims soon after an incident (and well before you could possibly know the full extent of your injuries) for nominal compensation. Always discuss your claim with an experienced personal injury attorney before agreeing to any settlement offer.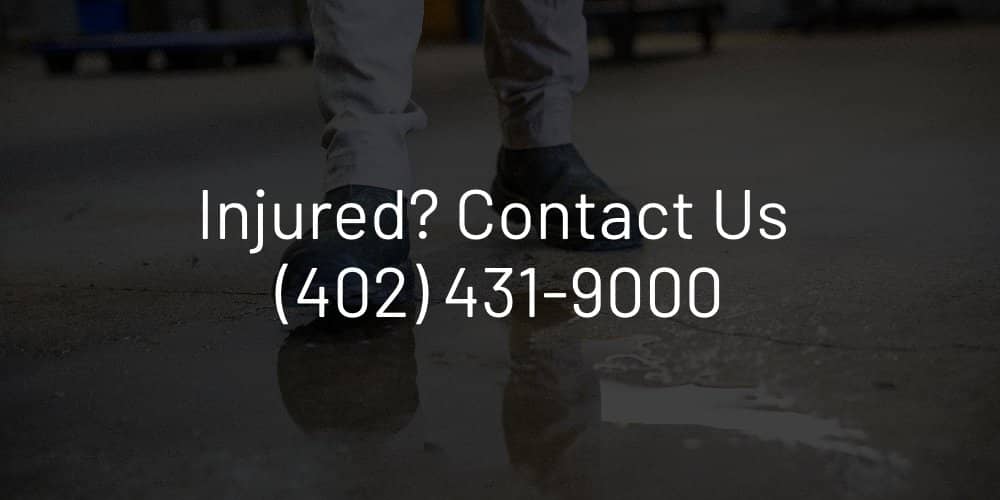 The Knowles Law Firm | Omaha, Nebraska
If you have been injured in an accident caused by a wet or slick floor, do not hesitate to contact the attorneys of Knowles Law Firm. Our attorneys have years of experience in handling personal injury actions including those caused by these sorts of conditions. While the property owner may consider a wet floor to be a usual (and expected) condition of any business, wet floors can lead to devastating injuries. Contact our Omaha, Nebraska office today for your initial free consultation.
ACCOLADES AND NEWS