Omaha Landlord Negligence Lawyer
Rental properties and landlord complaints are often the banes of your existence when renting a property.  It is very rare that a landlord can seem to do anything right to appease renters.  However, many of these complaints are well-founded and may lead to liability against your landlord.  If you have a particularly egregious situation caused by your landlord, you may be entitled to receive compensation for injuries that occurred as the result of landlord negligence with the help of an Omaha landlord negligence attorney.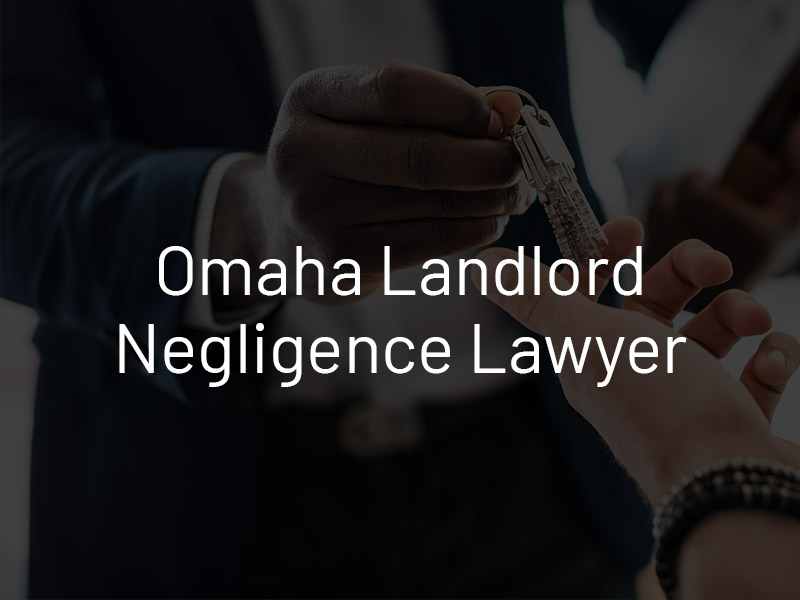 Why Choose The Knowles Law Firm?
Our premises liability attorneys have years of experience handling claims involving leased or rented properties and landlords.
Our Omaha accident lawyers do not stop at step one – or two or three – during a complex claim. We see a claim through from beginning to end, always fighting for top results.
Our lawyers have proven their abilities to obtain maximum compensation for injured victims. We have won tens of millions of dollars on behalf of our clients.
Our Omaha landlord negligence lawyers take clients on a contingency fee basis, meaning you will not pay a cent unless we obtain a financial award for you.
Responsibilities of a Landlord in Nebraska
A landlord may be liable for injuries sustained during the routine use of the property or after repeated requests to fix a defect.  Landlords are the person responsible for protecting your safety and the safety of your family while on their premises and have a duty to keep their property free from hazards.  Any breach of this duty could lead to liability on the part of the landlord.
Common negligent items which, left unintended, could lead to severe injuries include:
Broken stairs or staircase
Rickety balcony or railing
Loose wires
Unsupervised pool
Holes
Down trees
Broken locks or windows
Both large and small rental properties contain similar issues on an ongoing basis.  Homes need to be continuously inspected for signs of "wear and tear" that have the potential to lead to serious injuries.  Additionally, a landlord must post warning signs in front of any known hazard, including items that may be an "attractive nuisance" to children, such as unsupervised pools.  The failure of a landlord to warn that no lifeguard is on duty could result in drowning injuries or even tragic deaths of young children.
A landlord is responsible for securing the property and this often means more than warning of any hidden dangers.  This may often mean protecting their tenants from theft and assault, such as by ensuring all locks and window locks are working properly.  The failure to secure their property against theft could result in liability against the landlord after a violent theft or assault occurs, on both a criminal and civil scale.
Landlord Negligence Injuries
The failure to warn of a potential hazard or to clean up a dangerous location could easily result in a number of injuries, including:
Broken bones
Head injuries
Electrocution
Amputation
Drowning
A landlord may be held liable not only for the medical costs of these injuries but also related costs, including the cost of rent for the property.  A personal injury attorney will be able to better evaluate your unique case and determine the total cost of your damages.
Nebraska Premises Liability Laws
In Nebraska, all property owners have a legal duty to maintain safe premises for their tenants. While this does not mean they have to prevent every accident, it does mean they must prevent those that are reasonably foreseeable. If, for example, a leaky pipe in a shared laundry facility caused a slip and fall accident, the landlord might be liable if another landlord in the same position would have known about the leaky pipe and fixed it before the accident. The landlord would not be liable, however, if no reasonable or prudent landlord could have known about the leak before the fall.
Proving a negligence claim against a landlord often takes evidence such as photographs of the property defect, interviews with other tenants, statements from accident eyewitnesses, accident or police reports, maintenance records, expert testimony, and medical records. The burden of proof, which rests with the victim, is to establish that the landlord owed the victim a duty of care, failed to fulfill this duty and caused the damages in question. Meeting this burden of proof may take help from an attorney.
An attorney can help you understand and navigate Nebraska's premises liability and landlord responsibility laws, including the state's statute of limitations. This is a strict deadline for filing your claim, which if you miss could lead to the loss of any right to claim compensation. In Nebraska, you have four years from the date of your injury to bring a claim, with some exceptions. Hiring a lawyer from The Knowles Law Firm to take care of your landlord's negligence claim could make the entire process easier for you and your family.
Available Damages in a Claim Against a Landlord
Another benefit of hiring an attorney is maximizing your payout during a claim against your landlord. If your lawyer can prove your landlord breached a duty of care, including one of the state's many rental laws, and that this is what caused your accident, you could receive compensation for several different damages.
Medical expenses. The costs of all healthcare-associated with your injuries. This could include surgeries, prescription medications, medical devices, therapies, doctor's appointments, and travel expenses.
Lost wages. The costs of your lost weekly earnings from missed time at work during injury recovery. If the incident gave you a disability, it could also pay for lost future capacity to earn.
Property damage. The price of property repairs or replacement if the landlord's mistake destroyed your property. This could include items you had in your rented unit that suffered damage in a fire or flood.
Pain and suffering. The intangible effects of the property-related accident, such as emotional distress, psychological suffering, physical pain, humiliation, lost quality of life and discomfort.
Wrongful death damages. If your landlord's negligence cost you the life of a loved one, you could be eligible for additional compensation such as funeral and burial expenses, loss of consortium, and mental anguish.
A compensatory award from a successful claim against your landlord could repay you for both economic and noneconomic losses. One of our lawyers can review your case for free and give you an accurate estimate of its potential value. If we decide to take your case, we can then take the first steps toward fighting for maximum relief on your behalf.
The Knowles Law Firm | Omaha, Nebraska
If you or a loved one have been injured due to a defect in your leased property, do not hesitate to contact the attorneys of the Knowles Law Firm.  A landlord who leases out property to tenants must uphold a duty of safety to any leasees of the property.  Failure to keep the property free from hazards and other potential dangers should result in liability against the landlord.  Contact our Omaha, Nebraska offices today for your initial free consultation during which we will walk through the facts of your case and discuss the recovery options.