Omaha Premises Liability Attorney
Property owners take on a whole new responsibility once they purchase a tract of land or lease a set retail space.  As a property owner, you have a specific duty of care to protect all guests on your property, including those of various invitations.  If you have been injured on the premises of another person, you may be entitled to receive compensation for your injuries. Contact our Omaha premises liability lawyer today.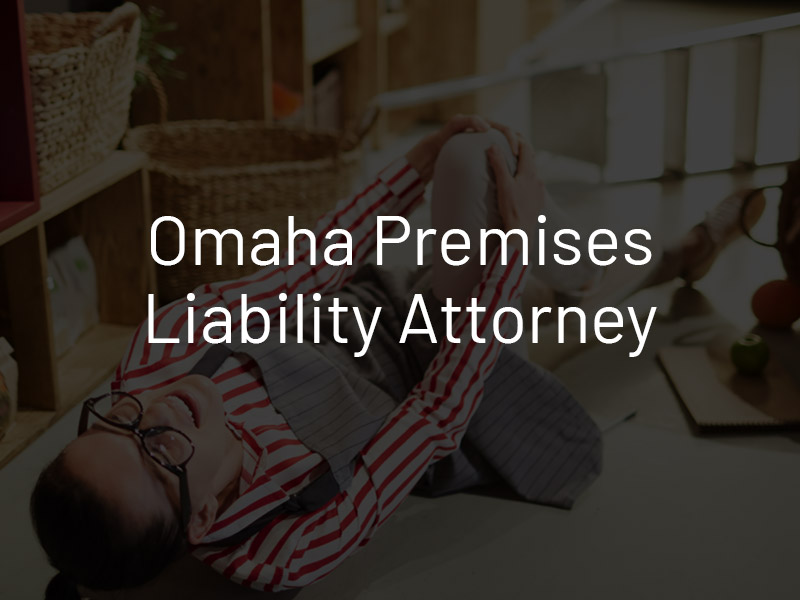 Why Choose Our Omaha Premises Liability Attorneys?
We have years of experience in this practice area and know how to help.
We have obtained multimillion-dollar settlements and verdicts for past clients.
We provide in-depth and tailored legal services, treating each client like our only client.
We can take any defendant to court in pursuit of top results, including property owners.
We accept premises liability claims in Omaha, Nebraska on a contingency fee basis.
 Premise Liability
Premises liability refers to the duty of a property owner to provide a safe environment for any guests on their property.  The duties of a property owner require that the property be kept free from any hazards or other dangers that could harm a guest on the property.  If a hazard does exist, the property owner has a duty to warn any guests.
Premises liability lists out different tiers of guests, including an invitee, licensee, and trespasser.  An invitee (or customer) is afforded the greatest protection under premises liability law.  The property owner has a duty to prevent an invitee from injuring themselves on the property as well as warning against any impending injuries.  This may include items such as a spill on the floor, an unsteady step, or trip hazards.
A licensee, or social guest, represents someone who is not an invitee, but still holds more rights than a trespasser.  A social guest may be prohibited from certain sections of the property and will be treated as a trespasser if they overstep any boundaries.
A trespasser is afforded the least protection under standard premises liability laws, although a property owner still cannot create a hazard that will harm a trespasser.  For example, if a property owner is aware that a trespasser crosses their property every day, they will be held liable for any injuries which occur if they dig a hole directly on the trespasser's path and cover it with leaves to hide the hole.
Common Premises-Related Accidents in Omaha
At the Knowles Law Firm, we have represented clients after many different premises-related accidents throughout Nebraska. We know precisely what to do to support victims through these difficult situations. We can point you in the direction of excellent primary care physicians in Omaha, help you file an injury claim before the state's deadline and take any other steps needed so you can focus on your future. Our injury law firm handles all types of premises liability claims.
Accidents at work
Swimming pool accidents
Amusement park injuries
Elevator and escalator accidents
Negligent security
Landlord negligence (inadequate maintenance)
Flooding or water leaks
Fires and explosions
Exposure to toxic substances
No matter what scenario your premises liability accident entails, we can help. We understand the duties of care property owners owe their visitors, and how to hold them accountable when they breach these standards. Our attorneys will ask the right questions to get to the bottom of who or what caused your injuries.
Many of these injuries may result in ongoing medical care, as well as the diminished ability to work in the future.  If you have been the victim of a premises liability accident, you may be entitled to recover the following in your personal injury claim:
Medical expenses
Rehabilitation expenses
Lost wages
Future earnings
Pain and suffering
Loss of companionship
An experienced personal injury attorney will be able to fully put together your claim and calculate the amount in damages your injury may be worth, both in the present and considering future circumstances.
Do You Have a Premises Liability Claim?
If you suffered a recent injury or illness in one of the incidents listed above, you most likely have grounds for a premises liability claim in Nebraska. For your case to succeed, however, your lawyer will need to prove certain elements. The first is that you were lawfully on the property when the injury happened. The property owner must have invited you – expressly or implicitly – onto the property. If you were trespassing, the owner may not have owed you any duties of care, unless you were a minor under the age of 18.
The second is that an obvious or foreseeable property defect caused your injury or illness. This could be a wet floor, a dangerous dog, an open swimming pool, a lack of security guards or any other condition that a reasonable and prudent property owner would have remedied. The third is that the defendant was in control of the property at the time of the accident. The defendant may be the property owner or the landlord. The fourth is that you suffered specific damages because of the defendant's negligence, such as personal injuries or property damages.
Responsibilities of a Landlord in Nebraska
A landlord may be liable for injuries sustained during the routine use of the property or after repeated requests to fix a defect.  Landlords are the person responsible for protecting your safety and the safety of your family while on their premises and have a duty to keep their property free from hazards.  Any breach of this duty could lead to liability on the part of the landlord.
Common negligent items which, left unintended, could lead to severe injuries include:
Broken stairs or staircase
Rickety balcony or railing
Loose wires
Unsupervised pool
Holes
Down trees
Broken locks or windows
Both large and small rental properties contain similar issues on an ongoing basis.  Homes need to be continuously inspected for signs of "wear and tear" that have the potential to lead to serious injuries.  Additionally, a landlord must post warning signs in front of any known hazard, including items that may be an "attractive nuisance" to children, such as unsupervised pools.  The failure of a landlord to warn that no lifeguard is on duty could result in drowning injuries or even tragic deaths of young children.
A landlord is responsible for securing the property and this often means more than warning of any hidden dangers.  This may often mean protecting their tenants from theft and assault, such as by ensuring all locks and window locks are working properly.  The failure to secure their property against theft could result in liability against the landlord after a violent theft or assault occurs, on both a criminal and civil scale.
Defenses to a Premises Claim
As the plaintiff in a premises liability claim, you must prepare for possible defenses. These are arguments the defendant may use to get out of paying for your losses. One common defense is comparative negligence. This defense alleges that you caused or contributed to your own injuries, such as by not paying attention to where you were walking or ignoring warning signs posted on the property.
Under Nebraska Revised Statute 25-21,185.09, you could be partially at fault for a personal injury and still receive compensation. The courts will simply diminish your recovery award by an amount proportionate to your degree of fault. The only time the courts may bar you from recovery for comparative negligence is if you were more than 50% responsible for the injury. A lawyer may be able to help you prove the defendant's majority of fault to protect your right to damages.
Another common defense is the assumption of risk. This defense may arise if you were engaged in activities with obvious and known risks at the time of your injuries, such as cliff diving or parasailing. In these situations, the property owner may argue that you were aware of the risk of injuries and thus assumed liability for any you suffered. A lawyer could help you combat this defense by demonstrating that you were in fact not aware of the specific risk that caused your injuries.
Nebraska Premises Liability Laws
In Nebraska, all property owners have a legal duty to maintain safe premises for their tenants. While this does not mean they have to prevent every accident, it does mean they must prevent those that are reasonably foreseeable. If, for example, a leaky pipe in a shared laundry facility caused a slip and fall accident, the landlord might be liable if another landlord in the same position would have known about the leaky pipe and fixed it before the accident. The landlord would not be liable, however, if no reasonable or prudent landlord could have known about the leak before the fall.
Proving a negligence claim against a landlord often takes evidence such as photographs of the property defect, interviews with other tenants, statements from accident eyewitnesses, accident or police reports, maintenance records, expert testimony, and medical records. The burden of proof, which rests with the victim, is to establish that the landlord owed the victim a duty of care, failed to fulfill this duty and caused the damages in question. Meeting this burden of proof may take help from an attorney.
An attorney can help you understand and navigate Nebraska's premises liability and landlord responsibility laws, including the state's statute of limitations. This is a strict deadline for filing your claim, which if you miss could lead to the loss of any right to claim compensation. In Nebraska, you have four years from the date of your injury to bring a claim, with some exceptions. Hiring a lawyer from The Knowles Law Firm to take care of your landlord's negligence claim could make the entire process easier for you and your family.
The Knowles Law Firm | Omaha, Nebraska
If you or a loved one have been injured on the property of another, do not hesitate to contact the attorneys of the Knowles Law Firm.  Our attorneys have years of experience in assisting our clients with claims stemming from injuries sustained on a piece of property.  As a guest on someone's property, you should be kept safe from harm – any deviation from this should result in liability against the property owner.  Contact our Omaha, Nebraska office today for your initial free consultation.