Construction pops up around the state on a near-daily basis, as companies expand, new companies move in, and new houses are built to accommodate the influx of workers. This is a cycle that is evident throughout the country as the construction sector has remained relatively stable over the last ten years. Construction site accidents have remained relatively high despite ongoing training to prevent them from occurring.
The construction industry as a whole is imbued with hazards, from dangerous power tools to working from heights. Issues within a construction site can increase the risk of worker injuries, however, such as the failure to provide proper protective gear or maintain a safe site. If you or a loved one suffered an injury in a construction zone in Omaha, Nebraska, you may be entitled to financial compensation. Contact the Omaha accident attorneys at Knowles Law Firm for a free consultation to discuss your legal options.
Construction Site Hazards
Every year, the construction industry tops all other workplaces in the U.S. in terms of threats to worker health and safety. It is the deadliest job in America, according to annual accident statistics. In 2019, about 20 percent of worker fatalities were in construction – a total of 1,061 worker deaths. The construction industry unfortunately has developed what the Occupational Safety & Health Administration has dubbed the "fatal four:"
Falls:

With the increase in the number of multiple-level buildings, falls make up a large majority of construction site accidents.

Falls in construction are often due to scaffolding problems, structural collapses, unmarked trenches, unsafe premises, and a lack of personal fall protection equipment.

Strikes from Objects:

Falling objects are another common event. An inexperienced construction worker may place a heavy tool at the ledge of scaffolding or other location only to have it fall down on top of another worker.

A worker may also be struck with a piece of equipment, such as the arm of a crane.

Electrocutions:

Electric shocks, electrical burns, and fatal electrocutions can occur in construction if a coworker or manager does not properly control hazardous electrical energy. If a boom lift carrying a worker runs into a live electrical wire, for example, the worker could suffer fatal electrical injuries.



Caught-in/Between Objects or Equipment:

One of the leading causes of construction site injuries is related to the use of equipment on the site. Workers must go through extensive training to ensure they know how to properly use all tools and equipment on the project. Failure to accurately complete the required training can lead to devastating injuries.



These are all causes of construction site accidents that occur to construction workers on a daily basis and were responsible for over half of all construction site fatalities in 2019, according to OSHA. The top three most frequently cited safety standards violated were a lack of fall protection, lack of hazard communication, and lack of respiratory protection. If more of an effort were made to maintain safe construction sites, fewer accidents, injuries, and deaths would take place.
What Are The Most Dangerous Jobs in Construction?
All construction workers in Omaha are at risk of potential accidents and injuries while on the job. However, certain job titles, positions, and settings in the construction field come with greater injury risks than others. Every year, OSHA inspectors visit millions of worksites around the nation to inspect them for hazards and violated safety standards. OSHA compiles this data to determine the most dangerous jobs in the industry. They are:
Roofing: With fall injuries as the number one cause of death in construction, working from any type of height – a roof, scaffold, or high-rise – is a significant hazard.
Demolition work: Demolishing a building comes with risks such as explosions, flying debris, and falling structures. It can also expose workers to asbestos.
Heavy equipment operation: Working with or near heavy equipment comes with a risk of getting caught in the equipment's mechanisms or beneath its tires.
Sewer and ductwork: Working around sewers or ducts can expose employees to harmful substances and toxic environments.
Transportation: Construction jobs that center on freight hauling or driving a commercial truck run the risk of deadly

truck accidents

.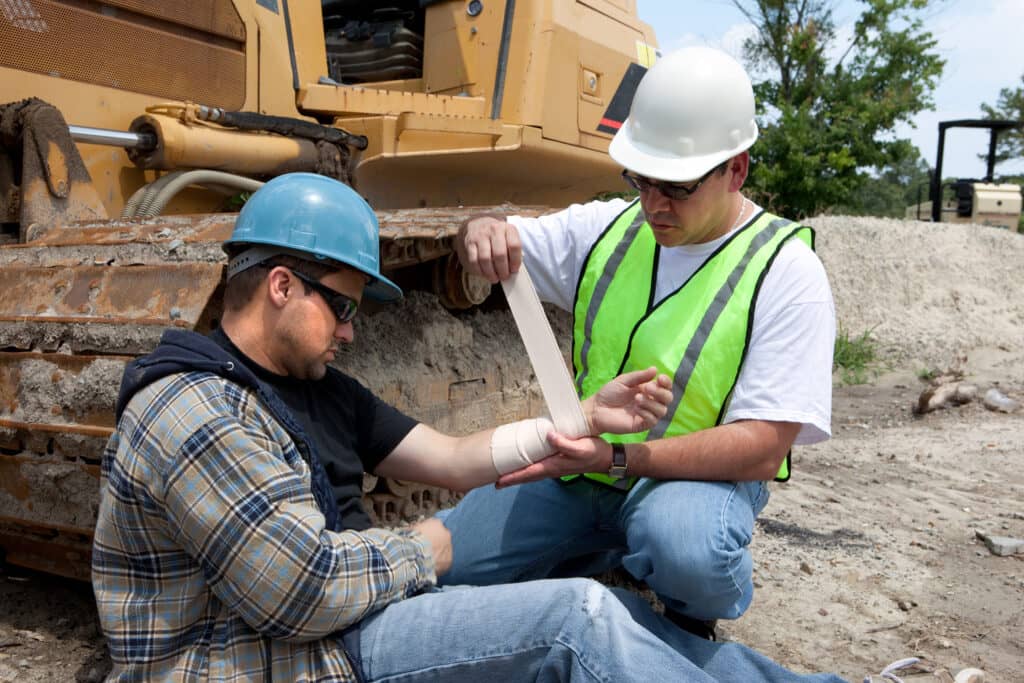 Dangerous construction jobs can put workers at risk of serious injuries and death. It is a construction company's duty to minimize risks to workers as much as possible using safety measures such as protective gear, premises inspections, worker training programs, and safety signs posted throughout the workplace. Unfortunately, not all construction companies put the safety of their workers and the public first.
Who Is Liable For A Construction Accident?
Construction companies are frequently the responsible party for any injuries that occur on the construction site location. Construction companies must have an extensive training set up to instruct workers on how to handle certain situations as well as how to perform their basic duties. Many construction site accidents are often the result of untrained workers who fail to recognize the constant need for safety. If the construction company should have trained its workers better to prevent incidents, the company could be responsible for a related accident.
A construction company could also be vicariously liable for the mistakes of its employees. Vicarious liability applies to all employers. It makes them legally responsible for the actions and omissions of their employees. If a construction company is not found to be at fault for an injury or death, liability could go to the manufacturer of a defective piece of construction equipment, an independent contractor, property owner, the government or a third party. A lawyer can carefully review your accident case to determine who is liable.
How Can You Recover After a Construction Site Accident?
While a construction site accident is often the result of one worker's actions, the construction company is often the responsible party for any resulting injuries. The construction company must properly train all of its workers to ensure the project moves forward without any safety issues. The unpredictable environment of a construction zone can lead to a wide variety of accidents and resulting injuries, many of which are the most severe types of injuries that a person can receive. Common construction site injuries include:
Broken bones
Amputations
Burns
Spinal cord injuries
Concussions
Paralysis
Many of these injuries require extensive medical care and ongoing rehabilitation. Many construction site workers are independent contractors who do not qualify for worker's compensation and related company healthcare. However, the construction company should nevertheless be held liable for their injuries. Not only will you often have a long road to recovery, but you will also likely be unable to work for long periods of time and thus receive no paycheck. An Omaha personal injury attorney will take all these factors into consideration when drafting your claim to ensure you receive the amount you deserve for your injuries.
If a death has occurred due to an accident, please reach out to our Omaha wrongful death lawyers today.
Do You Qualify for Workers' Compensation?
Injured workers in Nebraska are eligible to recover compensation without proving fault through the state's workers' comp program. This system is in place to allow injured workers a way to pay for their required medical care, lost wages, and other expenses after occupational accidents. Under Nebraska law, if a qualifying worker is injured while performing job-related tasks (inside or outside of the workplace), he or she will be eligible for workers' comp without having to prove fault or negligence.
All employers in Nebraska with one or more employees must carry workers' compensation insurance. Most construction workers who are classified as employees, not independent contractors, qualify for workers' comp insurance benefits. This type of insurance will pay for any type of injury, illness, or disease that arose out of and in the course of employment, as long as the employee was not negligent at the time of the injury.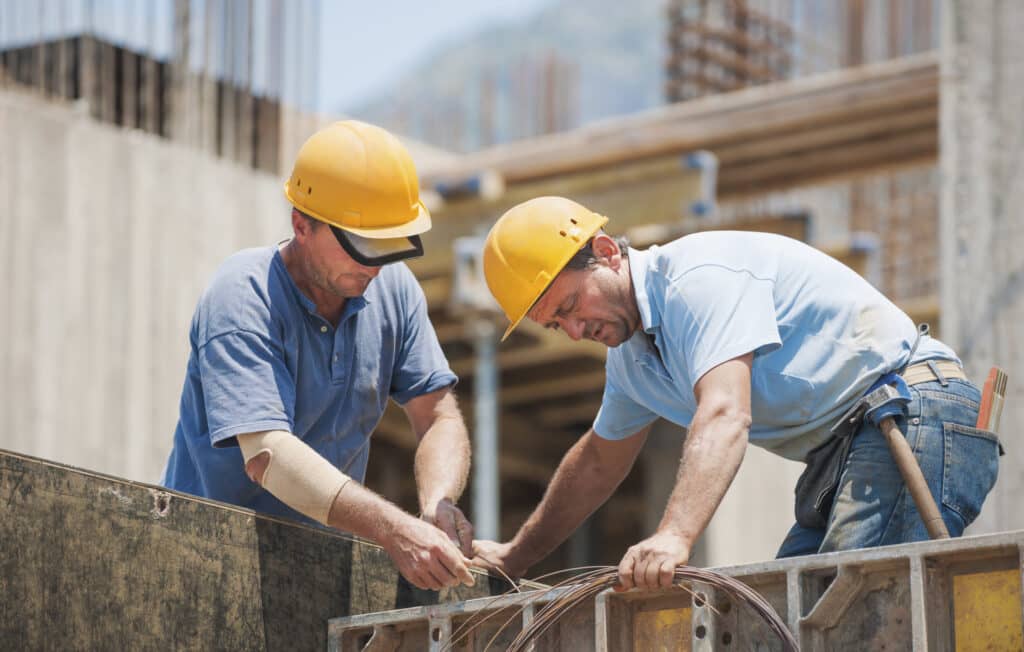 Workers' compensation for a construction site accident can cover an employee's full medical care, including all necessary treatments, surgeries, medications, prosthetic devices, and medical travel. It can also pay lost wage benefits, usually up to two-thirds of the worker's weekly wage. If a construction accident causes temporary or permanent disability, workers' comp can also pay disability and vocational rehabilitation benefits. Finally, if a worker dies on the job, workers' comp can pay death benefits to the surviving family members.
Third-Party Workers' Compensation
If your construction accident or injury was caused by someone other than your employer, you may have the right to file a lawsuit against this party – referred to as a third party – to pursue compensation for your losses. This is known as a third-party workers' compensation claim. If a coworker who was employed by another contractor injured you, for example, you may be able to seek financial benefits through the coworker's employer beyond workers' comp benefits provided through your own employer.
A third-party workers' comp claim in Nebraska could deliver greater financial reimbursement for your past and future losses after a serious construction site accident. If you suffered a catastrophic injury such as a spinal cord injury and paralysis, for example, a third-party workers' comp claim may allow you to collect the monetary award that you need to pay for ongoing medical care and permanent disability. This type of claim could allow you to recover more than what is available through a first-party workers' comp claim alone.
A third-party claim after a construction accident may involve a process known as insurance subrogation. With insurance subrogation, one insurance company can stand in the place of another. Nebraska Revised Statute Section 48-118 states that when a third party is responsible for the injury or death of an employee, the employer can be subrogated to the right of the employee or dependence on the third party. This means that your employer can seek compensation from a third party's insurance company on your behalf.
Speak to an Attorney Before Accepting an Insurance Settlement for a Construction Accident
Once you accept a workers' compensation settlement for a construction accident in Omaha, you automatically give up the right to file a personal injury lawsuit against your employer. This is why it is important to speak to an attorney before accepting a settlement or signing anything sent to you by an insurance company. If you believe that your employer played a role in causing your accident, a personal injury lawsuit against the employer could be a better option than workers' comp, depending on the circumstances.
You may have the right to recover compensation in Nebraska through both a workers' compensation claim and a personal injury lawsuit if a third party caused or contributed to your injuries. Recovering through both types of claims can help you collect just compensation for the full extent of your losses, including pain and suffering and permanent disability. Learn more about your legal options after a construction accident in Omaha during a free case evaluation with our attorneys.
The Knowles Law Firm | Omaha, Nebraska Personal Injury Attorneys
If you or a loved one have been injured in a construction site accident, do not hesitate to contact the attorneys at Knowles Law Firm. Contact our Omaha, Nebraska office today for your initial free consultation.
ACCOLADES AND NEWS