Our perception of parking lots changes over the years. As children, we often ran through the parking lot, much to the frustration of our parents. However, by the time we are adults we recognize the danger that can come with parking lots, both to our vehicles and ourselves. Parking lots are unique "off-highway" locations, some with designated speed limits, and others that force customers to create their own parking spaces.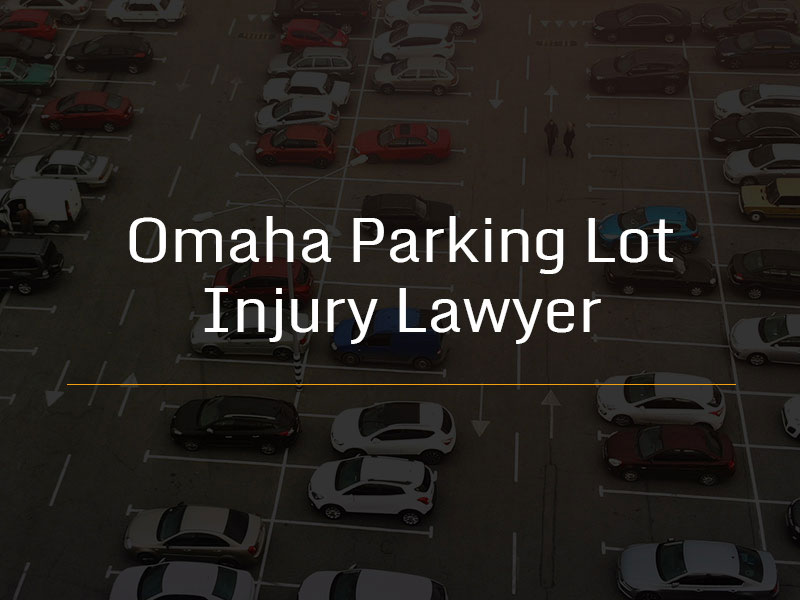 Parking Lot Accidents
Parking lot injuries often occur after a negligent driver forces their way into a spot or speeds down the parking lot. There are reasons most drivers continue at a slow pace through parking lots, and this is to keep a careful eye on pedestrians, strollers, and other cars. Some businesses may mold parking lots in the smallest of spaces, making pulling in and out incredibly tricky. Thankfully, many new cars have back-up cameras that help avoid striking pedestrians who seemingly come out of nowhere.
Drivers in parking lots routinely feel as though the rules of the road do not apply to them. They frequently text while entering or exiting a parking lot, drive too fast, or fail to yield to pedestrians. Road rage incidents can also occur in parking lots, especially on peak shopping days when drivers fight to get a parking spot.
Common Types of Parking Lot Injuries
Parking lot injuries happen most often in one of two ways: a driver strikes a pedestrian in a crosswalk or a driver reverses and hits someone walking behind the vehicle. Both types of accidents can lead to serious or fatal injuries. When a motor vehicle collides with a pedestrian, the latter may suffer injuries in the lower extremities, hips, chest or head depending on the height of the person, height of the vehicle and circumstances of the accident. While each case is unique, parking lot accidents often cause specific injuries.
Head and brain trauma
Bone fractures, especially in the lower extremities
Pelvic injuries
Back and spinal cord injuries
Internal organ damage
Cuts, scrapes, and lacerations
Wrongful death
A pedestrian can suffer injuries during two collisions in a parking lot accident. First is the vehicular collision. This initial impact can lead to broken bones in the legs, pelvis or other parts of the body, as well as bruising, contusions and head injuries. The second is the collision with the ground. This could also cause broken bones and head injuries, plus lacerations and road rash. Most parking lot pedestrian accidents cause serious injuries that require emergency medical treatment.
Long-Term Effects From Parking Lot Injuries
Some parking lot injuries are severe enough to continue to affect the victim for weeks, years or life. Head trauma that impacts the brain, for example, could lead to long-term physical and cognitive disabilities. A traumatic brain injury could have long-lasting or permanent symptoms such as disorientation, difficulty speaking, trouble walking or memory loss. An injury to the spine could also have long-term effects, including paraplegia or quadriplegia.
If the accident causes crush injuries and internal organ damage, the victim may never fully recover the full use of one or more bodily functions. Serious injuries can also cause lifelong scarring and/or disfigurement. Not all long-term effects from parking lot injuries are physical, however. Many survivors suffer mental and emotional trauma, with outcomes such as post-traumatic stress disorder or nightmares after their experiences. During a civil lawsuit in Nebraska, a victim may be able to file a claim for both economic and noneconomic damages from the at-fault party.
Parking Lot Accident Statistics
Parking lots are some of the most dangerous settings for pedestrians in Omaha, Nebraska. Distracted drivers, speeding drivers and unsafely designed parking lots contribute to the rate of parking lot accidents. Other hazards could also injure someone in a parking lot, such as an uneven curb, cracked sidewalk or potholes. Ground surface defects can cause painful trip, slip and fall accidents.
According to the Nebraska Department of Transportation, 406 pedestrians were injured and 20 lost their lives in traffic accidents in 2017. This was an increase from the previous year's totals of 380 injuries and 11 deaths. Some of these pedestrian collisions occurred in parking lots. The National Safety Council says tens of thousands of parking lot accidents occur each year. Negligent drivers and dangerous premises contribute to parking lot injuries – most of which are preventable.
Preventing Parking Lot Accidents
As a driver, you can prevent parking lot accidents by eliminating distractions. Pay attention to where you are driving. Do not make phone calls or send text messages while navigating a parking lot. Drive slowly, stay alert and yield pedestrians the right-of-way. Check twice for pedestrians before you reverse out of parking space.
As a pedestrian, keep yourself safe by watching for oncoming cars, even when you have the right-of-way. Do not step out in front of a driver and assume he or she will stop. Many people drive distracted and not looking at the road. Wait for a car to come to a complete stop before crossing. Do not text and walk.
Parking Lot Recovery
After any car accident, you are entitled to file a claim for damages against the responsible party including one that occurs in a parking lot. Parking lot accidents can be just as devastating as car accidents that occur on major roadways. If you are involved in such an incident, the police often will not come to the scene since it is private property. It is therefore imperative for you to obtain contact and insurance information with the negligent party. If you are involved in a hit-and-run accident in a parking lot, try to note the license plate and description of the vehicle. Remember too that many businesses today have video cameras positioned throughout their parking lot which may help in the search of the hit-and-run driver.
You may bring a claim for damages against the negligent driver for the following expenses:
Medical expenses
Lost wages
Future earnings
Rehabilitation costs
Pain and suffering
It is important that you speak with a personal injury attorney shortly after the accident occurs and avoid speaking with the negligent party's insurance representatives. Insurance companies will often attempt to settle quickly and for a far lesser amount than you deserve. Never settle a personal injury claim without consulting a personal injury attorney.
The Knowles Law Firm | Omaha, Nebraska
If you or a loved one have been involved in a parking lot accident, do not hesitate to contact the attorneys at Knowles Law Firm. Our attorneys have years of experience in handling all types of car accident claims. We will work tirelessly to ensure that you receive the compensation you deserve for your injuries. Contact our Omaha, Nebraska office today for your initial free consultation.
ACCOLADES AND NEWS