Slip and fall cases are some of the most notorious personal injury cases. Slip and falls happen on a daily basis throughout the state and often result in hardly a scratch. However, many slip and fall cases can be quite severe and are largely based on the inattention and negligence of a property owner. If you have been injured in a slip and fall accident, you may be entitled to receive compensation for your injuries. The attorneys at Knowles Law Firm Can help you fight for the financial recovery that you deserve. Contact us for a free case consultation in Omaha.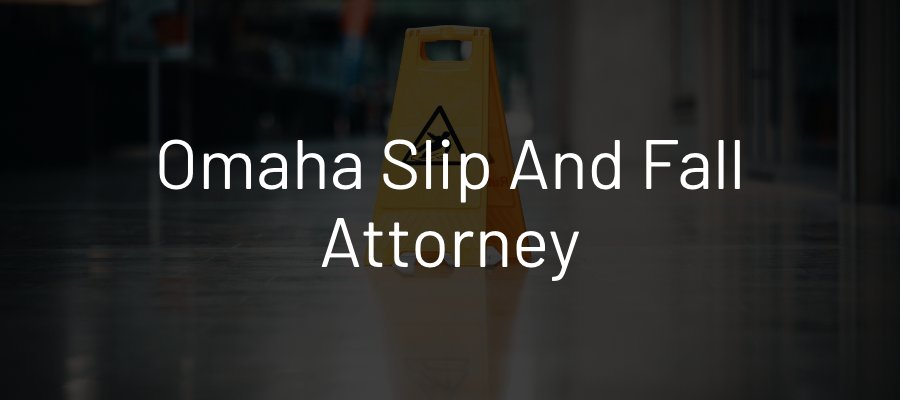 How an Omaha Slip and Fall Attorney Can Help
Hiring an attorney to represent you during a slip and fall accident claim is the best way to protect your rights when going up against an insurance company. A homeowners or commercial insurance provider may try to take advantage of you to save money on your payout. This could lead to low settlement offers or a wrongfully rejected claim. You can trust an attorney to take over settlement negotiations and work relentlessly toward a fair case outcome on your behalf.
Your lawyer can communicate with an insurance claims adjuster to protect you from tactics that may be used to minimize your settlement. If a fair settlement cannot be achieved through negotiations, your slip and fall accident attorney can take your case to court to present evidence before a judge or jury. Your lawyer will also hire experts, connect you to the right doctors in Omaha and make sure you have everything you need during this difficult time.
How Much Does a Slip and Fall Attorney in Omaha Cost?
After a serious slip and fall accident, you are most likely dealing with expensive medical costs and the inability to work at your normal capacity. The last thing you may wish to do is spend money on hiring a lawyer. At Knowles Law Firm, we understand what you are going through. We address this issue among accident victims by offering high-quality legal services on a contingency fee basis. With this arrangement, you will pay us $0 upfront. We will front all of the costs of litigation for you so that you are at no financial risk.
If your slip and fall claim does not result in a successful settlement or judgment award for your losses, we won't charge for our representation. That is our no-win, no-fee guarantee. If your claim does result in financial compensation, we will take a percentage of it to cover our attorney's fees. That way, you never have to pay your attorney out of pocket. The amount of this percentage will depend on the claim. We will inform you of our rate ahead of time and use a pre-agreed-upon percentage so that you are never subject to hidden fees.
Slip and Fall Accidents
Slip and fall accidents can occur on any premises. While the quintessential slip and fall accident is the puddle of water left unintended at a supermarket or in a hotel, slip and fall accidents often encompass wider ranging accidents. Property owners often have a high duty to any guests on their property, especially customers in the case of a business.
Slip and fall accidents can occur in the following locations:
Private residence

Hotel

Amusement park

Grocery store
The crux of a slip and fall accident largely hinges on the property owner's knowledge. Even if the property owner did not have knowledge about the hazard, the property owner still owes guests on his property a duty of care that all premises are free of any lurking hazards. A property guest is afforded the highest duty of care by a property owner, while a trespasser is afforded the least. However, even a trespasser may bring a claim for damages in the case of extreme accidents.
How Dangerous Are Slip and Fall Accidents?
When you think about a slip and fall accident, you may imagine a minor fall that results in bumps and bruises. For many victims, however, the damage is much more severe. Slip and fall accidents can be catastrophic or even deadly in nature. This is especially true for vulnerable elderly adults. Falls can result in hip fractures, which place senior patients at a high risk of fatal complications, including infections, sepsis and blood clots.
According to the Centers for Disease Control and Prevention, falls caused over 36,000 deaths among older adults ages 65 and over in 2020. This made it the leading cause of death in this age group. There were also 3 million emergency department visits recorded. In the United States, more than one-fourth (28 percent) of older adults report falling each year. Of these, about 37 percent report injuries that require medical care or restricted their activity for at least one day. In Nebraska in 2020, 83,712 older adults reported fall incidents.
The elderly are not the only ones at risk of suffering serious injuries in slip and fall accidents. Falls are also a top cause of worker death in Nebraska, according to the U.S. Bureau of Labor Statistics. In 2021, slip or trip and fall accidents were the second-most common fatal event in Nebraska, accounting for 16 percent of fatal work injuries and resulting in four worker deaths. Children can also suffer serious injuries in fall accidents, including permanent disabilities from catastrophic injuries.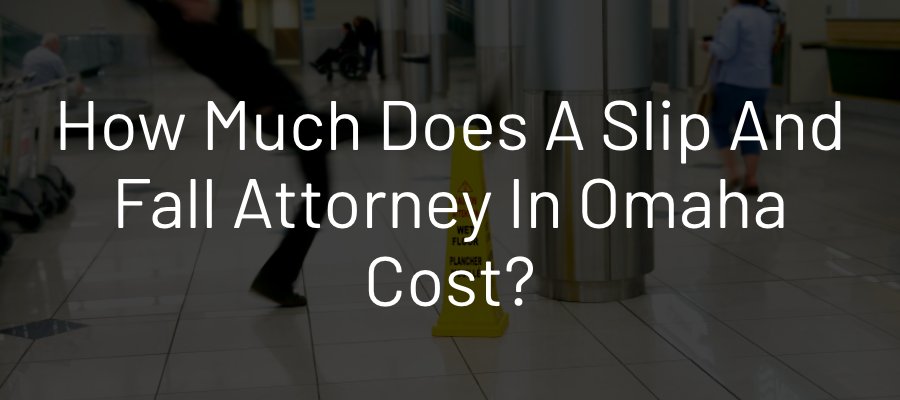 Common Slip and Fall Accident Injuries
If you slip and fall, you could sustain injury to multiple parts of your body. Your hips, knees or elbows may be injured from contact with the ground, for example, or you could hit your head on the way down. If an accident involves a fall from a height, your injuries could be even more severe. Slip and fall accidents often result in the following injuries:
Broken bones

Soft-tissue damage

Muscle sprains and strains

Cuts or lacerations

Bruising and contusions

Internal organ injuries

Neck and back injuries

Spinal cord injuries

Disc herniation

Concussions
Even if you had a pre-existing injury, you could qualify for compensation for the new injury or the exacerbation of an existing condition that was caused by your slip and fall accident. Our attorneys can help you seek fair compensation for your injury and all related costs. If a loved one tragically lost his or her life in a catastrophic fall accident in Omaha, we can also aid your family with a Nebraska wrongful death claim.
Why Do Slip and Fall Accidents in Omaha Happen?
Poor property maintenance or the failure to take proper care of a premises could lead to the development of many slip or trip hazards. Visitors have the right to expect an area to be reasonably free from injury risks. If a property owner in Nebraska fails to ensure a safe premises or does not provide adequate maintenance, any of the following slip and fall accident risks could arise:
Wet floors

Rain, ice or snow

Spilled food or drink

Debris in walkways

Loose or torn floor mats

Loose floorboards

Exposed wires or trip hazards

Uneven or broken floor surfaces

Unsafe or damaged staircases

Dangerous parking lots

Uneven curbs

Loose gravel

Poor lighting
If a property owner has reason to know that the defect or dangerous condition exists, he or she has a duty to remedy the problem or post warning signs before welcoming or inviting guests. The failure to do so constitutes negligence if a reasonably prudent property owner would have in the same or similar circumstances.
Omaha Property Owner's Liability
Liability after a slip and fall accident often rests solely on the property owner. Even if the hazard was due to another guest or employee on the property, the property owner has the ultimate responsibility to ensure that every part of the property is free from any hazards. If the property owner is aware of any impending hazards, they must additionally warn any guests of these hazards. Failure to warn results in liability for resulting injuries.
Property owners have different duties of care based on the type of visitor:
An invitee

has the owner's express or implied permission to be on a property and enters for the owner's benefit, such as customers at a business. Property owners owe them the highest duties of care, which include inspecting the premises for unknown hazards, repairing slip and fall risks, and posting visible warning signs.

A licensee

has the owner's permission to be on the property but is there for his or her own purposes. Owners owe licensees less of a duty of care than invitees. They must still repair known defects and warn of hazards but do not have to search for new or hidden risks.

A trespasser

does not have the owner's permission to be on the land or lawful authority to enter. Property owners in Omaha do not owe trespassers any duties of care, but may not intentionally injure them. There are exceptions for trespassers who are under the age of 18.
The burden of proof rests with the plaintiff or filing party in a slip and fall accident claim in Omaha. This means the victim's attorney must establish sufficient evidence to show that the defendant caused or significantly contributed to the injury being claimed. The burden of proof is a preponderance of the evidence, meaning the defendant must be found responsible with at least a 51 percent certainty. An attorney can help you collect evidence to support your slip and fall injury claim.
What Damages Are Available for a Slip and Fall?
The damages, or financial compensation, that may be available to you as a slip and fall accident victim will depend on the circumstances, such as the severity of your injuries and how the incident has impacted your life. An experienced Omaha personal injury attorney will assist you in putting together a claim for damages resulting from your slip and fall injury. After reviewing your injury, an attorney will help you calculate the potential damages you may include in your claim, such as:
Medical expenses

Lost wages

Future earnings

Pain and suffering

Loss of companionship
Experienced personal injury attorneys know the correct method to calculate projected injury claims and will take into account a host of circumstances. Therefore, it is important not to settle with a property owner shortly after the accident occurs since you will often not receive the full amount of damages you are entitled to.
Slip and Fall Statute of Limitations in Nebraska
A statute of limitations is a state law that places a time limit on your right to bring a personal injury cause of action after a slip and fall accident. Each state has its own statutes of limitations. These filing deadlines also vary depending on the type of case, in some states. Nebraska Revised Statutes Section 25-207 is the statute of limitations on most personal injury claims, including slip and fall accidents and other types of premises liability cases.
The statute of limitations in Nebraska gives an injured party four years from the date of an accident to file a civil claim. An exception known as the discovery rule, however, may extend this deadline to four years from the date that the victim discovered or should have discovered his or her injuries through reasonable care. If your injury has delayed symptoms, for example, such as a herniated disk in your back that is not painful until a few days after your slip and fall, the clock will start ticking on the date of discovery rather than the date of your accident.
There are also exceptions that could shorten your deadline rather than extend it. For example, if you suffered a slip and fall accident on government-owned property, such as in a government building or on a public sidewalk, you will have less time to file a claim under the Nebraska Tort Claims Act. This law gives accident victims half the amount of time to file claims against a government agency – just two years.
It is important to contact a slip and fall accident attorney in Omaha as soon as you can after being injured to learn your filing deadline. It is rare for the courts to grant extensions to claimants who try to file after the statute of limitations has already expired. Acting quickly can ensure you don't miss your deadline and forfeit the right to receive financial compensation. Prompt legal action can also lead to stronger evidence to support your case, such as accurate witness statements while the slip and fall is still fresh in their minds.
Other Nebraska Slip and Fall Laws
Another law that may affect your ability to recover compensation for a slip and fall accident is the comparative negligence statute. This law in Nebraska states that if a victim bears some responsibility for the accident, this will reduce the amount of financial compensation that he or she receives from the property owner or defendant. If the defendant proves that you reasonably should have seen the slip and fall hazard, for example, this could place comparative negligence with you and diminish your payout.
The comparative negligence defense could reduce your financial recovery by a percentage equivalent to your amount of fault. For example, if the courts find that a property owner is 90 percent at fault for poor property maintenance, but you are 10 percent at fault for failing to watch where you were going, you will receive 10 percent less in financial compensation. In this example, a $100,000 judgment award would be reduced to $90,000 due to your comparative negligence.
The comparative negligence law in Nebraska states that an injured victim cannot recover compensation in a personal injury claim if his or her degree of fault is greater than or equal to the defendant's fault. In other words, you or your lawyer must prove that you are less than 50 percent at fault for your slip and fall. With more than half of the blame, you will lose the right to collect compensation from a property owner or defendant altogether. A lawyer can help you combat this defense to protect your right to collect a settlement after a slip and fall accident.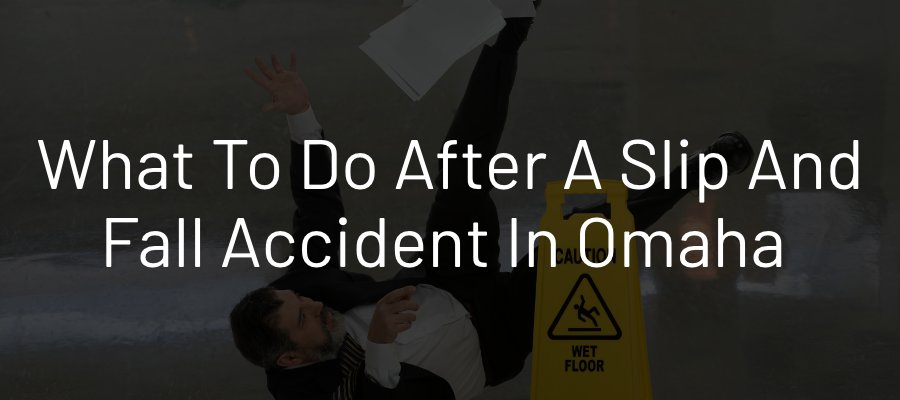 What to Do After a Slip and Fall Accident in Omaha
If you get hurt in a slip and fall accident in Omaha, report it to a supervisor or manager at the property right away. Look around for any surveillance cameras that might have caught the accident on tape. Before you leave the scene of the accident, take photographs of the property defect or hazard that caused you to slip and fall, if possible. Get professional medical care for your injuries immediately. Follow your doctor's treatment plan and request copies of your medical records.
Keep the clothes and shoes that you were wearing at the time of the accident for evidence. If your clothes were wet from a slippery substance on the floor, take pictures before they dry. After receiving medical care, contact the property owner's insurance company to file an injury claim. Before speaking to an insurance claims adjuster, consult with the attorneys at the Knowles Law Firm. We can help you prove your case and negotiate a fair settlement with an insurance provider. Our lawyers will be there for you during every step of the recovery process.
The Knowles Law Firm | Omaha, Nebraska
If you or a loved one have been injured in a slip and fall accident, do not hesitate to contact the attorneys of the Knowles Law Firm. Our attorneys have years of experience in handling slip and fall accidents and understand the research which must go into each slip and fall case. Slip and fall accidents are some of the more unique personal injury cases and must be handled as such after every accident. Contact our Omaha, Nebraska office today for your initial free consultation.
ACCOLADES AND NEWS