Landlord negligence
I Was Injured in My Apartment…Is My Landlord Liable?
Posted in Landlord negligence,Premises liability on February 18, 2020
When you rent an apartment, you take over certain responsibilities in terms of premises safety. Anything you add or modify in the apartment will become your responsibility. Your landlord or building owner, however, will retain many duties over the safety and livability of your apartment. If something goes wrong with the inherent structure of the building, heating, water, plumbing, common areas or grounds that causes an injury, your landlord could be liable.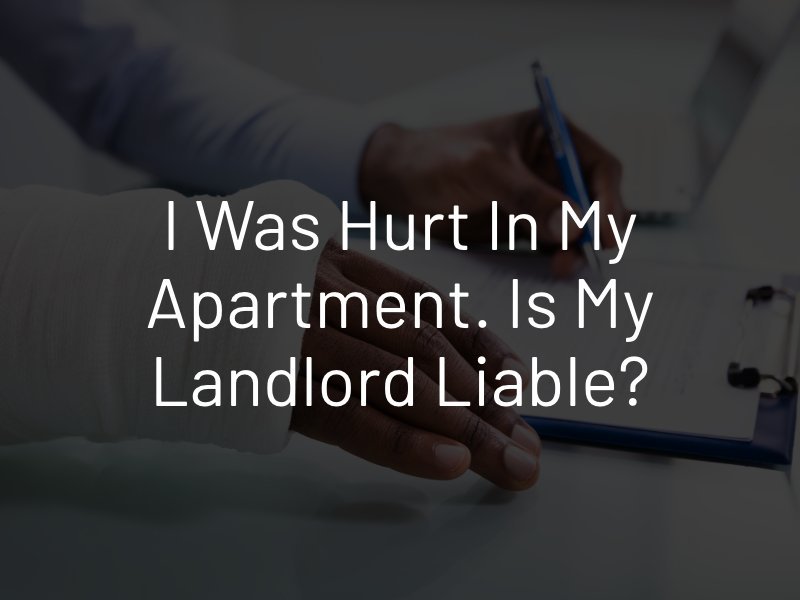 Landlord Responsibilities in Nebraska
A landlord does not escape all property owner duties when he or she hands the keys of an apartment over to a tenant. As the legal building owner, the landlord still has certain responsibilities in terms of the safety and environment of the apartment and surrounding premises. In Nebraska, the Landlord Tenant Act outlines several duties of care all landlords owe their tenants for the duration of the landlord-tenant relationship.
Ensuring the habitability of the apartment
Fulfilling building code requirements
Repairing problems with the building's structure
Preventing and controlling pests, insects and vermin
Preventing exposure to hazardous substances such as mold and asbestos
Providing clean running water and hot water
Providing receptacles for trash and managing trash removal
Repairing and maintaining heating appliances
Keeping all electrical, plumbing and other systems in good working order
Keeping the apartment building reasonably secure from criminals
In general, a landlord must inspect a property regularly, repair discovered problems or hazards, respond to tenant complaints within a reasonable time, and maintain a fit and habitable premises. If your apartment building's landlord breaches any of these duties of care, he or she may be guilty of negligence. If this negligence gives you an injury, illness or property damage, you may be able to file a liability claim against your landlord in Nebraska.
When Is a Landlord Liable for Accidents?
After an injury or serious illness that occurs in your apartment, find out who may be liable with help from an attorney. A discussion with an Omaha premises liability lawyer can give you free advice as to whether or not you have a claim. A lawyer can listen to how your injury or illness happened, inform you of your rights as a tenant, and let you know if your landlord should be liable for your damages. In general, you will need four elements for a successful premises liability lawsuit in Nebraska.
The person responsible for causing the injury (the defendant) owned, leased or lived on the property in question at the time of your accident.
The defendant breached a duty of care owed to you as the property owner, leaser or landlord.
The defendant's breach of duty is why your accident happened. You would not have your injuries or damages were it not for the defendant's negligence.
You have damages. The defendant's actions or omissions gave you specific and damages, such as lost wages or medical bills.
Your landlord will most likely carry insurance to cover disasters such as fires, floods and burglary. This insurance may also pay for the landlord's liability over an apartment accident. If your landlord negligently caused or failed to prevent your injuries, file a claim with his or her insurance provider as soon as possible. Then, work with an attorney for assistance with settlement negotiations. If your landlord's insurer refuses to handle your claim reasonably, a lawyer can help you bring a premises liability claim to court.
File a Claim Today
In Nebraska, you generally have four years to ask the county courts for a civil remedy for your premises-related personal injuries or property damages. Acting quickly can help you collect evidence against your landlord while it is still available. Contact an attorney as soon as you can after an accident in your apartment that results in serious injuries. Prompt action can help you protect your rights. A lawyer can explain your legal options as a tenant and help you bring a claim against a negligent landlord.
Posted in Accident Information,Landlord negligence on December 17, 2019
You might not be the owner of the property, but as a renter, you still have rights. Your landlord must respect your rights by law in Nebraska. Understanding the basics of state laws concerning renters' rights could help you stand up for yourself when someone wrongs you. If you do discover a landlord has infringed upon your rights as a tenant, you may need a lawyer's help. An attorney can review your rental agreement, determine fault and help you seek a fair resolution to the problem.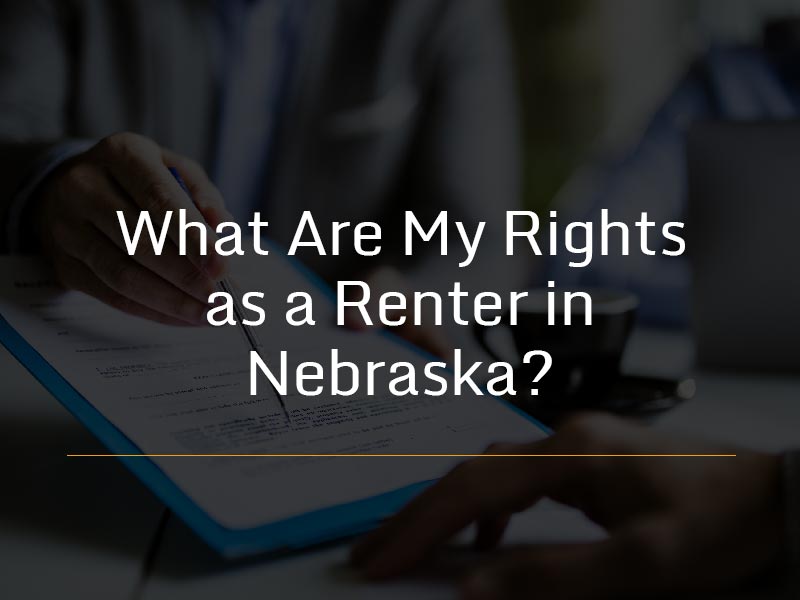 Security Deposit Maximum
Many renters do not know that in Nebraska, state law limits how much a landlord can charge for a security deposit. It is against the law for a property owner to demand a security deposit that exceeds the value of one month's rent. The only exception is if there is a pet fee. A landlord may charge an additional pet deposit, when appropriate, as long as it does not exceed one-fourth of one month's rent. After the tenant terminates residency at the property, the landlord may use the security deposit to repair damages. The landlord must send the tenant an itemized list of damages repaired and any remaining security deposit money within 14 days of the tenant terminating residency.
The Right to Go to Court
If a landlord illegally withholds a security deposit refund, state law gives the tenant the right to file a lawsuit against the landlord for its return. The maximum amount a tenant can seek in reparation is $3,500 (until 2020) through the small claims court. Take a copy of the letter you sent your landlord demanding the return of your deposit, as well as a return receipt proving the landlord received this letter to the small claims court. If you need assistance filing your claim, discuss the matter with an attorney.
Disclosure Requirements
Renters have the right to receive all relevant and required information from a landlord before moving in, usually in the form of a rental agreement or lease. Under federal law, a landlord must supply tenants with lead-based paint warnings, for example. Under state law, the landlord may also have to disclose information about security deposits, nonrefundable fees, rent control rules, shared utility arrangements, smoke alarms, smoking policies, failed building inspections, domestic violence victim rights and the identities of all parties that may act on behalf of the landlord.
Right to Withhold Rent
It is legal for tenants to withhold rent if a landlord fails to provide basic necessities, such as water or heat. Nebraska Revised Statute 76-1427 states that as long as a tenant gives the landlord written notice of the breach, the tenant may withhold rent until the landlord remedies the issue. The tenant could also recover damages based on the decrease in the fair rental value of the unit due to the lack of essentials. A tenant has the right to procure the essentials and deduct the cost of these services from his or her next rent check. The tenant can also live somewhere else during the landlord's noncompliance without having to pay rent in the abandoned unit.
The Right to Freedom From Discrimination
It is against state and federal law for a landlord to discriminate against a tenant based on a protected class, such as race, religion, age, ethnicity or disability. A landlord cannot raise the rent for a tenant based on one of these classifications. If a tenant has exercised his or her right to file a complaint or take the landlord to court, the landlord cannot use this as a reason to retaliate against the tenant in the form of increased rent or eviction. If you have faced discrimination from a landlord in Nebraska, you may be able to bring a civil claim against him or her for reparation with the help of an Omaha landlord negligence attorney.