Premises liability
Who Is Liable for an Injury in a Public Place?
Posted in Accident Information,Premises liability on April 27, 2021
Public places can be just as dangerous as private properties in Omaha, Nebraska for visitors and passersby. Public parks, sidewalks, buildings and structures must be appropriately maintained to reasonably prevent accidents and injuries. If the state or federal government – or one of its employees – is careless in fulfilling the accepted duties of property care, the government agency could be financially responsible (liable) for a related accident.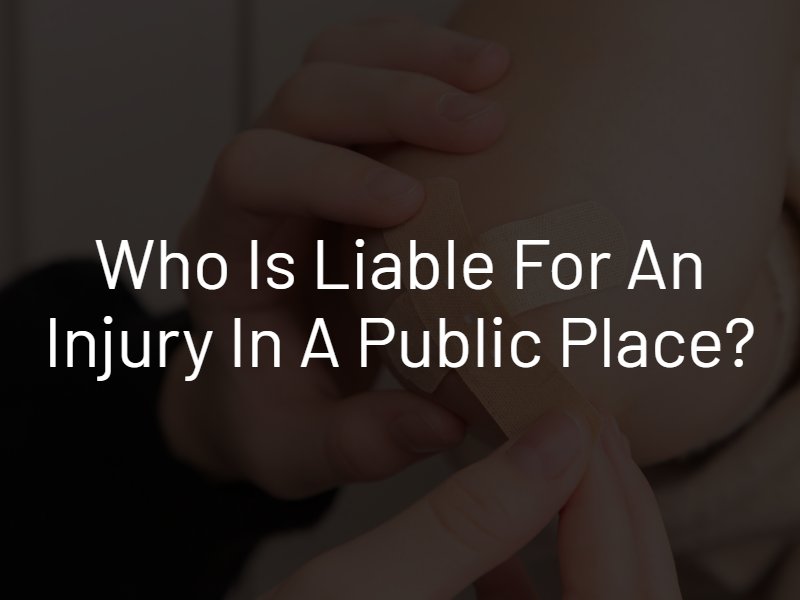 Government Liability in Omaha, Nebraska
The rules of premises liability hold property owners to certain duties of care. A duty of care is a legal obligation to act in a reasonable manner according to the circumstances. When it comes to property maintenance, a landowner has an obligation to regularly inspect the premises and repair any known defects. If a property owner fails to fulfill these duties of care, he or she may be financially responsible for an accident that causes injury or harm to someone else.
An injury on private property will typically become the liability of the individual property owner. His or her homeowners insurance company will generally pay for a victim's losses. On public property, however, an accident will be the liability of the government party or agency that owns the land. You may have grounds to file a tort claim against the government in Nebraska after a slip and fall accident, physical assault, car accident, dog attack or another type of incident on public property.
The government is not exempt from liability for preventable accidents, injuries and deaths on public properties if they take place due to negligence. In premises liability law, negligence is the failure to use an appropriate degree of care, resulting in injury or harm. If someone suffers an injury on a public sidewalk in Omaha, for example, the City of Omaha could be legally responsible for medical bills and other losses if city workers should have recognized and repaired the defect sooner.
If a prudent government agency would have remedied a dangerous property condition in time to prevent the accident, the agency in question could be liable for damages. A premises liability claim against the government is possible if the defendant had a legal duty to maintain a safe public place, breached or violated this duty of care, and caused an accident.
Special Rules for Filing a Lawsuit Under the Nebraska Tort Claims Act
Historically, it is difficult for citizens to bring successful lawsuits against local, state or federal government agencies. The doctrine of sovereign immunity states that government entities are immune from liability during injury lawsuits. However, most states have passed tort claims acts that allow individuals and private citizens to bring lawsuits against government entities for negligence.
If there is proof that a government entity was negligent in the care, use or maintenance of a public place, this could be grounds to file a lawsuit against one or more government agencies under the Nebraska Tort Claims Act. It is important to realize, however, that these types of cases come with special rules and regulations.
To initiate your lawsuit, you must file the appropriate forms with the State or Risk Management Board. The Risk Manager must approve claims of $5,000 or less. If the claim is worth between $5,000 and $50,001, the State Claims Board must approve it instead. Claims worth over $50,001 must be approved by the Nebraska State Legislator. You may need a lawyer to help you with the filing process.
Discuss Your Rights With an Attorney Today
It can be difficult to navigate a claim against a government entity after an injury in a public place in Omaha, Nebraska on your own. Work with an attorney for help with the legal process. An attorney can explain and protect your legal rights when going up against a government agency, as well as fight for maximum financial compensation on your behalf.
If you or a loved one recently suffered an injury in a public place, consult with an attorney at Knowles Law Firm for more information. We can help you navigate the Nebraska Tort Claims Act for the best possible case results.
What Should I Do If I Was Injured While Out of State?
Posted in Accident Information,Premises liability on July 2, 2020
Accidents do not only happen in your own state or hometown. They can also happen while you are traveling or on vacation. If you get an injury while out of state, the process for filing a claim and obtaining compensation for your medical bills and property damages may look different than if the accident had happened where you live. Learn your rights and find out when it may be in your best interest to hire an attorney for an out-of-state accident.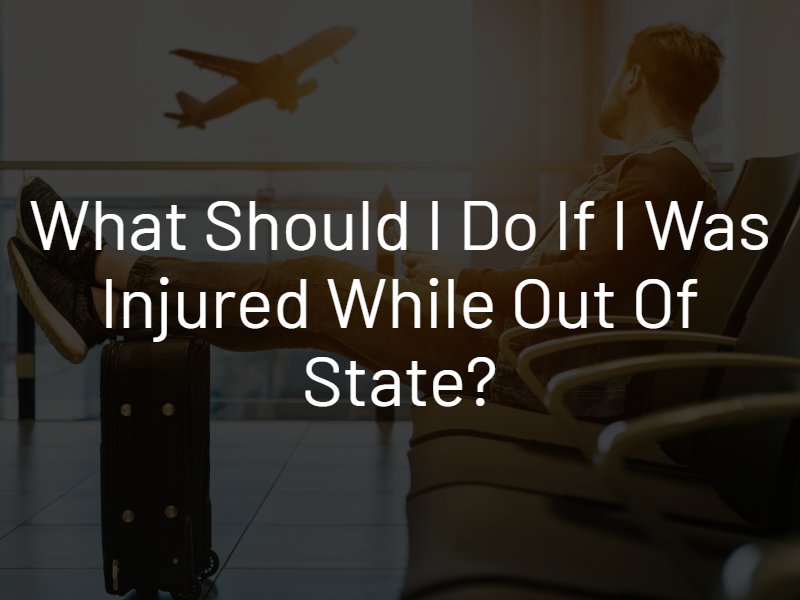 Which State Has Jurisdiction?
The first thing to know about an injury that happens away from where you live is who will have jurisdiction over your claim. Find this out by determining a) where the defendant lived and b) where the accident occurred. These will be your two choices for filing an accident claim. They may be the same if the defendant lived in the state where your injuries happened. It might be inconvenient to file your claim in a different state, but you will have to if that state has jurisdiction over your accident case.
What Laws Apply to Your Case?
Once you know where to file your claim, you will need to figure out which state's laws will preside over your case. In general, your claim will have to abide by the laws in the state where the accident occurred. If you are filing a car accident claim in Missouri, where the defendant lives, for example, but the accident occurred in South Dakota, the laws of South Dakota will apply to your case.
Where your accident occurs can greatly impact your personal injury claim. Each state has unique – and often very different – personal injury laws. These include fault laws, comparative negligence rules and statutes of limitations. For instance, if you get into a car accident in Kansas, you will have to seek benefits from your own insurance company according to the state's no-fault laws. If you crash in Missouri, on the other hand, you will file a claim with the insurer of the at-fault party under Missouri's fault-based laws.
Where Should You Hire an Attorney?
It can benefit you to hire a personal injury attorney after an accident in another state. This is especially true if you have a major injury case that may not be straightforward. Your lawyer can walk you through the steps it will take to acquire fair compensation for your damages. You must, however, hire a lawyer will knowledge and licensure in the correct state. In general, it will benefit you most to hire a lawyer from the state where your accident occurred. If you live in Iowa, for example, but got into an accident in Nebraska, you would hire an personal injury attorney in Nebraska to represent you during your injury claim.
Steps to Take After an Injury Out of State
After an injury in a foreign state, try to remain calm and protect your rights by calling the police. Call 911 for the local police or report your accident to another authority, such as a supervisor at a grocery store after a slip and fall accident. Collect information about your accident from the beginning. Take photos of the scene and request copies of the accident report. Go to a nearby hospital for medical treatment and ask for copies of your health care records. Then, contact an attorney for legal advice about how to proceed with a claim.
Every injury case is unique. Sometimes, a plaintiff's attorney can file a motion to move the jurisdiction of an accident case to someplace closer and more convenient for the victim. In other cases, the victim's home-state attorney can obtain special permission to take the case (pro hac vice admission) from the other state's bar. The aspects of your claim will depend on its specific facts. Talk to an attorney to take the correct steps toward a resolution and compensation for your particular accident case.
If I Was Injured in the Middle of a City Street, Who Is Liable?
Posted in Car accidents,Premises liability on June 3, 2020
Your city has a legal responsibility for your safety. It must take reasonable steps to prevent common hazards and risks, including dangerous and defective roadways, sidewalks and intersections. If your city fails to fulfill these duties of care and you suffer an injury as a result, the city government may owe you financial compensation. A premises liability lawyer in Omaha can go over your rights as an injured victim after an accident on a city street.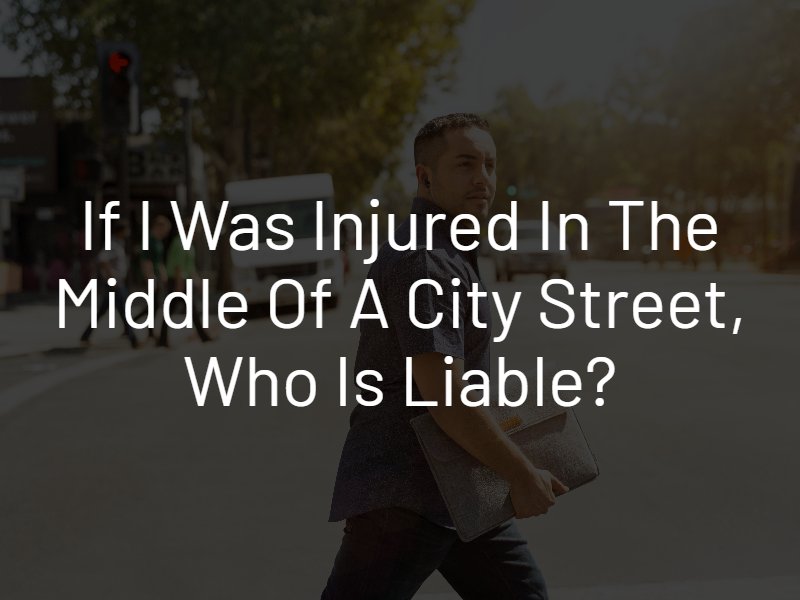 City Liability for Dangerous Premises in Omaha
Cities, states and other municipalities share many of the same legal responsibilities as other property owners. Government entities have a duty to maintain the reasonable safety of their public spaces – including city streets in Omaha – just as private property owners must maintain safe premises for visitors. A city might be liable for accidents, injuries and deaths that occur on its streets if it was responsible for causing, contributing to or failing to prevent them.
Designing dangerous streets or intersections
Failing to regularly inspect city streets and sidewalks
Ignoring citizen complaints about hazards
Allowing a hazard such as a pothole to exist for an unreasonable length of time
Paying for low-quality road and sidewalk repairs
Failing to ensure safe construction zones
Failing to trim trees that obscure traffic signs
Ignoring broken or malfunctioning traffic signals
Failing to shovel ice or snow
Winning a premises liability claim against any property owner, including the City of Omaha, takes establishing four main elements through clear and convincing evidence: duty of care, breach of duty (negligence), causation and damages. Evidence of fault against the defendant could include photographs, eyewitness accounts, accident reports and expert testimony. A Omaha premises liability lawyer will know how to create and present a case against the government for an accident on a city street.
Filing a Claim Against the Government in Nebraska
Injuries in the middle of city streets often come down to municipality negligence and liability in Nebraska. Cases against government entities involve different rules and laws compared to cases against civilians. A lawyer can help you navigate these special rules for your best odds of obtaining fair compensation.
Act quickly. If you do not bring your premises liability claim against the City of Omaha within one year of your accident, you will lose the right to file forever. Claims against governments often have shorter deadlines than typical claims.
Download the State of Nebraska Tort Claim Form. Download and add all requested information to the form. Sign your name on the bottom.
Submit the claim form to the Office of Risk Management. You may submit your form electronically (via email), by mail, by fax or in person.
The governing body that will be in charge of your claim depends on the case's value. The State Risk Manager will approve claims of $5,000 or less. Claims of $5,000 to $50,000 go to the State Claims Board. Claims valued at more than $50,000 will go to the Nebraska Legislature. The appropriate governing body will investigate your claim and either offer a settlement or deny liability. From there, your lawyer can help you negotiate a fair insurance settlement or take the City of Omaha to trial in pursuit of justice and compensation.
Discuss Your Case With a Premises Liability Lawyer
An accident in the middle of a city street could point to defects within the road or sidewalk's inherent design. It could also trace back to negligent maintenance by the governing body in charge of street safety that resulted in risks such as slip or trip and fall hazards. A government agency may owe you compensation for your accident and related injuries after an accident on a city street in Nebraska. A premises liability lawyer in Omaha can review your case for signs of negligence or fault by the city or state where you live. If you have grounds for a claim against the government, your lawyer can help you navigate the special claims process.
How Long Can I Wait to File a Lawsuit?
Posted in Accident Information,Car accidents,Premises liability,Product Liability,Slip and Fall on May 10, 2020
If you were in an accident that gave you a significant injury or took the life of a loved one, you have the right to file a lawsuit against the party that caused your accident in Nebraska. A lawsuit could give you the peace of mind, justice and closure you need to finally move forward. It could also provide your family with the financial ability to pay off your medical bills, property repairs and other damages related to the accident. If you have grounds for a lawsuit, however, you must act quickly to file your claim before the deadline. Otherwise, an expired statute of limitations could bar you from recovery.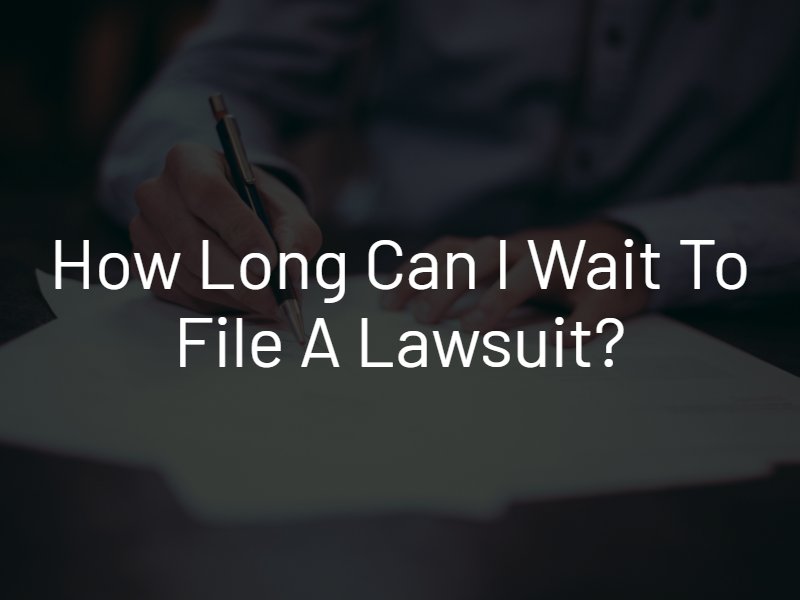 What Are Statutes of Limitations?
Statutes of limitations are laws that place deadlines on when plaintiffs can file claims. All states have statutes of limitations for civil and criminal cases. The point of a statute of limitations is to keep the justice system as fair and efficient as possible for everyone. Without a law imposing a deadline to file, claimants could potentially take as long as they wanted to come forward with their claims. This could lead to problems such as lost evidence and unreliable eyewitness accounts due to so much time passing. The courts also deemed it unjust to hold the possibility of a lawsuit over a defendant's head indefinitely. Statutes of limitations are the solution for encouraging prompt claims filing.
What Is the Time Limit in Nebraska?
Statutes of limitations are different depending on the state where you are filing the claim. Every claimant in Nebraska has a responsibility to know his or her deadline for filing. You can discover your exact deadline to file by talking to a personal injury lawyer in Omaha. In the meantime, learning the general statutes of limitations for different types of lawsuits in Nebraska could give you an idea of how long you can wait to file.
Breach of written contract: 5 years
Breach of oral contract: 4 years
Personal injury: 4 years
Product liability: 4 years
Property damage: 4 years
Fraud: 4 years
Medical and legal malpractice: 2 years
Wrongful death: 2 years
Assault and battery: 1 year
Slander or libel: 1 year
Nebraska's statutes of limitations have some exceptions, although they are rare. In most cases, the countdown begins on the date of the incident. You might qualify for a deadline extension, however, if you did not discover your injuries or damages until a date after that of the accident. In these cases, the clock typically starts ticking on the date of injury discovery rather than the date of accrual of the damages. Other exceptions exist for injured minors, as well as for cases involving criminal activities. Contact a lawyer to learn your specific statute of limitations.
Why You Should File as Soon as Possible
The courts in Nebraska are not lenient with the state's statutes of limitations. Generally, if you try to file a lawsuit after the expiration of your statute of limitations, the courts will refuse to hear your case. You will lose any eligibility you might have had to compensation from the defendant for missing your deadline. Even if the courts agree to pass your case onto the next stage, the defendant will most likely bring up the expired statute of limitations in a motion to dismiss your case. Protect your right to file a lawsuit by never waiting to take legal action.
Regardless of how long you have to file under the statute of limitations, initiate a lawsuit as quickly as you can after a personal injury or property damage. In general, a plaintiff will not benefit from waiting to file. In fact, waiting could hurt your chances of winning the case through the loss or destruction of key evidence. Your eyewitnesses might not remember exactly what they saw, for example, or a company might have erased its records. Prompt legal action can ensure you meet your deadline and enable you to bring a stronger case against the defendant.
I Was Injured in My Apartment…Is My Landlord Liable?
Posted in Landlord negligence,Premises liability on February 18, 2020
When you rent an apartment, you take over certain responsibilities in terms of premises safety. Anything you add or modify in the apartment will become your responsibility. Your landlord or building owner, however, will retain many duties over the safety and livability of your apartment. If something goes wrong with the inherent structure of the building, heating, water, plumbing, common areas or grounds that causes an injury, your landlord could be liable.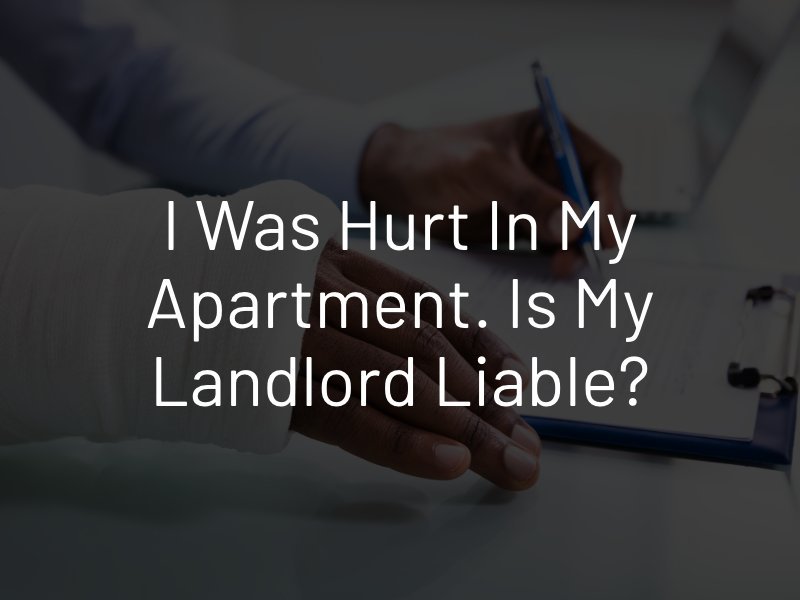 Landlord Responsibilities in Nebraska
A landlord does not escape all property owner duties when he or she hands the keys of an apartment over to a tenant. As the legal building owner, the landlord still has certain responsibilities in terms of the safety and environment of the apartment and surrounding premises. In Nebraska, the Landlord Tenant Act outlines several duties of care all landlords owe their tenants for the duration of the landlord-tenant relationship.
Ensuring the habitability of the apartment
Fulfilling building code requirements
Repairing problems with the building's structure
Preventing and controlling pests, insects and vermin
Preventing exposure to hazardous substances such as mold and asbestos
Providing clean running water and hot water
Providing receptacles for trash and managing trash removal
Repairing and maintaining heating appliances
Keeping all electrical, plumbing and other systems in good working order
Keeping the apartment building reasonably secure from criminals
In general, a landlord must inspect a property regularly, repair discovered problems or hazards, respond to tenant complaints within a reasonable time, and maintain a fit and habitable premises. If your apartment building's landlord breaches any of these duties of care, he or she may be guilty of negligence. If this negligence gives you an injury, illness or property damage, you may be able to file a liability claim against your landlord in Nebraska.
When Is a Landlord Liable for Accidents?
After an injury or serious illness that occurs in your apartment, find out who may be liable with help from an attorney. A discussion with an Omaha premises liability lawyer can give you free advice as to whether or not you have a claim. A lawyer can listen to how your injury or illness happened, inform you of your rights as a tenant, and let you know if your landlord should be liable for your damages. In general, you will need four elements for a successful premises liability lawsuit in Nebraska.
The person responsible for causing the injury (the defendant) owned, leased or lived on the property in question at the time of your accident.
The defendant breached a duty of care owed to you as the property owner, leaser or landlord.
The defendant's breach of duty is why your accident happened. You would not have your injuries or damages were it not for the defendant's negligence.
You have damages. The defendant's actions or omissions gave you specific and damages, such as lost wages or medical bills.
Your landlord will most likely carry insurance to cover disasters such as fires, floods and burglary. This insurance may also pay for the landlord's liability over an apartment accident. If your landlord negligently caused or failed to prevent your injuries, file a claim with his or her insurance provider as soon as possible. Then, work with an attorney for assistance with settlement negotiations. If your landlord's insurer refuses to handle your claim reasonably, a lawyer can help you bring a premises liability claim to court.
File a Claim Today
In Nebraska, you generally have four years to ask the county courts for a civil remedy for your premises-related personal injuries or property damages. Acting quickly can help you collect evidence against your landlord while it is still available. Contact an attorney as soon as you can after an accident in your apartment that results in serious injuries. Prompt action can help you protect your rights. A lawyer can explain your legal options as a tenant and help you bring a claim against a negligent landlord.
Am I Liable If a Trespasser Gets Injured on My Property?
Posted in Child Injury,Dog attack,Premises liability,Slip and Fall on January 21, 2020
A property owner's duties of care in Nebraska change according to the type of visitor. An invitee receives the highest standards of care, while a licensee receives slightly less. A trespasser, on the other hand, does not lawfully have the right to expect any duties of care from a landowner. If you own property in Nebraska where a trespasser suffered an injury, in most cases, the trespasser cannot hold you liable for damages. Important exceptions to the rule exist, however. To learn more about how to deal with an injured trespasser, contact our premises liability attorney in Omaha.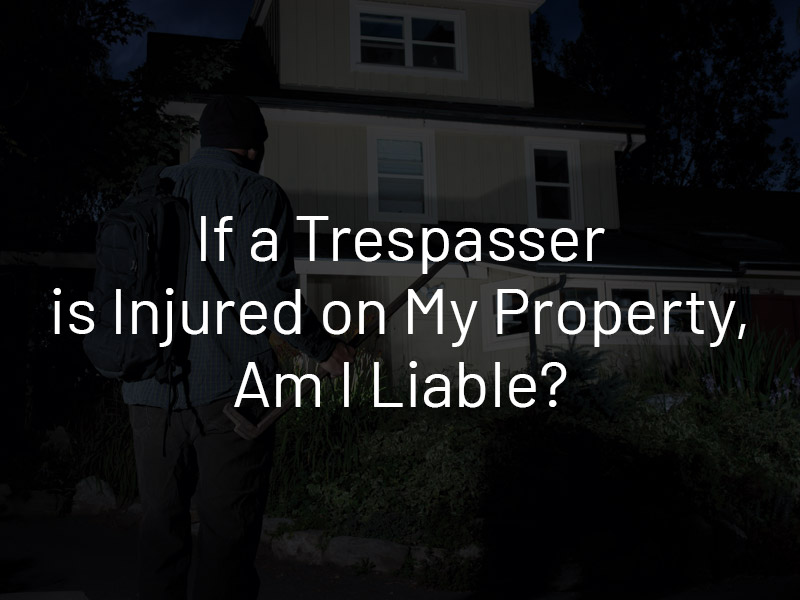 You Intentionally Injured the Trespasser
If you were unaware the trespasser was on your land without permission, the only duty of care you owe him or her is not to act in a willful, reckless or wanton manner to injure the trespasser. You do not have a duty to maintain a safe premises, but you do have a duty not to cause an intentional injury to a trespasser that does not appear to pose a threat. Acting in self-defense is a plausible justification for causing a trespasser an injury, and you likely would not be liable for damages in this situation.
Your duties of care change, however, when you become aware of the trespasser on your property. You must treat a discovered trespasser with ordinary care. This includes protecting the trespasser from a foreseeable hazard, such as a hole on your property or an aggressive dog. If you fail to warn the trespasser about the hazard and he or she suffers an injury as a result, you could potentially be liable for his or her damages, even if the trespasser did not have your permission to be on the property.
The Trespasser Is Under 18
Your duties of care are also different toward trespassers who are under the age of 18. Child trespassers deserve the same degree of care as invitees on your property in the eyes of the law. Your duties will include maintaining a safe premises, checking for hidden hazards, repairing known defects and warning of foreseeable risks. You must, therefore, take steps to reasonably prevent injuries to children who may trespass on your property – namely by putting barriers around attractive nuisances.
An attractive nuisance is a dangerous property element that is inherently attractive to children, such as a swimming pool, trampoline, old well, antique car, heavy machinery or farm animals. By putting an attractive nuisance on your property, you take on added responsibilities to keep trespassing children safe from potential related dangers. The law will expect you to take reasonable steps toward preventing foreseeable injuries, such as placing a fence around a swimming pool. If you fail to do so, you will most likely end up liable for a child's injuries, even if that child was trespassing.
You Failed to Control Your Dangerous Dog
Cases involving known dangerous dogs are also unique. A dangerous dog according to Nebraska Revised Statute 54-617 is one with a record by an animal control authority stating that it has killed a person, inflicted a serious injury (one requiring medical treatment) on a person, killed a domestic animal or has previously achieved dangerous dog status by another animal control authority. Owners of dangerous dogs have greater duties of care to protect the public than typical pet owners. This includes keeping the dog on a leash in public places and not moving the dog out of the county.
If the trespasser on your property suffered a serious injury in a dog attack, and animal control has previously designated your dog as dangerous, you could be liable for the damages. You may have to pay for the trespasser's medical bills and other losses if an investigation finds that you were negligent in the control of the dangerous dog under the state's related laws. In most cases, you will be liable for any damages your pet causes if you knew of the dog's dangerous propensities but failed to take proper precautionary measures.
Premises liability claims involving injured trespassers are complex. If you need help refuting liability for a trespasser's injuries on your property, speak to an attorney in Omaha.