Accident Information
What Can I Do If My Car Was Hit While Parked?
Posted in Accident Information,Car accidents on July 30, 2020
A hit-and-run accident does not only describe a crash that causes personal injuries. It is also a hit-and-run crime to collide with a parked car and leave without stopping. If you return to your parked vehicle in Omaha, Nebraska and discover property damages without a note of explanation left behind, you may still be able to recover compensation. Work with an Omaha car accident attorney for a complicated claim or a hit-and-run accident that caused expensive property damages.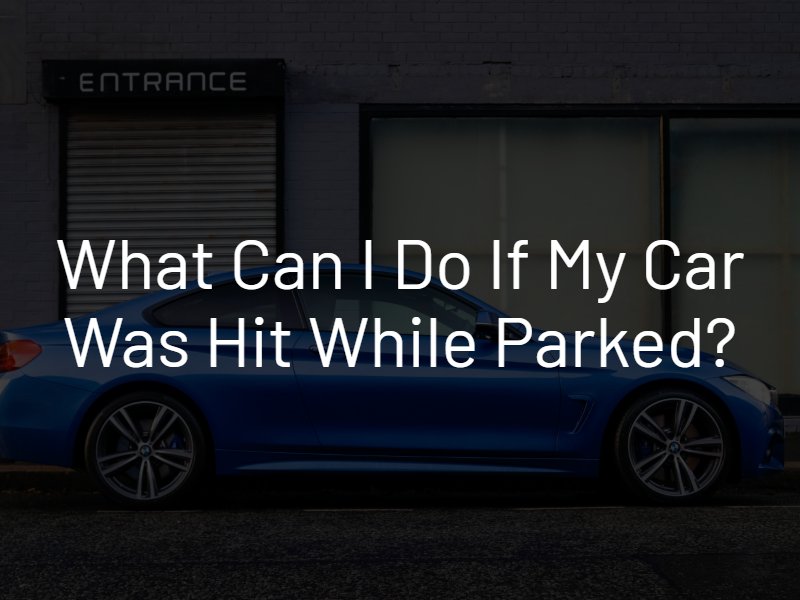 Contact the At-Fault Driver
Ideally, the driver that caused the damages fulfilled his or her responsibilities and left a note with contact information. It is the law in Nebraska to stop at the scene of an accident that causes injuries, deaths or property damages. The at-fault driver must stop as close to the scene as possible and make a reasonable effort to search for the owner of the damaged vehicle. If the driver could not locate you, he or she should have left a note in a conspicuous place with his or her full name, phone number and a description of the accident.
Nebraska is a fault car accident state, meaning the driver that caused your property damage will bear financial responsibility. Contact the at-fault driver and explain that you are going to file a claim with his or her insurance company. All drivers in Nebraska must carry at least $25,000 in property damage liability car insurance. This type of insurance should cover the costs to repair your vehicle after an accident. A lawyer can help you negotiate with the other driver's insurance company for fair compensation, if necessary.
Gather Evidence While at the Scene
Before you leave the scene of the accident, collect evidence to use during your insurance claim. Take photographs of the damage to your vehicle while still parked where the accident happened. Use the timestamp feature for your pictures. If the crash was a hit-and-run, with no driver information left behind, call 911. The police can help you collect evidence, including official photographs, for an investigation. The police can also talk to any eyewitnesses to try to identify the at-fault driver.
With assistance from the police, you could gather video surveillance footage from surrounding businesses that may have caught the hit-and-run driver on camera. You may also be able to get a full or partial license plate number from eyewitnesses. If the police locate the at-fault driver, you can proceed with a third-party insurance claim while county prosecutors charge the driver with a hit-and-run crime. If the police do not catch the at-fault driver, you may still be able to obtain benefits through your own insurance provider.
File a First-Party Insurance Claim
If someone hit your car while parked and you do not know the identity of the at-fault driver, contact your insurance provider to file a first-party claim. Make the call as soon as possible for an expedited claims process. Your insurance company's ability to pay for your parked car's damages will depend on the coverage you have. The types of insurance that are most likely to cover your damages are uninsured and underinsured motorist insurance, collision coverage, and comprehensive coverage. With the right insurance, your provider should offer you a check to cover your vehicle repairs after you pay your deductible. If you do not have the right type of insurance, you may have to pay to fix the damage yourself.
Discuss Your Case With a Car Accident Attorney
Drivers striking parked cars and taking off are unfortunately common accidents in bustling cities such as Omaha, Nebraska. If you are the victim of a hit-and-run property damage accident, contact an attorney to help you with the recovery process. You may need a lawyer to negotiate with your insurance provider for fair benefits. You may also need a lawyer to go up against the at-fault driver if the police locate him or her. A car accident attorney can investigate your accident, gather evidence, explain your rights and seek financial coverage through all available outlets on your behalf.
What Are the Most Common Causes of Bicycle Accidents?
Posted in Accident Information on July 25, 2020
Taking a bicycle out around Omaha, Nebraska should not put your life at risk. Unfortunately, negligent and reckless drivers pose a serious threat to bicyclists around the country. In 2018, 857 bicyclists died and thousands suffered serious injuries in accidents with motor vehicles. In a crash between a bike and a motor vehicle, the bicyclist is more likely to end up in the hospital. Recognizing the common causes of bicycle accidents could help you decrease your likelihood of becoming a victim of one. It could also help you know whom to hold accountable after a bicycle accident.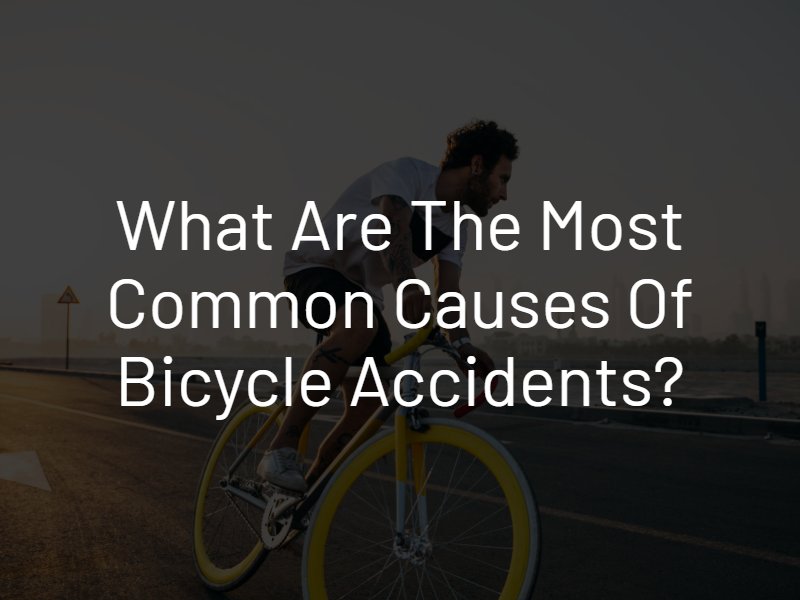 Lack of Bicyclist Visibility
Serious and fatal bicycle accidents happen most often at night, between 6:00 p.m. and 9:00 p.m. Riding after dusk puts you at risk of a driver being unable to see you. You can reduce this risk by obeying the state's headlight and reflector requirements for riding at night. Wearing bright colors and high-visibility clothing can also increase your visibility. Reduced visibility and higher driving speeds, however, mean you should avoid riding a bike at night on rural roads in Nebraska regardless. Lack of visibility could lead to a serious collision.
Alcohol Involvement
More than one-third (37%) of all fatal bicycle accidents in the US in 2018 involved alcohol. Drunk drivers are often reckless in their control of motor vehicles. They may speed, swerve, drift in and out of lanes, run red lights, drive the wrong way, and otherwise drive recklessly near bicyclists. They can also have impaired senses, judgment and reflexes. A drunk driver may fail to notice a biker and crash into him or her, causing severe injuries. Driving impaired also increases the risk of a hit-and-run accident.
Distracted Driving
One of the greatest risks bicyclists and pedestrians face is distracted driving. In 2018, distracted drivers claimed 2,841 lives nationwide. The most common form of distracted driving is texting and driving. Although Nebraska has laws that prohibit the use of handheld wireless devices while operating a motor vehicle, hundreds of drivers regularly break these laws. Texting and driving could take a driver's eyes away from the road long enough to not see an oncoming cyclist. Other types of distracted driving include eating and drinking, chatting with people in the car, looking at a GPS, fiddling with the radio, and rubbernecking.
Negligent Drivers
Bicyclists are vulnerable to serious injuries due to negligent drivers. Tailgating a bicyclist, passing too closely, honking or startling bikers, road rage driving, cutting a cyclist off, and turning left into an oncoming bicyclist are all examples of how a negligent driver could cause an accident. Every driver has a duty to pay attention, look out for bikers and respect bicyclists' rights to the road.
Broken Traffic Laws
Many motorists – and some bicyclists – do not understand the state's bicycling laws. For example, drivers often believe bicyclists should not legally ride in the road. This is not the case. Bikers have as much right to the roads as motor vehicle drivers. In fact, in major cities, it is often against the law for bicyclists to ride on sidewalks. All bicyclists must obey traffic laws, street signs and roadway rules. Crossing the street without the right-of-way, rolling through a stop sign and riding in the wrong direction are examples of broken rules that could increase the risk of a bike accident.
Dangerous Roads or Bicycle Paths
Some bicycle accidents are not due to negligent drivers but dangerous environments. It is the City of Omaha's responsibility to design and maintain reasonably safe spaces for all motorists – including vulnerable bicyclists and pedestrians. When the city fails in maintaining a roadway, bicyclists can suffer the consequences. Road defects such as cracked asphalt, potholes, debris, loose gravel, missing reflectors and dented guardrails could cause serious bicycle accidents. Dangerous roadway designs could also pose an unreasonable risk of harm to bikers. The city government could be liable for bicycle accidents that are due to preventable road hazards. Discuss your case with an Omaha bicycle accident lawyer to find out who might be liable.
5 Signs of a Negligent Landlord
Posted in Accident Information,Landlord negligence on July 18, 2020
As a tenant in a rented home or apartment in Nebraska, your landlord owes you specific duties of care according to state and federal laws. It is against the law for a landlord to fall short of these duties. If a landlord negligently causes or contributes to an injury that occurs where you live, you may have the right to bring a claim against him or her for damages. Work with a Omaha landlord negligence lawyer in Omaha for assistance with your personal injury lawsuit.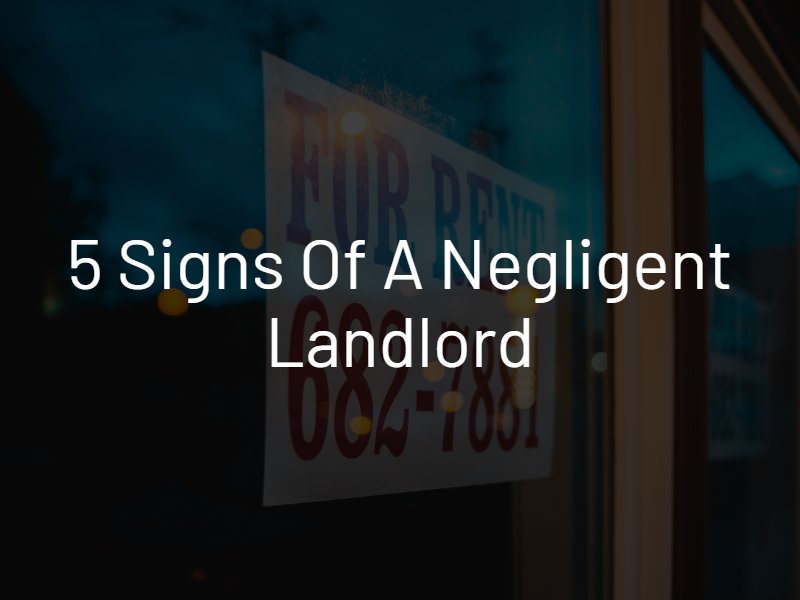 A Property in Disrepair
One of the main responsibilities a landlord owes his or her tenants is to maintain a reasonably safe place to live. As the owner or person in control of the building, your landlord has a legal duty to make sure your apartment, home and the surrounding premises are free from hazards. This duty involves regularly inspecting the premises, responding promptly to tenant complaints and repairing known defects within a reasonable amount of time.
Slip, trip and fall hazards
Unsafe staircases or elevators
Collapsing or crumbling roofs/structures
Rodent or insect infestations
Mold, asbestos or other hazardous substances
Broken locks on doors or windows
Lack of appropriate building security
Faulty wiring or fire hazards
If your rental unit is not safely habitable, you may have a negligent landlord. Dangerous premises can cause many apartment accidents and injuries. If your landlord reasonably should have repaired the issue before your accident happened, he or she could owe you compensation for your related damages for being negligent.
Poor Communication With Tenants
It is your landlord's duty to make him or herself reasonably available for conversations with tenants. The landlord or building owner is legally responsible for addressing housing or safety concerns, including hazards in common areas or your unit. If you have an issue you need to report but have trouble contacting the landlord, this could be a sign of negligence. Difficulty scheduling an initial meeting, viewing a unit or complaining about a maintenance issue are signs of a negligent property owner.
Discrimination During the Leasing Process
It is against the law for a landlord or property management company to discriminate against you based on your race, ethnicity, color, disability, age, sexual orientation, sex, religion or another protected class during the rental application process or as a tenant. If you believe you did not get an apartment or your landlord is neglecting you as a tenant due to discrimination, contact an attorney about a potential civil lawsuit.
Unclear Lease or No Lease at All
The leasing agreement is your protection against certain things, such as the landlord evicting you without reason or walking into your apartment unannounced. Make sure your lease agreement has clear and valid terms by bringing it to a lawyer for a review before signing. An unprofessional lease with vague or ambiguous terms could be a red flag. You also should not rent from someone who does not give you a leasing agreement to sign at all.
Unusual Terms or Rental Scams
Be on the lookout for rentals that seem too good to be true. If the price point seems unrealistic, it probably is not an honest deal. Rental scams are common ways for criminals to obtain a victim's Social Security number, bank account information and other sensitive personal information. Some scammers go as far as stealing security deposits or rent checks from victims. Protect yourself from scams and dishonest landlords by reading property management company reviews, talking to existing tenants on the property, being wary about better-than-average deals and avoiding places that demand abnormally high (or nonrefundable) security deposits.
Injured By a Negligent Landlord? Contact an Attorney
Negligent landlords are more than just an inconvenience. A bad landlord could make your apartment dangerous to live in, causing related personal injuries, serious illnesses or property damages. If you suspect your landlord of negligently contributing to your recent injury or accident, contact a lawyer in your area for a free consultation. You may have grounds to file a claim against your landlord in Omaha.
Posted in Accident Information on July 20, 2020
An evening out at a bar, restaurant or nightclub in Omaha should not end with a serious personal injury. Unfortunately, hazards such as negligent security, over-served patrons and dangerous premises can make establishments perilous for customers. If someone or something injured you while at a bar in Nebraska, you might have the right to file a claim against one or more parties for damages. You or your Omaha bar injury lawyer, however, will have to prove your case to recover compensation.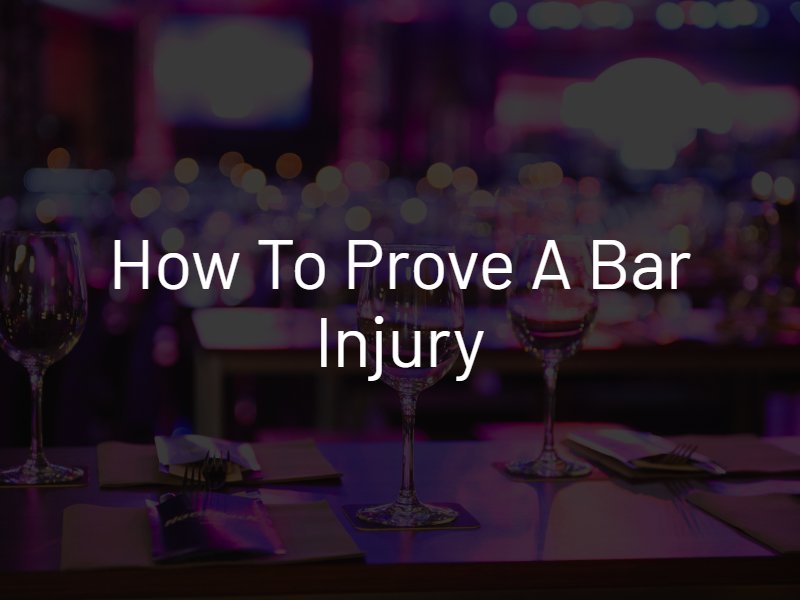 Types of Bar Injury Claims
The laws that pertain to your case, including the burden of proof, will depend on the type of claim you need to bring. An injury in a bar setting could arise from several different examples of the establishment's negligence. The first step in obtaining compensation for a bar injury is determining your claim type.
Attacked by an assailant. If a fellow bar patron attacked you, you may be able to claim damages against the assailant and/or the establishment. The assailant may be individually liable for your damages if you were not the one who started the fight. You may also be able to file a claim against the bar if negligent security or overserving by bartenders contributed to the assailant attacking you.
Bouncer-caused injuries. Sometimes, bars and nightclubs have overzealous or poorly trained bouncers and security guards that cause unnecessary injuries to patrons while performing their duties. If bar security injured you, the bar might owe you compensation for your related medical bills and damages. All bars have a duty to properly hire and train their staff members.
Dram shop liability. If a drunk patron injured you by causing a fight or crashing into you while driving intoxicated, the dram shop (bar or alcohol vendor) may be vicariously liable for your damages. Bars have a responsibility not to overserve patrons. If a customer appeared obviously intoxicated and the bar served him or her anyway, the bar could be liable for the injuries the drunk patron caused, including a drunk driving accident.
Dangerous premises. Some bar accidents and injuries arise due to defects or hazards on the premises. Common premises defects include slip and fall hazards, negligent security, broken barstools, collapsing structures, and fire hazards. You may be able to file a premises liability claim against the establishment for injuries connected to a property defect if a reasonable bar would have repaired the defect previously.
If you are unsure about what type of claim you have, speak to an attorney for an in-depth overview of your case. A personal injury lawyer can review the facts of your case, determine fault and help you identify the defendant. Then, your lawyer can assist you with the steps of proving a claim to damages.
What to Do After a Bar Injury in Omaha
You can prove your bar injury claim by showing the defendant responsible for your injuries owed you a duty of care, breached this duty of care and caused your injuries. These, along with proof of damages, are the main elements for a negligence-based claim in Nebraska. Proof of negligence can come in the form of eyewitness statements, testimony from subject-matter experts, photographs of your injuries, and an analysis of your medical records.
A personal injury lawyer could help you prove the defendant owed you a duty to act reasonable and provide a safe premises, the defendant failed to meet the standards of care under this duty and that this is why your injuries occurred. Your lawyer can navigate state and municipal laws relating to your specific case type on your behalf. Your lawyer could also take over negotiations with the bar's insurance company for you, fighting for a fair settlement while you focus on healing from your injuries.
A lawyer in Nebraska will know how to investigate and prosecute bar or club injury cases for you. Contact an attorney well before your deadline to file a lawsuit. In Nebraska, the statute of limitations for most personal injury claims is four years from the date of your accident or injury. It is only one year, however, for an assault and battery claim. Act quickly to maintain your right to hold a bar responsible.
What Is Sudden Unintended Acceleration?
Posted in Accident Information,Car accidents on July 8, 2020
The average motor vehicle is dangerous enough without part defects making it even more unsafe for drivers and their passengers. Unfortunately, automakers frequently release vehicles with design and manufacturing defects. One of the most dangerous defects is sudden unintended acceleration – an issue with a vehicle that can cause it to accelerate without instigation from the driver. Find out if you have grounds for a claim after sudden unintended acceleration causes a car accident in Omaha.

Signs of Sudden Unintended Acceleration
Sudden unintended acceleration occurs when an electronic malfunction within the vehicle causes the throttle to expand and the car to accelerate without the driver pressing down on the gas pedal. If a vehicle has a defect in its electronic system, the mechanism that controls the car's power train could malfunction. In newer vehicles, this can be even more dangerous due to throttle control mechanisms that can malfunction. You might be the victim of sudden unintended acceleration if you notice a problem with your car while in use.
Accelerations in speed while driving, without hitting the gas pedal
Suddenly acceleration from a complete stop without touching the gas
Being unable to brake
Trouble returning the car to idle if it is in gear
The inability to control the vehicle
Sudden unintended acceleration can happen any time, but appears to occur most often when a driver hits the brakes, switches to cruise control or shifts gears. These changes could disturb the vehicle's electrical current and trigger a malfunction that accelerates the vehicle without prompting. This is a dangerous malfunction that could cause a catastrophic car accident.
If you experience sudden unintended acceleration, try hitting your brakes. Keep the pressure on your brakes steady while pressing down with as much force as possible. In an emergency, shift your vehicle to neutral and turn off the engine. Try to stay calm and do not jerk your wheel while your vehicle is accelerating. Once you regain control or if your car crashes, call 911 for assistance with your vehicle. Then, contact an Omaha car accident attorney to help you bring a claim to damages.
Grounds for a Product Liability Claim in Nebraska
Sudden unintended acceleration has caused multiple accidents, serious injuries and deaths over the years. This issue is especially common among certain Toyota vehicles, as listed in consumer complaints in a report by the National Highway Traffic Safety Administration (NHTSA). Although the NHTSA concluded no vehicle-based defects that would have caused sudden unintended acceleration and issued no recalls, other safety organizations do not agree. Victims injured and surviving loved ones of those killed in sudden unintended acceleration accidents have come forward with civil claims to hold the manufacturers of defective vehicles accountable.
In Nebraska, to have grounds for a defective vehicle claim, you or your personal injury attorney will have to prove that a) the vehicle contained a defect and b) the defect caused your injury or a loved one's death. A lawyer may be able to help you prove your case by gathering evidence such as a mechanical overview of the vehicle's electronic system, expert testimony, photographs, eyewitness accounts of the accident and medical records. It is important to hire an attorney to help you prove your case and protect your rights. Otherwise, the defendant may try to allege that you were responsible for accelerating the vehicle and causing the wreck.
Sudden unintended acceleration is a frightening problem the NHTSA and automakers have ignored in the past. Yet the reality of defective vehicles and their faulty electronic systems is evident in the number of related car accidents, injuries and fatalities. If you have injuries from an accident in which you suspect sudden unintended acceleration, contact a car accident lawyer in Omaha for assistance bringing an injury claim.
What Should I Do If I Was Injured While Out of State?
Posted in Accident Information,Premises liability on July 2, 2020
Accidents do not only happen in your own state or hometown. They can also happen while you are traveling or on vacation. If you get an injury while out of state, the process for filing a claim and obtaining compensation for your medical bills and property damages may look different than if the accident had happened where you live. Learn your rights and find out when it may be in your best interest to hire an attorney for an out-of-state accident.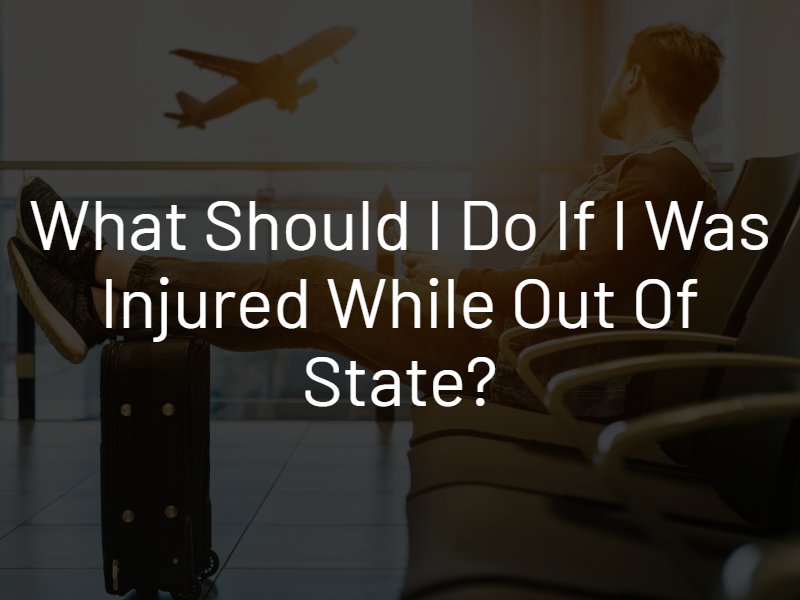 Which State Has Jurisdiction?
The first thing to know about an injury that happens away from where you live is who will have jurisdiction over your claim. Find this out by determining a) where the defendant lived and b) where the accident occurred. These will be your two choices for filing an accident claim. They may be the same if the defendant lived in the state where your injuries happened. It might be inconvenient to file your claim in a different state, but you will have to if that state has jurisdiction over your accident case.
What Laws Apply to Your Case?
Once you know where to file your claim, you will need to figure out which state's laws will preside over your case. In general, your claim will have to abide by the laws in the state where the accident occurred. If you are filing a car accident claim in Missouri, where the defendant lives, for example, but the accident occurred in South Dakota, the laws of South Dakota will apply to your case.
Where your accident occurs can greatly impact your personal injury claim. Each state has unique – and often very different – personal injury laws. These include fault laws, comparative negligence rules and statutes of limitations. For instance, if you get into a car accident in Kansas, you will have to seek benefits from your own insurance company according to the state's no-fault laws. If you crash in Missouri, on the other hand, you will file a claim with the insurer of the at-fault party under Missouri's fault-based laws.
Where Should You Hire an Attorney?
It can benefit you to hire a personal injury attorney after an accident in another state. This is especially true if you have a major injury case that may not be straightforward. Your lawyer can walk you through the steps it will take to acquire fair compensation for your damages. You must, however, hire a lawyer will knowledge and licensure in the correct state. In general, it will benefit you most to hire a lawyer from the state where your accident occurred. If you live in Iowa, for example, but got into an accident in Nebraska, you would hire an personal injury attorney in Nebraska to represent you during your injury claim.
Steps to Take After an Injury Out of State
After an injury in a foreign state, try to remain calm and protect your rights by calling the police. Call 911 for the local police or report your accident to another authority, such as a supervisor at a grocery store after a slip and fall accident. Collect information about your accident from the beginning. Take photos of the scene and request copies of the accident report. Go to a nearby hospital for medical treatment and ask for copies of your health care records. Then, contact an attorney for legal advice about how to proceed with a claim.
Every injury case is unique. Sometimes, a plaintiff's attorney can file a motion to move the jurisdiction of an accident case to someplace closer and more convenient for the victim. In other cases, the victim's home-state attorney can obtain special permission to take the case (pro hac vice admission) from the other state's bar. The aspects of your claim will depend on its specific facts. Talk to an attorney to take the correct steps toward a resolution and compensation for your particular accident case.
Posted in Accident Information on June 30, 2020
As the injured victim (plaintiff) in a personal injury lawsuit in Nebraska, you need to know several important laws and legal terms. Having at least a basic grasp of Nebraska's personal injury terms could help you protect your rights. Choosing pro se litigation, for example, could be a costly mistake for you as a plaintiff or the right choice, depending on the circumstances. Explore the pros and cons of pro se litigation with help from an Omaha personal injury lawyer before making your decision.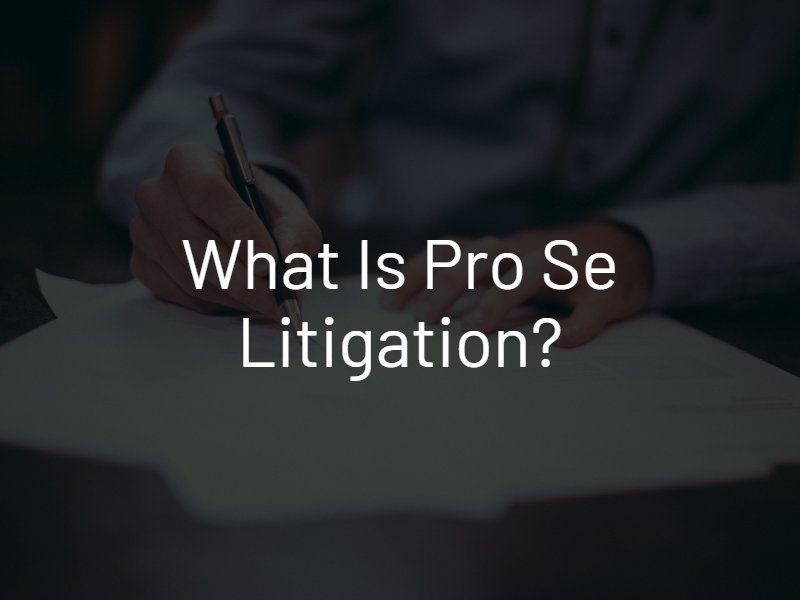 Definition of Pro Se Litigation
Pro se litigation is the legal phrase for self-representation during a court case. If a plaintiff chooses to represent him or herself during a personal injury claim rather than hiring an attorney, that plaintiff is engaging in pro se litigation. The Latin phrase pro se translates to for oneself or on behalf of oneself. Pro se litigants are relatively common in low-value claims, such as claims that go to Nebraska's Small Claims Courts. They are less common in higher-value cases where the plaintiffs have more to lose, however. If you choose to go pro se, you will be in charge of litigating your personal injury lawsuit on your own.
What Are the Pros and Cons of Pro Se Litigation?
Pro se litigation comes with important pros and cons you must understand as a plaintiff. It is your responsibility to fully comprehend the risks you are taking by choosing pro se litigation. Historically, despite potentially saving the claimant time and money, pro se litigation can pose many problems for self-represented plaintiffs as well as the defendants involved in the case.
Pro: saving money on attorney's fees. The number one reason plaintiffs decide to represent themselves is to save money. You will not have to give a lawyer a percentage of your recovery if you choose pro se litigation and win your case.
Con: doing without professional legal advice. The courts in Nebraska will hold you to the same standards as an attorney; however, you will not have the knowledge or advice of a lawyer to support you – possibly leading to serious mistakes on your part.
Pro: knowing more about your case. During pro se litigation, you will be the person who knows the most about your case. You will never be in the dark about the status of your lawsuit, as you might be with a lawyer handling things.
Con: not having the resources and skills of an attorney. It can be easy for the opposition to take advantage of you as a pro se litigant. Without the experience, knowledge and skill of a lawyer, you may be unable to protect yourself from common defense tactics.
It is critical to thoroughly investigate all your options before choosing pro se litigation. Opting to represent yourself could be a mistake depending on your specific case. Do not assume you have what it takes to successfully represent yourself without first talking to a personal injury attorney. Most attorneys offer free initial consultations so you can discuss your options at no cost or obligation. If you decide to handle your case on your own, keep the lawyer in your contact list in case you decide to hire representation later.
What Are Your Legal Options?
If the potential benefits of pro se litigation interest you but you are nervous about fully representing yourself, consider a hybrid option. You may be able to find a lawyer who is willing to mix pro se litigation with professional counsel or representation. Working with an attorney during at least parts of your claim could help you avoid serious mistakes.
If, however, your case involves high-value losses, catastrophic injuries, the wrongful death of a loved one, or complicating factors such as broken laws, hire a personal injury lawyer to represent you. Pro se litigation on a complex case could lead to devastating mistakes such as accepting less than your injuries are worth. Talk your options over carefully with a personal injury attorney in Omaha to make the correct decision for your case.
What are Nebraska's Fireworks Laws?
Posted in Accident Information on June 25, 2020
With Independence Day around the corner, it is important to review the firework laws, rules and statutes in your city and state. Every year, broken firework statutes and the reckless use of fireworks lead to thousands of preventable fires, destroyed properties and personal injuries. Some common serious injuries include third-degree burns and traumatic amputations. Obeying Nebraska's fireworks laws this Fourth of July could keep you and your family free from personal injuries. It could also help you avoid legal trouble for violating Nebraska's fireworks laws.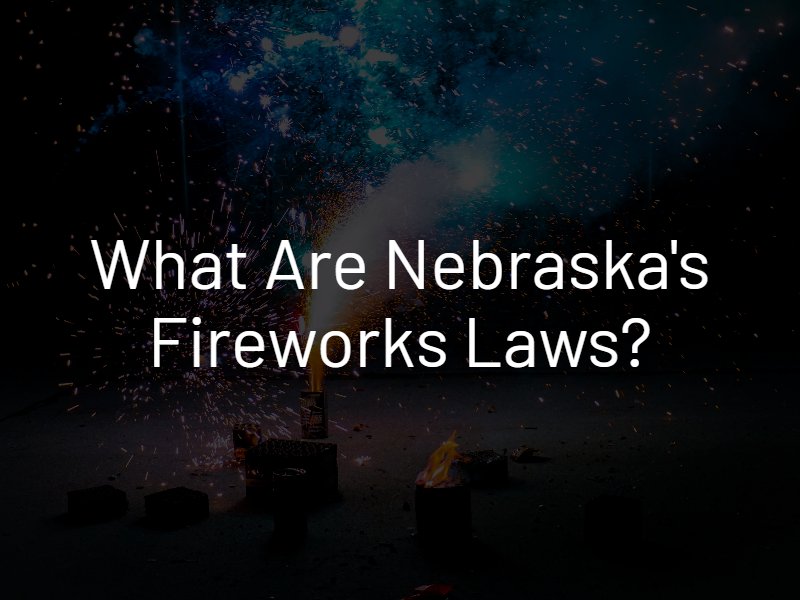 Limits on Sale Dates
In Nebraska, the State Fire Marshal limits the sale of fireworks to between June 24 and July 5 for people with July firework licenses or December 28 to January 1 for those with December licenses. Anyone who wishes to purchase display fireworks to sell in Nebraska must complete and submit the required application. The State Fire Marshal will review applications and either approve or deny requests to buy and sell fireworks. You must submit a firework application online and pay the filing fee to register.
Age Restrictions
A consumer must be at least 16 years old to possess and use fireworks in Nebraska. Consumers between the ages of 12 and 15 may also use fireworks, but only in the immediate presence and direct supervision of an adult who is at least 19 years old. Allowing children 15 and under to use fireworks unsupervised is against state law.
Omaha City Ordinances
If you live within Omaha city limits, you may only discharge fireworks for the Fourth of July as a resident from 12 p.m. to 11 p.m. on July 2, 3 and 4. If you wish to use fireworks for New Year's, you may only discharge them in Omaha from 5 p.m. on New Year's Eve until 1 a.m. on New Year's Day, according to municipal code. It is only legal to purchase and use consumer-grade fireworks in Omaha, not display grade. A conviction for violating any of Omaha's municipal firework laws can result in fines of $300 to $500 depending on whether you are a first-time or repeat offender.
Firework Safety Tips
About 18,500 fires in the US stem from fireworks, according to the National Fire Protection Association. Fireworks led to about 13,000 emergency department visits for related injuries in 2017 alone. The most common firework injuries are to the hands, fingers, head, face and ears. Children five to nine years old are more than twice as likely as other ages to suffer firework-related injuries based on population totals.
Leave fireworks to the professionals. The number one firework safety tip is to leave them to the professionals. Do not buy or use consumer fireworks – instead, go to a professional show for optimal safety.
Keep fireworks away from children. Sparklers can burn at temperatures hot enough to melt metal – 1,800 to 3,000 degrees Fahrenheit, on average. Sparklers, smoke bombs and other consumer fireworks can pose serious threats to child safety, even under direct adult supervision.
Use fireworks responsibly. If you purchase fireworks this Fourth of July, use them responsibly. Never use fireworks indoors, near structures, beneath trees or under power-lines. Only adults should use and light fireworks.
Celebrate Independence Day in safety. Obey all of Nebraska and Omaha's firework statutes to stay out of legal trouble. Opt to mark the occasion in a way that does not involve purchasing your own consumer fireworks, if possible. Plan on going to a professional firework display in your city instead. If you do want to use fireworks, do so per accepted safety practices to reduce the risk of a personal injury to yourself, your child or your property. Firework injuries are common. Speak with a personal injury lawyer about a potential lawsuit if you believe someone else – including a firework manufacturer – is responsible for causing your firework-related injuries.
What Are the Long-Term Effects of a Concussion?
Posted in Accident Information on June 15, 2020
Many people see concussions as minor head injuries – nothing to worry about. In reality, a concussion is a traumatic brain injury that can have several immediate and lasting symptoms for a victim. Severe or multiple concussions can lead to long-term and even life-threatening damages and disabilities. If someone else's negligence gives another person a concussion, the at-fault party may owe the victim compensation for past and future damages in Omaha. Learn more through a consultation with a personal injury attorney.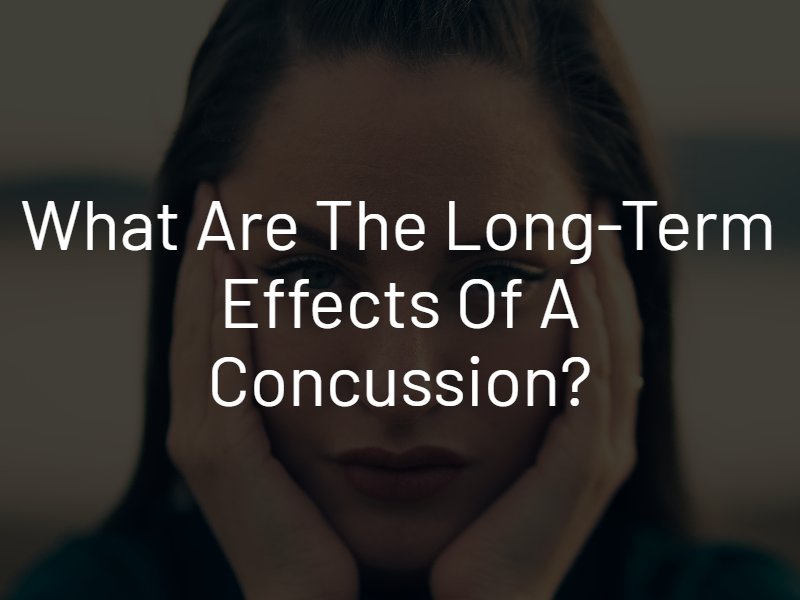 Cognitive Deficits
Research into concussions has shown that a brain with this type of injury can experience abnormal brain wave activity years later. Even a minor brain injury can impact brain wave activity for years after the accident. A concussion can also cause the deterioration of motor pathways in the brain – an issue that could cause attention deficits and other problems. Someone with a concussion could experience symptoms such as forgetfulness, memory loss, confusion, disorientation, trouble communicating, gaps in comprehension, trouble paying attention and other cognitive deficits for a long time after the injury.
Emotional and Behavioral Changes
Aside from cognitive issues, a concussion could also affect a victim emotionally and behaviorally. Living with a brain injury can lead to conditions such as post-traumatic stress disorder, depression and anxiety. Damage to the brain, no matter how minor, could influence a patient's moods and actions. Many patients with concussions experience mood swings, outbursts, disrupted sleep, fatigue, personality changes, aggression and social inappropriateness for weeks or months after the accident. Emotional and behavioral changes from a concussion could have a lasting effect on the patient's relationships, work and personal life.
Degenerative Diseases
Researchers have linked concussions and other brain injuries to a long list of related conditions. A traumatic brain injury such as a concussion could lead to long-term conditions such as epilepsy, seizures, Parkinson's disease and degenerative brain diseases like Alzheimer's. The risk of developing a brain condition increases in correlation with the number of brain injuries the patient has had. Sustaining multiple concussions, especially close together, increases the risk of long-term brain disorders and related conditions. Repeated concussions can cause catastrophic brain injuries over time that may even be fatal for the patient.
Post-Concussion Syndrome
Post-concussion syndrome is a disorder in which a patient experiences the symptoms of a concussion long after the date of the injury. While most patients with minor concussions stop experiencing symptoms after a few weeks, someone with post-concussion syndrome may continue to notice them for months or longer after the accident. Concussion-related symptoms can include dizziness, headaches, confusion, sensory changes, fatigue, irritability and insomnia. It is unclear what causes post-concussion syndrome or how to prevent it in a patient.
Fight for Fair Recovery for Long-Term Concussion Symptoms
As the victim of a concussion in Omaha, it may not be enough to accept a fast settlement in the days following your head injury. Hire an attorney to analyze the potential effects of the concussion on you in the following weeks, months or years. A lawyer may advise you to wait until you reach the point of maximum medical improvement to accept a settlement. Only at this point, when your physician says you most likely will improve no further, will you be able to comprehend the full extent of your brain injury.
You may qualify for compensation for the long-term symptoms and damages you face because of a concussion. A recovery award could include past and future medical expenses, surgeries, physical and emotional therapies, rehabilitation, prescription medications, medical devices, nursing care, lost wages, and lost future earning capacity. A settlement or judgment award could also pay for your concussion-related physical pain and emotional injuries. If you or someone you love has long-term effects from a concussion in Omaha, speak to an attorney for legal advice. One or more parties may owe you compensation.
Posted in Accident Information,Car accidents on May 29, 2020
Not all car accidents involve two moving vehicles. Many involve parked cars – often without the owner present. Hitting a parked car brings with it the same driver responsibilities as a moving car accident in Nebraska. The at-fault driver must stop at the scene, exchange information and file an insurance claim. Taking the right steps after hitting a parked car in Omaha can improve the insurance process. It can also help you avoid criminal charges for a hit-and-run.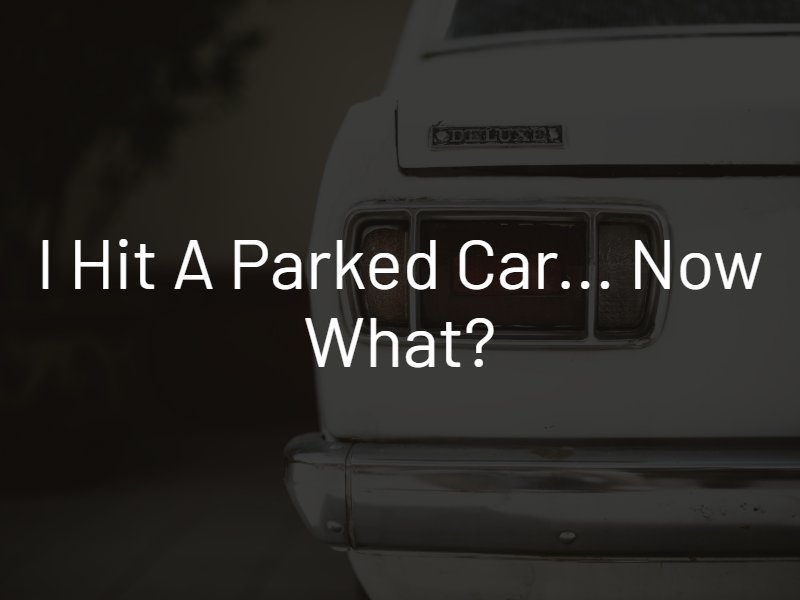 Pull Over
State requirements in Nebraska make it mandatory to stop at the scene of any car accident – including collisions with parked cars. If you knowingly strike someone else's vehicle and keep driving, it is the crime of hit-and-run. You could face criminal charges if an eyewitness or surveillance camera saw the accident and recorded your plate numbers. The penalties for a hit-and-run in Nebraska can include fines, jail time and license suspension. Pull over immediately and park your car someplace safe, out of traffic. Check yourself for any injuries. Then, exit your vehicle when it is safe to do so and return to the parked vehicle you struck.
Exchange Information
Nebraska Revised Statute 60-696 requires all drivers involved in accidents resulting in property damages or injuries to stop at the scene and provide information to the owner of the other vehicle. If you hit a parked car in Omaha, you legally must get your information to the owner of the vehicle you damaged. First, try to exchange information by finding the vehicle's owner. The law obligates you to act within a standard of reasonable care, or in a way a normal and prudent driver would in the same situation. You must make a reasonable effort to locate the vehicle's owner.
If you find the owner, give him or her your name, phone number, address and driver's license number. If you cannot find the owner, you must include this information on a note and leave it in a conspicuous place in or on the parked car. Write clearly and legibly. Failing to leave a note is the same as a hit-and-run. This is a Class 2 misdemeanor in Nebraska. The other driver needs your information so he or she can contact your insurance company and file a claim to repair the property damage inflicted.
Report the Accident to a Peace Officer
Nebraska law also requires someone in an accident that damages an unattended vehicle to report the collision to an appropriate peace officer without unnecessary delay. You can call Omaha's nonemergency police number to report the collision with a parked car immediately at (402) 444-4877. If the accident caused any injuries or property damages over $1,000, dial 911 from the scene. You do not have to admit fault for the accident while on the phone with peace officers. Wait for the officer to arrive, explain what happened and write down your police report number. The police can help gather additional information about the parked car accident.
Call Your Insurance Company
Call your auto insurance provider to report the crash as soon as possible. The insurance agent will ask questions about the wreck, such as its time, date and location. Take photographs of the property damages while at the scene to show your insurance provider, if possible. Your insurer can expedite the claims process. If you were at fault for the accident, your insurance company might increase your premiums.
Hire a Car Accident Lawyer
Although most car accidents involving parked cars are the fault of the other driver, some exceptions exist. If the other vehicle was parked illegally, for example, both drivers could share fault for the accident. The illegally parked driver might be partially to blame, while the other driver would absorb the remaining liability for failing to avoid the car.
It may be necessary to hire a car accident attorney to help you work through your parked car accident claim in Omaha. If you believe the other driver is at least partially to blame, contact a lawyer to discuss your legal options. The comparative negligence defense could reduce your liability and help you avoid an increase in your premiums. A lawyer could walk you through the entire insurance claims process after hitting a parked car.