When someone sustains a severe injury, the victim may not be the only person who suffers an impact on his or her life. The victim's loved ones may also be affected – especially a spouse. Loss of consortium provides an opportunity for a close family member to receive financial compensation for the losses that he or she suffered due to a relative's injury.
To find out if you have grounds to file a claim for loss of consortium in a personal injury case in Nebraska, consult with the attorneys at Knowles Law Firm.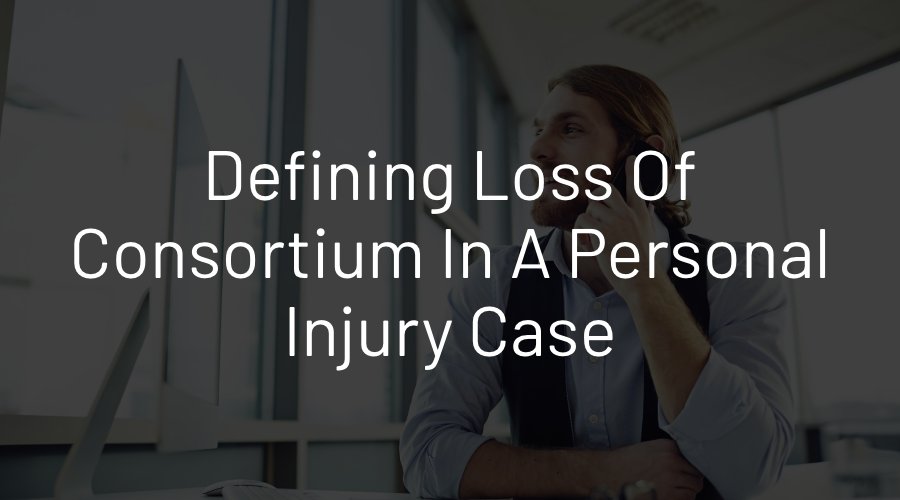 What Is Loss of Consortium?
According to Cornell Law School's Legal Information Institute, the definition of loss of consortium is the loss or impairment of the intangible benefits of a relationship. It is the noneconomic losses caused by a serious injury inflicted against a victim that are suffered by the victim's spouse or close family members.
When loss of consortium is caused by someone else's tort or wrongful act, the victim's loved ones may be able to seek financial compensation from the at-fault party to pay for this type of noneconomic loss. A loss of consortium claim recognizes the losses suffered by a spouse or loved one due to the severe injury or death of a close relative.
Who Can File a Claim for Loss of Consortium?
The right to file a claim for loss of consortium is granted to different parties based on the laws governing personal injury claims in each state. In general, state laws strictly limit the parties who have the right to seek financial damages for loss of consortium. Only very close intimate relations to the victim have this right.
In Nebraska, state law only permits an injured party's spouse to seek compensation for loss of consortium. Loss of consortium is defined in Nebraska as compensation for a spouse who has been deprived of benefits to which he or she is entitled due to a marital relationship or domestic partnership. These benefits include the loss of the spouse's affection and conjugal society.
A loss of consortium claim in Nebraska is a type of personal injury case that is derived from the harm suffered by the injured spouse, such as a catastrophic injury or permanent disability. A loss of consortium claim is viewed as separate and distinct from a claim belonging to the injured accident victim. It is brought by the uninjured spouse.
How to Prove Loss of Consortium
Collecting financial compensation for loss of consortium requires proof or evidence that the uninjured spouse filing the claim has a right to recovery. This requires evidence of the following elements:
The claimant's spouse has an injury or has passed away in a preventable accident.
A defendant is liable, or legally responsible, for the spouse's injury or death.
The uninjured spouse has suffered intangible losses due to the victim's injury or death.
A loss of consortium claim can be filed in Nebraska as part of a personal injury or wrongful death case. Common types of cases that lead to loss of consortium claims include motor vehicle accidents, catastrophic falls, product liability incidents and workplace accidents.
What Is Included in a Loss of Consortium Award?
The types of damages, or financial compensation, that could be awarded in a loss of consortium claim depend on factors such as the severity and type of the victim's injury, the relationship between the claimant and the injured victim, and the impact the injury had on their relationship. Loss of consortium can refer to loss of the following:
Love
Affection
Companionship
Society
Care
Comfort
Assistance
Guidance
Protection
Moral support
Emotional support
Sexual relations or fertility
Marital intimacy
A claimant must prove that his or her spouse's injury had a negative impact on the quality of their relationship. For example, the spouse suffered a permanent spinal cord injury with paralysis that interferes with the couple's ability to be sexually intimate and have children. Evidence will be required to demonstrate the nature and extent of the injury's impact on the relationship.
Average Settlement for Loss of Consortium
There is no such thing as an average settlement when dealing with personal injury and wrongful death claims. The potential value of a loss of consortium claim can vary widely from case to case. The courts may consider numerous factors when determining an appropriate amount of damages to award specifically for loss of consortium, including:
The length and stability of the marriage or domestic partnership
The nature and extent of the spouse's injury
The injured spouse's life expectancy
The role the victim previously played in the management of the household
The impact the injury had on the family unit
Any relevant insurance policy limits or noneconomic damage caps
Noneconomic damages for intangible losses are not easy to measure. Unlike economic damages, there are no bills or receipts with specific numbers to use in these calculations. Instead, the courts will base loss of consortium damage awards on the losses suffered by the affected spouse due to the victim's injury.
How to File a Claim for Loss of Consortium in Nebraska
If your spouse recently suffered a serious injury due to another person's negligence or wrongful act in Nebraska, find out if you have grounds to file a claim for loss of consortium by consulting with a personal injury lawyer at Knowles Law Firm. We will carefully review your case, including your spouse's injuries or incapacitation and the effect the injury has had on your life, to determine your eligibility. We will check for the following elements:
A defendant committed a careless, reckless, wanton or wrongful action that directly resulted in your spouse's injury.
One or more defendants can be held legally liable for your spouse's serious or catastrophic injury.
You have an intimate and committed relationship with the injured victim, meaning you are married or in a domestic partnership.
You suffered a loss of affection, spousal intimacy or other intangible losses because of your spouse's injury.
If we believe you have grounds for a loss of consortium claim, we will help you with the legal process. We can draft and file a lawsuit on your behalf, complete with supporting evidence. This may include your spouse's medical records and expert testimonies. Your loss of consortium claim will be separate from any personal injury lawsuit that your spouse is bringing. Our Omaha personal injury attorneys will ensure that you meet your filing deadline. Contact us today to explore all of your legal options for making a financial recovery.