Slip and fall accidents send millions of people to emergency departments annually throughout the United States. Falls can result in serious or life-changing injuries, including broken bones or head trauma. While anyone could suffer a severe injury in a slip or trip and fall accident, certain demographics are more at risk than others.
The Elderly (65 and Over)
Older adults and senior citizens – those 65 years and older – are at high risk of suffering catastrophic and fatal injuries in slip and fall accidents. According to the Centers for Disease Control and Prevention (CDC), more than one in four older adults fall each year. The CDC states that over three million seniors are treated in hospitals for fall injuries annually. In 2020, falls among older adults caused 36,000 deaths in the U.S., making it the leading cause of injury-related death for this age group.
The elderly are more at risk of slip and fall accidents due to physical limitations and disabilities that may cause them to struggle with balance. They may become dizzy or lightheaded when they stand up, have poor vision, experience foot problems, or take medications that make them dizzy or unsteady. These accidents can result in traumatic brain injuries or hip fractures, which can prove fatal for a victim. The CDC reports that over 95 percent of hip fractures are caused by falling.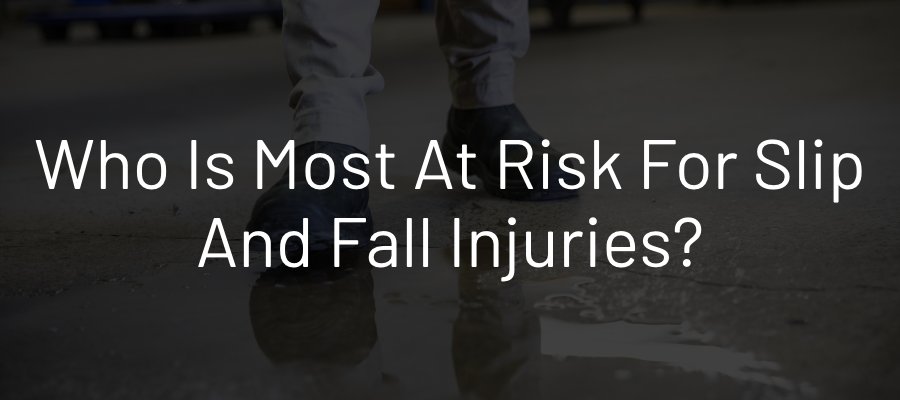 Children
Young children are at an increased risk of slip and fall accidents due to their activity levels and poor coordination. Children may fall down staircases, trip and fall on a playground, or slip and fall on a swimming pool deck. Since children's bones are still developing, they are soft and can suffer greenstick fractures in a fall accident. Greenstick fractures are when the bones bend rather than break, similar to a young or "green" stick on a tree.
Individuals With Medical Conditions
Many types of medical conditions can increase an individual's risk of slip and fall accidents. Any physical or mental impairment that affects vision, balance, mobility, coordination, the inner ear, muscle strength, the bones or the joints could contribute to a slip and fall. Examples include:
Arthritis
Diabetes
Blurred vision
Heart disease or cardiovascular problems
Loss of vision or hearing
Glaucoma or cataracts
Stroke
Parkinson's disease
Dementia
Pre-existing injuries can also lead to an increased risk of fall accidents. If an individual has an old injury such as a partially healed broken ankle or hip, for example, this could affect mobility and result in a subsequent fall.
People on Certain Medications
Over-the-counter and prescription medications can cause side effects that lead to slip and fall accidents. Many medications have labels that warn patients they may cause dizziness, vertigo, lightheadedness, fainting, fatigue, low blood pressure or loss of balance. These side effects can all increase the risk of an individual suffering a slip and fall injury.
Individuals With Certain Occupations
Falls are one of the most common causes of death among workers in the U.S., according to the Occupational Safety and Health Administration. Construction workers are especially at risk of deadly fall accidents. Fatal falls can occur from scaffolds or rooftops in construction. Other dangerous occupations for potential slip and fall injuries include working in a warehouse, hospital, restaurant, office building or entertainment venue.Contact our slip and fall accident lawyers in Omaha if you or a loved one has been injured in a recent fall accident. We offer free case consultations.