Driving under the influence (DUI) is an extremely dangerous crime that puts everyone on the road at risk. Nebraska takes DUI offenses seriously and imposes strict sentences on those convicted of this crime. If you get injured in a drunk driving accident in Omaha, the at-fault driver may face significant criminal penalties in addition to being responsible for paying for your losses.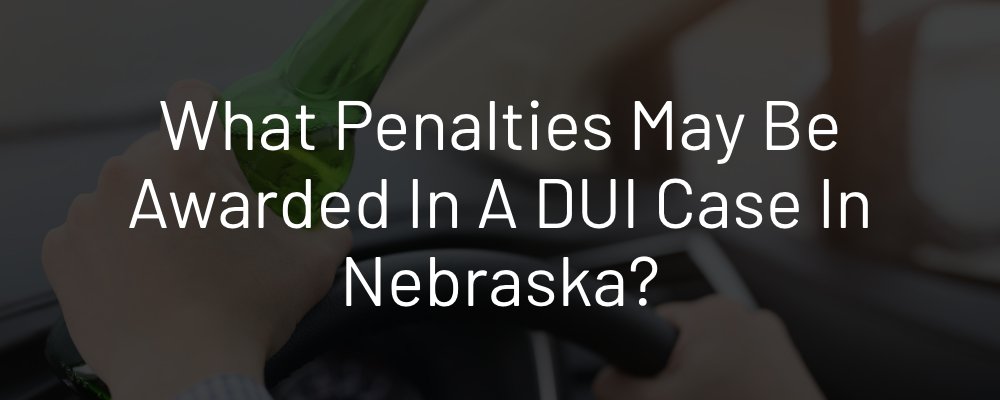 The Criminal Consequences of a DUI in Nebraska
A DUI in Nebraska means that a person operated or was in actual physical control of a motor vehicle while under the influence of alcohol or any drug. The legal blood alcohol concentration (BAC) limit for drivers in Nebraska is 0.08 percent, or 0.04 percent for commercial drivers. Committing the crime of driving under the influence comes with a range of penalties under Nebraska Revised Statute 60-6,197.03 that are meant to punish the defendant and keep him or her off the road for a period of time. This includes administrative penalties, such as the loss of the driver's license.
Common penalties issued in a criminal DUI sentence include:
Mandatory jail time
Expensive fines and surcharges
Suspension or revocation of the driver's license
Vehicle impoundment
Probation
Mandatory drug or alcohol counseling
Community service
Ignition interlock device installed on vehicles
The specific sentence will depend on the circumstances of the crime. If there are aggravating factors, such as serious bodily injuries caused by the drunk driver, the penalties are increased. Other aggravating factors include driving with a child under the age of 15 in the vehicle or driving with a BAC at or above 0.15 percent. If a person has prior DUI convictions, this will also enhance the criminal penalties. Jail time can escalate to up to three years, while fines can be in the thousands.
Victim Restitution in a DUI Case
A DUI defendant may also be made to pay restitution to the victim in a criminal case. Restitution might be part of a sentence if the intoxicated driver causes the victim damage, such as bodily injury or property damage. A restitution order requires the defendant to pay the victim a monetary award to make up for these expenses.
Criminal restitution covers actual damages only, not pain and suffering. Restitution is determined based on the amount of actual damages associated with the DUI, including the victim's ambulance fees, hospital bills, vehicle repairs, rental car costs, prescription medications and lost wages. Restitution is typically paid during the course of the defendant's probation.
Filing a Personal Injury Claim After a DUI Accident in Nebraska
In addition to a criminal case for driving under the influence, a drunk driver may also face a civil lawsuit brought by the victim. A civil lawsuit seeks financial compensation for the car accident from the at-fault driver's insurance carrier. During a civil claim, the victim becomes a plaintiff and has the burden of proof. This means he or she must prove that the defendant – the drunk driver – caused or greatly contributed to his or her accident and related injuries.
A civil lawsuit must be brought within four years of the DUI accident under Nebraska's statute of limitations. If your loved one died in a fatal drunk driving accident, you have two years to file a wrongful death claim. An Omaha wrongful death lawyer can help navigate the claim process. Waiting too long puts you at risk of losing the right to seek financial compensation from the drunk driver's insurance company. A successful civil lawsuit following a DUI accident can hold the drunk driver accountable and result in financial relief for the plaintiff.
Financial compensation for a civil DUI case can cover actual damages as well as noneconomic damages, such as physical pain, emotional suffering and mental anguish. Filing a civil claim after or at the same time as a criminal case against the drunk driver can be the best way to get the financial compensation that you need to move forward. You may be entitled not only to restitution as part of the defendant's criminal sentence but a personal injury settlement or jury verdict, as well.