Getting into a car accident of any type in Nebraska can be a confusing and frightening experience. If you are involved in a crash while driving a rental car, it can be even more difficult to know what to do next. The question of who is liable – or financially responsible – for a rental car accident depends on the cause of the collision and the types of insurance coverage available.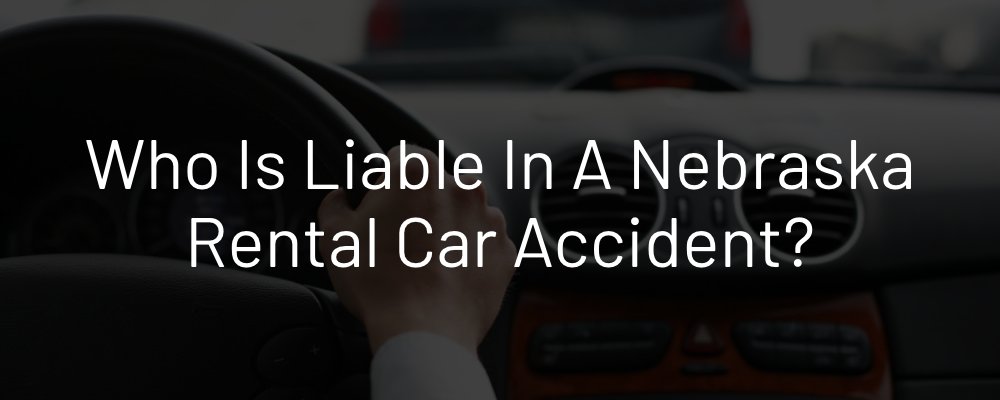 Nebraska Is a Fault State
There are "fault" and "no-fault" states. Nebraska is a fault state, meaning the person who is held responsible for the crash is the one at fault for causing the collision. All drivers in Nebraska must carry minimum amounts of bodily injury and property damage coverage to pay for the losses and expenses of others after causing a motor vehicle collision. This includes after a rental car accident. In a no-fault state, on the other hand, the parties involved seek compensation from their own insurance companies, regardless of fault. 
Determining Liability for a Rental Car Accident
To qualify for third-party insurance coverage after you get into a rental car accident, you must prove that the other driver is responsible. The driver's car insurance company will require evidence of negligence as well as proof of your losses, such as photographs of the damage to your rental car or a repair cost estimate from an auto shop. Negligence in a car accident case often refers to the failure of a driver to use reasonable care while operating a motor vehicle, such as by violating traffic laws or driving under the influence of alcohol.
Determining liability for any type of car accident often involves an investigation by a car insurance company. The insurer may send representatives to the scene of the accident, contact witnesses or hire crash reconstruction experts to piece together how and why the accident occurred. If the insurance company decides that its policyholder is at fault, it will cover any damage done to the rental car, up to the policy limits. The at-fault driver will also be responsible for paying other damages, such as a victim's lost wages.
Who Pays for Damage to a Rental Car?
Nebraska's minimum amount of liability insurance required for drivers is $25,000 per person and $50,000 per accident in bodily injury liability coverage, plus $25,000 in property damage liability coverage. You may be entitled to benefits through this coverage if the other driver is found to be at fault for your rental car accident. You could receive up to $25,000 (or more, depending on the driver's insurance policy) to pay for the rental car.
If the other driver is not at fault, your rental car was damaged in a hit-and-run accident and the other driver has not been identified, or you were involved in a single-vehicle accident, you will need to look elsewhere for rental car coverage. One option is rental car insurance coverage. When you rent a car, the rental company will always ask if you wish to purchase insurance. If you said yes, damage done to the rental car should be covered by this supplemental type of insurance, whether you were at fault for the accident or not.
If you did not purchase rental car insurance, contact your own car insurance company to find out if they will cover the accident. Unfortunately, most standard car insurance policies do not cover damage done to a rental car. This is why rental car companies offer optional insurance coverage to renters. The rental car company generally will not be liable for an accident involving one of its vehicles unless you can prove that the company was negligent in some way that caused the crash. You should contact your car insurance company ahead of time to find out if you will be covered in a rental vehicle crash.
Another option for rental car damage repairs could come from one of your credit card companies. Some credit card companies offer coverage for damage to a rental car, including theft or vandalism, and will also pay for an auto insurance deductible. This coverage often applies only after the renter's personal auto insurance provides initial coverage (known as secondary coverage). Contact your credit card company to find out if this type of coverage is available and contact Knowles Law for a free consultation with a qualified Nebraska car accident lawyer.