If you get involved in a car accident while you are not wearing a seat belt, this could negatively affect your car insurance claim in Nebraska. It is important not to admit fault for your car accident or answer any questions about your injuries until you've spoken to a car accident lawyer in Omaha. A lawyer can help you protect your rights and obtain fair financial compensation even if you weren't wearing a seat belt. Learn more about how Nebraska law handles these types of cases.  
Are Seat Belts Mandatory in Nebraska?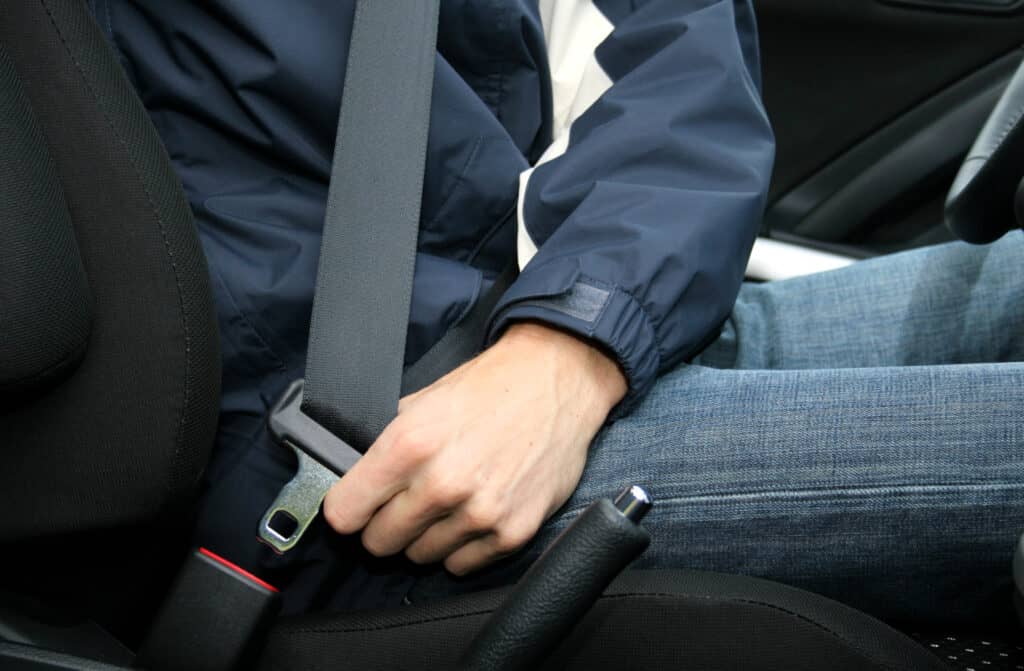 Like most states, Nebraska has a universal law that requires all motor vehicle drivers and most occupants to wear seat belts (referred to as occupant protection systems). Nebraska Revised Statute 60-6,270 states that no driver shall operate a motor vehicle upon a highway or street in the state unless he or she – and each front-seat occupant – are wearing occupant protection systems. Seat belts must be worn properly across the lap and chest and be correctly adjusted and fastened. 
Children under the age of six must use child safety systems at all times while in a motor vehicle, whether they are in the front or back seat. The only exceptions to the seat belt law in Nebraska are people with written verifications from physicians that they are unable to wear seat belts for medical reasons, certain employees of the United States Postal Service, and members of emergency medical services who are involved in patient care. Failing to buckle up in Nebraska can result in a $25 fine for each infraction.
Is the Seat Belt Defense Allowed in Nebraska?
The seat belt defense is a strategy that can be used by a defendant in a car accident case if state law permits. It is an argument that the defendant should be less liable (financially responsible) for the plaintiff's injuries because he or she was not wearing a seat belt at the time of the crash. 
The seat belt defense typically only applies in cases where the argument can be made that the plaintiff's injuries would not exist or be as severe if the plaintiff had been wearing a seat belt. If the injury being claimed could not have reasonably been prevented by a seat belt, a defendant generally cannot use the seat belt defense. 
Nebraska Revised Statute 60-6,273 prohibits the "admissibility of evidence that a person was not wearing an occupant protection system or three-point safety belt system in regard to the issue of liability or proximate cause." This means that, in Nebraska, the failure to wear a seat belt cannot be used as a reason for a defendant to escape liability for a car accident altogether.
However, the law continues to say that the failure to wear a seat belt may be admissible as evidence concerning mitigation of damages. In other words, the seat belt defense could reduce the defendant's percentage of liability – and, by extension, the plaintiff's financial recovery.
Could Not Wearing a Seat Belt Reduce My Financial Recovery?
Yes. Under Nebraska's seat belt defense law, a plaintiff's financial recovery for damages can be reduced by a maximum of 5 percent if there is evidence that that person was not wearing a seat belt or three-point safety system at the time of the accident. For example, if you are awarded $20,000 for your car accident claim, you would lose a maximum of $1,000 if the seat belt defense is successful. In no scenario, however, can your recovery be reduced by more than 5 percent for the failure to wear a seat belt.
Do not assume that you won't qualify for insurance benefits because you weren't wearing a seat belt in your car accident. While your financial award may be reduced for not wearing a seat belt, it will not prevent you from holding the other driver responsible. After all, your failure to wear a seat belt did not cause the car accident. The at-fault driver can still be held accountable for the negligent act or omission that led to your collision. With the right car accident attorney by your side, you can obtain the best results possible for your claim.