If you get involved in a truck accident in Nebraska, the insurance company that receives your claim will not have your best interests in mind. It is important to know how to deal with the insurance company and its claims adjuster after a truck accident correctly to protect your rights. Otherwise, you may end up settling for less than your claim is worth.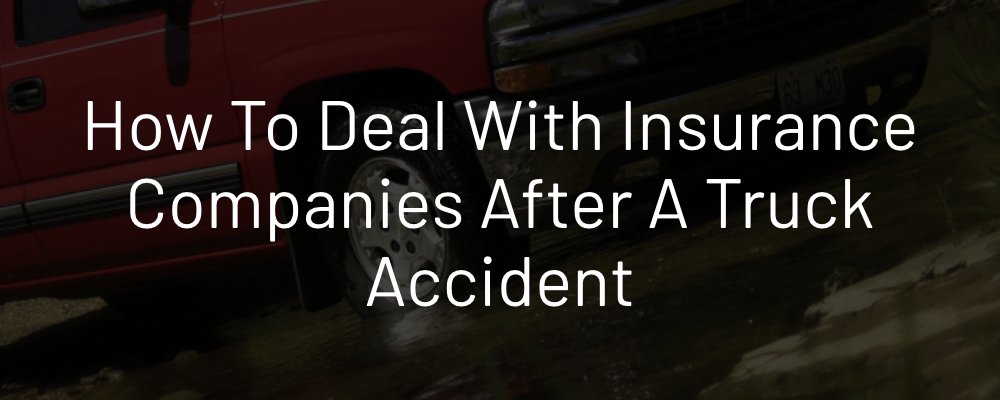 Don't Admit Fault
The trucking company and its insurance carrier will begin investigating the case the same day as the crash, in most cases. Many truck companies send rapid response teams to the scene of accidents immediately to gather evidence – sometimes even before the police arrive. The trucking company's goal is to establish the fault of anyone other than itself or its employees.
It is important not to admit fault for the crash or say that you are sorry when speaking to an insurance claims adjuster. Confessing fault will immediately halt the investigation and make you accountable for the crash, even if you didn't cause the accident or share fault with someone else. Instead, wait for an investigation to be completed.
Don't Give a Recorded Statement
The insurance company will ask your permission to record the conversation that you have soon after your accident. Do not say yes. The recorded statement is a tactic used by insurance companies to take advantage of claimants by using their own words against them. Even if the insurance company says that it needs this statement to continue processing your claim, say no. Tell them that you will submit a written statement at a later date, after speaking to an attorney.
Keep Your Answers Short
When the insurance adjuster asks you questions about your truck accident, keep your answers short and simple. Do not embellish your story or speculate about what caused the crash. Stick to the facts as you know them to be true. Don't give the insurer more information than is necessary.
Don't Discuss Your Injuries
One of the most common mistakes truck accident victims make is answering questions or making assumptions about their injuries prior to seeing a doctor. Insurance adjusters will often contact those involved in a truck accident early on purpose, before they have been to the hospital or fully understand the extent of their injuries. This is so the insurer can offer a settlement that is less than the victim deserves. Always see a doctor before discussing your injuries with an insurance company. Until you've seen a doctor, tell the insurer that you aren't sure whether you've been injured. Even if you feel fine, you may have a hidden or delayed injury.
Wait to Settle
The first settlement offer made by an insurance company will most likely be lower than you deserve. Insurance companies often make low initial offers knowing that many claimants are eager to accept the first settlement. Instead of saying yes, take the settlement offer to an Omaha truck accident attorney for a review. An attorney can help you negotiate with an insurance company to collect fair and full financial compensation after you have reached your point of maximum medical improvement.
Don't Sign Anything Without Talking to an Attorney
Do not sign a medical authorization release form or liability release waiver sent to you by an insurance company. Do not sign anything it sends you until you have brought it to an attorney to discuss your rights. Signing a medical release form could give the insurance company access to your full medical history rather than only the documents that are relevant to your case. Signing a liability waiver will make it impossible to reopen your case, even if you discover that you deserve more than the settlement you accepted. Contact the Knowles Law Firm for assistance dealing with an insurance company before signing anything.