One of the most frequently asked questions from injured plaintiffs is, "Can I reopen my case?" The answer is generally no. Even with help from a lawyer, you cannot reopen a closed personal injury case except in very rare circumstances. If you discover that your injury will need further treatments or surgeries that you did not account for in your first settlement, you will typically have to pay for the additional costs yourself. This is why it is critical to ensure the accurate value of your settlement before you close your case.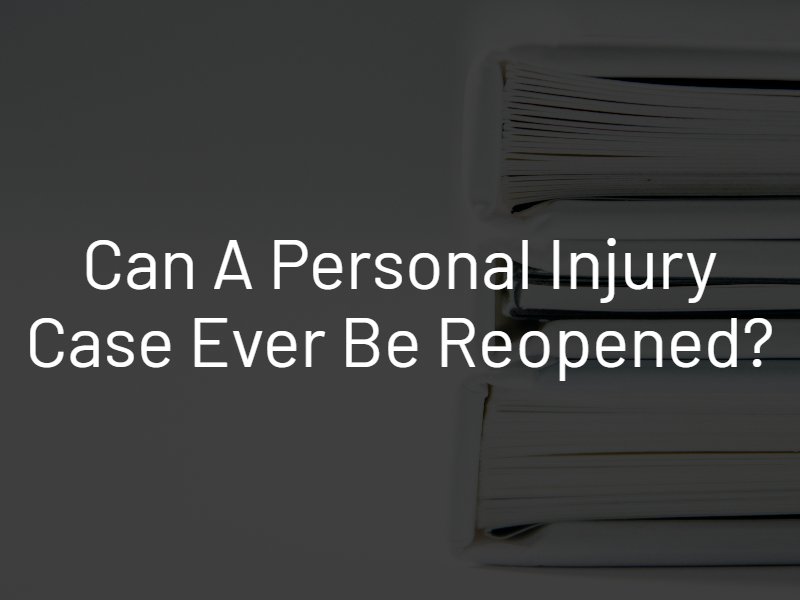 No, You Cannot Reopen a Personal Injury Case in Nebraska
The civil justice process works by giving an injured victim one chance to secure fair compensation from the responsible party. Upon resolution of the case, the plaintiff must sign a release form before receiving a check. This form releases the defendant from any future liability for the same incident or injury. If the plaintiff refuses to sign the release form, he or she generally will be unable to collect the settlement or judgment award. Once the plaintiff does sign the form, the case cannot be reopened.
Your signature on a release form is generally why you cannot reopen a closed personal injury case. Whether you handled your case pro se or hired a personal injury attorney, you cannot obtain compensation from the defendant until you sign the release form. This form is a binding legal contract that releases the defendant from further liability, even if you encounter future issues or costs. If you have already signed the release form, you typically cannot reopen your case. If you are still in the negotiation stage, however, a lawyer may be able to help you achieve a better outcome.
Make Sure You Settle for the Right Amount
It is important to negotiate for a fair and full settlement the first time around since you will typically be unable to renegotiate for a higher amount in the future. You must make sure the amount offered reflects your past and future damages. If you have a serious injury that a physician believes will require future treatments, surgeries, rehabilitation or physical therapies, include your projected future medical expenses in your original settlement demands.
Failing to seek compensation for your future losses could lead to issues down the road. You may end up having to pay out of pocket for your future treatments even if you were not at fault for the accident. The best way to achieve a settlement or verdict that meets your past and future financial needs is with help from a personal injury attorney. An experienced professional will know how much you need for a serious injury, including future foreseeable costs. Since you will not get a second chance at obtaining the compensation you need from a defendant, use a lawyer to ensure a fair result the first time around.
Tips for Negotiating With an Insurance Company
During a personal injury case in Nebraska, you may be able to protect your rights and increase the value of your final settlement or jury verdict. Use a few tips when speaking to an insurance company and its claims adjuster for the best possible results.
Do not give a recorded statement.
Do not admit fault for the accident or personal injury.
Do not give more information than requested.
If you do not have an answer, say so.
Do not accept the first settlement offered.
Use a personal injury attorney for assistance negotiating with an adjuster.
Do not sign anything until you have brought the settlement to an attorney for a review.
Having a lawyer check things over before you sign a release form can make sure you do not agree to give up your rights for less than you deserve. Remember, you cannot reopen a case once you sign a release waiver, even if you did not realize what you were signing. Work with a lawyer from the start to protect your rights.