Wrongful death is the tragedy of someone losing his or her life because of the avoidable actions of another person. It is also a type of civil lawsuit in Nebraska. A wrongful death lawsuit can bring surviving family members closure, answers, and justice. It can also provide important financial compensation to help the family pay for related costs. Learn more about what makes a wrongful death claim by consulting with a wrongful death lawyer in Omaha today.
Nebraska's Definition of Wrongful Death
Each state has its own definition of wrongful death, located in that state's civil laws or statutes. Nebraska Revised Statutes Section 30-809 defines wrongful death as the death of a person due to someone else's wrongful act, neglect or default. This law also applies to an unborn child in utero. Here's a deeper look at this definition:
Neglect, or negligence, refers to the failure to use a normal or reasonable amount of care according to the circumstances.

Default refers to an omission, or the failure to do something that a reasonable and prudent party would have in the same situation.
A wrongful act can refer to any act done with recklessness, a wanton disregard for the safety of others, or intent to harm the victim.
Nebraska's wrongful death law goes on to state that if the victim had survived his or her injuries and been entitled to maintain an action against a person or company for causing his or her injuries, a wrongful death action can be brought after the victim has passed away.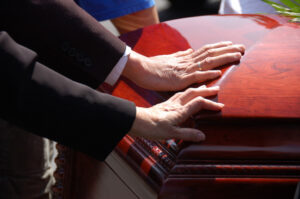 What Is a Wrongful Death Lawsuit?
A wrongful death lawsuit or cause of action seeks to make a decedent's estate or surviving loved ones whole again by holding the at-fault party or parties liable (financially accountable). It is a civil lawsuit, not a criminal lawsuit, with the goal of compensating victims or the decedent's estate. A wrongful death may be brought for financial reasons, as well as to bring a family justice and to hold a wrongdoer accountable. 
In Nebraska, a personal representative of the deceased person's estate has the right to file a wrongful death cause of action. This party can file in pursuit of compensation for losses such as related medical expenses, property repairs, funeral and burial costs, mental anguish, lost wages, loss of consortium, and the victim's pain and suffering.
Common Causes of Wrongful Death in Nebraska
Many different types of preventable accidents can lead to wrongful death lawsuits in Nebraska. If the fatal injury or illness could have been avoided with a reasonable amount of care by another person or party, the decedent's estate most likely has grounds to file a wrongful death suit. Common examples of disasters that result in wrongful death actions in Omaha are:
Pedestrian and bicycle accidents 

Workplace accidents 

Medical malpractice 

Violent crimes
If you lost a loved one from the careless or reckless acts of another party, the law may entitle your family to financial compensation (also known as damages). Although no amount of compensation can equal the value of your loved one's life, a fair financial outcome can make it easier for your family to focus on grieving without as much financial stress. 
Do You Have a Wrongful Death Case? Find Out Today
If you recently received the devastating news that someone in your family passed away in an unexpected accident, discuss the possibility of filing a wrongful death lawsuit with an Omaha wrongful death attorney. Tell your story to an attorney during a free consultation, where you will receive personalized legal advice about whether your family can proceed with a cause of action. If so, a wrongful death lawyer can help you navigate Arizona's laws. Learn more about wrongful death in Nebraska by consulting with a wrongful death attorney at Knowles Law Firm today.