With Independence Day around the corner, it is important to review the firework laws, rules and statutes in your city and state. Every year, broken firework statutes and the reckless use of fireworks lead to thousands of preventable fires, destroyed properties and personal injuries. Some common serious injuries include third-degree burns and traumatic amputations. Obeying Nebraska's fireworks laws this Fourth of July could keep you and your family free from personal injuries. It could also help you avoid legal trouble for violating Nebraska's fireworks laws.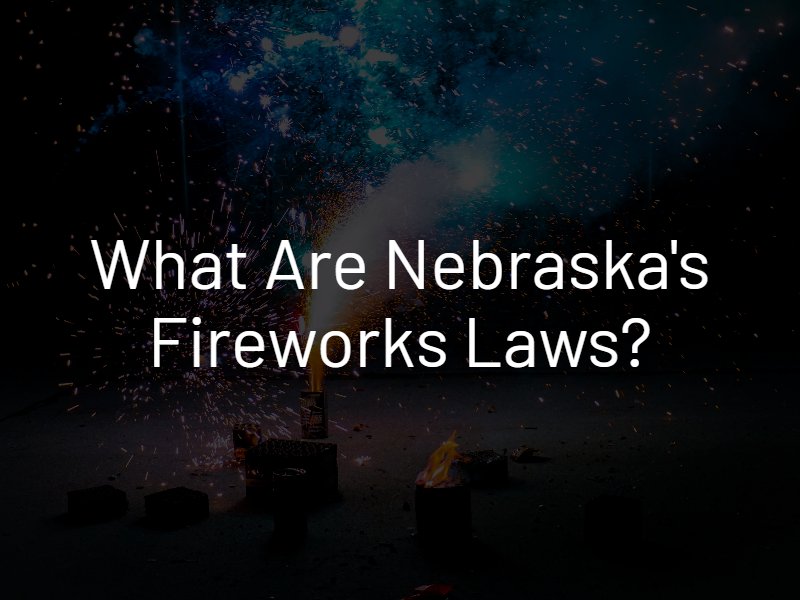 Limits on Sale Dates
In Nebraska, the State Fire Marshal limits the sale of fireworks to between June 24 and July 5 for people with July firework licenses or December 28 to January 1 for those with December licenses. Anyone who wishes to purchase display fireworks to sell in Nebraska must complete and submit the required application. The State Fire Marshal will review applications and either approve or deny requests to buy and sell fireworks. You must submit a firework application online and pay the filing fee to register.
Age Restrictions
A consumer must be at least 16 years old to possess and use fireworks in Nebraska. Consumers between the ages of 12 and 15 may also use fireworks, but only in the immediate presence and direct supervision of an adult who is at least 19 years old. Allowing children 15 and under to use fireworks unsupervised is against state law.
Omaha City Ordinances
If you live within Omaha city limits, you may only discharge fireworks for the Fourth of July as a resident from 12 p.m. to 11 p.m. on July 2, 3 and 4. If you wish to use fireworks for New Year's, you may only discharge them in Omaha from 5 p.m. on New Year's Eve until 1 a.m. on New Year's Day, according to municipal code. It is only legal to purchase and use consumer-grade fireworks in Omaha, not display grade. A conviction for violating any of Omaha's municipal firework laws can result in fines of $300 to $500 depending on whether you are a first-time or repeat offender.
Firework Safety Tips
About 18,500 fires in the US stem from fireworks, according to the National Fire Protection Association. Fireworks led to about 13,000 emergency department visits for related injuries in 2017 alone. The most common firework injuries are to the hands, fingers, head, face and ears. Children five to nine years old are more than twice as likely as other ages to suffer firework-related injuries based on population totals.
Leave fireworks to the professionals. The number one firework safety tip is to leave them to the professionals. Do not buy or use consumer fireworks – instead, go to a professional show for optimal safety.
Keep fireworks away from children. Sparklers can burn at temperatures hot enough to melt metal – 1,800 to 3,000 degrees Fahrenheit, on average. Sparklers, smoke bombs and other consumer fireworks can pose serious threats to child safety, even under direct adult supervision.
Use fireworks responsibly. If you purchase fireworks this Fourth of July, use them responsibly. Never use fireworks indoors, near structures, beneath trees or under power-lines. Only adults should use and light fireworks.
Celebrate Independence Day in safety. Obey all of Nebraska and Omaha's firework statutes to stay out of legal trouble. Opt to mark the occasion in a way that does not involve purchasing your own consumer fireworks, if possible. Plan on going to a professional firework display in your city instead. If you do want to use fireworks, do so per accepted safety practices to reduce the risk of a personal injury to yourself, your child or your property. Firework injuries are common. Speak with a personal injury lawyer about a potential lawsuit if you believe someone else – including a firework manufacturer – is responsible for causing your firework-related injuries.