Car accidents are a common cause of serious injuries and deaths in Nebraska each year. Motor vehicle accidents are the number one cause of unintentional injury deaths in the United States. Car accidents are common enough that getting into one is more likely a matter of when, not if, as a driver in Nebraska. Keeping up with accident facts and statistics year by year can help communities identify common crash risks, with the goal of taking measures to prevent them in the future.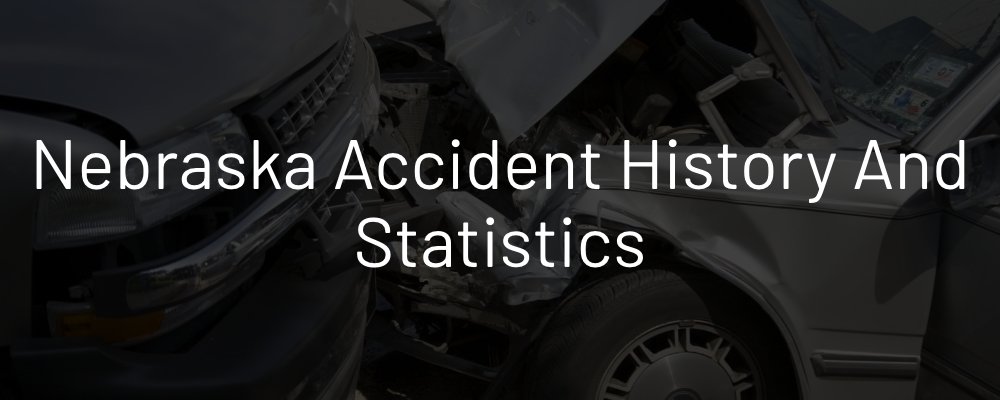 Nebraska Crash Facts
The most recent Crash Facts Report by the Nebraska Department of Transportation states that 36,706 total car accidents were reported in 2019. This equated to approximately 1 crash every 14 minutes. Motor vehicle collisions took 248 lives in 2019 and injured 17,198 others. One person in Nebraska was killed in a car accident every 35 hours. The total economic loss was approximately $5,058,849,940.
A summary of Nebraska crash facts in 2019 is as follows:
Number of licensed drivers in Nebraska: 1,470,810
Number of drivers involved in car accidents: 60,622
Property damage only crashes: 24,555
Injury crashes: 11,939
Fatal crashes: 212
Fatality rate: 1.16 deaths per 100 million miles traveled
Alcohol-involved fatality rate: 24 percent
County with the highest number of deaths: Douglas County (37)
Vehicle-vehicle collisions: 65.6 percent
Fixed-object collisions: 11.8 percent
Parked vehicle collisions: 8.1 percent
Animal collisions: 7.7 percent
Rollover accidents: 3.4 percent
Deadliest month: August and September (23 deaths each)
Restraint use in fatal accidents: 37.8 percent used, 45.9 percent not used
From 2018 to 2019, the number of injury crashes in Nebraska decreased by 320, with a decrease in the number of injuries by 528. However, the number of fatal accidents and property damage accidents both increased. There were 18 more fatalities in 2019 and – the largest increase – 898 more property damage only accidents. On a graph that tracks trends for the last 10 years, the numbers of total crashes and fatal accidents have both increased steadily in Nebraska.
How Does Nebraska Compare to the Rest of the Country?
Nationwide, traffic accident deaths decreased from 2018 to 2019. A total of 36,096 victims lost their lives in motor vehicle accidents in 2019, according to the National Highway Traffic Safety Administration. With 248 deaths in 2019, Nebraska accounted for approximately 0.69 percent of the national total. The state with the highest number of traffic fatalities in 2019 was Texas, with 3,615 deaths.
According to data from the Federal Motor Carrier Safety Administration, 5,005 fatal accidents involved large trucks in 2019. Nebraska reported 1,506 total large truck accidents, of which 34 were fatal. This means that Nebraska accounted for approximately 0.7 percent of the total number of fatal truck accidents in the country in 2019.
Most Common Causes of Traffic Accidents in Nebraska
Tracking Nebraska's car accident history over the years can give traffic experts and infrastructure design teams a better idea of how to build safer roads for the public. It can also spread awareness and education among drivers as to the most common causes of traffic accidents. According to state crash data, the top causes of motor vehicle accidents are:
Driver error or improper action
Speeding
Failure to yield the right-of-way
Distracted driving/driver inattention
Driving under the influence of drugs or alcohol
Making an improper turn
Leaving the lane
Following too closely
Driving erratically
Drivers can often prevent automobile accidents by paying attention to the road and obeying traffic laws. However, in addition to driver mistakes, other common causes of car accidents in Nebraska are animals crossing the road, bad weather, poor road conditions and vehicle part defects. If another person or party caused your recent car accident, contact an Omaha car accident attorney for a free consultation about a potential claim. You may be entitled to financial compensation.