If you get involved in a car accident in Nebraska, you may be faced with expensive medical bills and property damage. Under Nebraska's car insurance laws, you should not have to pay for collisions that are not your fault. Learn how car accident compensation works under state law to better understand your legal rights after a crash. For assistance with a car accident claim, contact the Omaha car accident attorneys at Knowles Law Firm.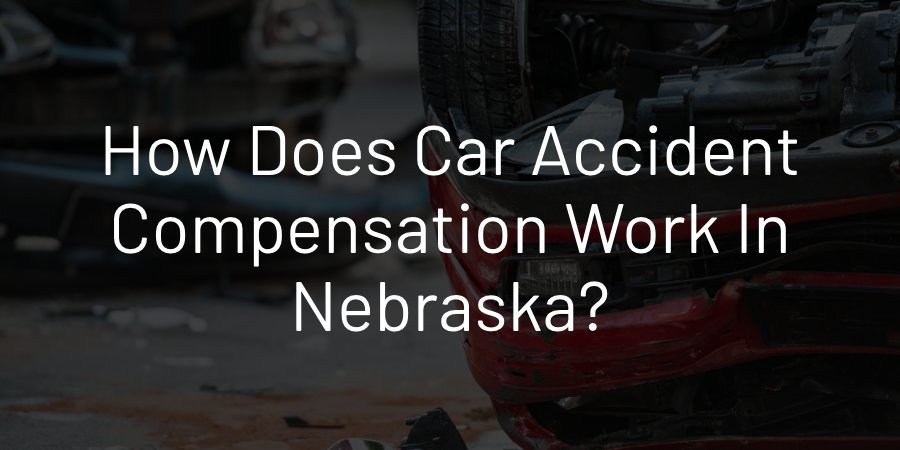 Who Pays for a Car Accident in Nebraska?
There are two main types of car insurance systems: fault and no-fault. Nebraska uses a fault law – the most common type. Under this insurance law, the person or party at fault for causing a car accident is responsible for paying for related medical costs and property damage. An injured victim must prove that another person is at fault to receive financial compensation from an insurance company. In a no-fault state, on the other hand, all drivers file claims with their own insurance carriers for coverage, regardless of fault.
What Types of Insurance Coverage Are Available?
In Nebraska, it is against the law for a driver to operate a motor vehicle without proof of insurance, also known as proof of financial responsibility. Nebraska has minimum required amounts and types of car insurance to ensure that a driver has the financial means to pay for losses caused to others in an at-fault car accident.
The required types of car insurance in Nebraska are:
Bodily injury liability insurance: pays for the medical bills of people who are injured, not including the policyholder.
Property damage liability insurance: pays for the property damage of people other than the policyholder.
Uninsured/underinsured motorist insurance: coverage for car accident damage after being hit by a driver who does not have adequate insurance or after a hit-and-run.
Additional types of insurance that are available but not mandatory for drivers include:
MedPay or Personal Injury Protection (PIP) coverage: pays for the policyholder and any passengers' medical expenses, lost wages and other costs.
Collision coverage: covers damage to the policyholder's motor vehicle from a car accident.
Comprehensive coverage: covers damage to the policyholder's motor vehicle caused by events such as vandalism, theft and acts of God.
If you file a claim with another driver's insurance company after a car accident, you may qualify for coverage if you can provide proof that the policyholder is at fault. This may come in the form of an accident report, crash investigation and witness interviews. If the other driver does not have enough insurance to cover your losses, your own insurance may provide secondary coverage to make up the difference.
Pursuing Compensation for Lost Wages
Lost wages refer to the income, benefits and employment opportunities missed due to a car accident. This may include lost wages from the time of the crash until the claim filing date due to injuries and doctor's appointments. It can also encompass future lost capacity to earn due to a long-term or permanent disability.
It is possible to collect financial compensation for lost wages after a car accident from another driver's car insurance policy under the category of bodily injury liability coverage. If you have uninsured/underinsured motorist or PIP coverage on your own policy, this can also provide financial assistance to make up for lost income.
How Much Is a Car Accident Claim in Nebraska Worth?
The value of a car accident claim in Nebraska will depend on the specific circumstances, such as the extent of your injuries and the insurance coverage available. A car accident lawyer can carefully review your case to estimate its worth. Then, your lawyer can use aggressive legal strategies to pursue maximum financial compensation on your behalf.
Compensation may be awarded to cover the following types of losses:
Past and future medical bills
Vehicle damage repairs
The total pre-crash value of a totaled vehicle
Lost wages
Lost future capacity to earn
Disability
Wrongful death benefits, if applicable
Loss of consortium
Pain and suffering
Post-traumatic stress disorder
Loss of enjoyment of life
Attorney's fees and litigation costs
Punitive damages, in some cases
An attorney can help you create a comprehensive list of damages that includes all of the economic (tangible) and noneconomic (intangible) losses you suffered due to a car accident. Then, your lawyer can use established methods to calculate the potential value of your claim and go up against insurance companies to fight for a just settlement or judgment award.
What Is the Contributory Negligence Law?
In Nebraska, state law permits an injured accident victim to receive financial compensation from another party even if he or she contributed to the accident or injury. However, Nebraska Revised Statute 25-21,185.90 states that any contributory negligence assigned to a claimant will diminish the amount awarded as damages proportionately with the claimant's contributory negligence. This law does not bar recovery as long as the claimant is found to be less than 50 percent responsible.
In other words, if you are less at fault for a car accident than the other driver, you will still be eligible for compensation from the other driver's insurance policy, minus an amount equivalent to your percentage of fault. For example, if your car accident claim is assigned a value of $80,000 but you are allocated 20 percent of contributory negligence, your recoverable damages will be reduced by a matching 20 percent ($16,000) to $64,000.
Should I Accept an Insurance Settlement?
In a car accident case in Nebraska, do not make the mistake of trusting a car insurance company or accepting the first settlement offered to you by an insurance claims adjuster. Car insurance companies do not want what is best for claimants; their primary goal is to save money and protect their profits by diminishing claim payouts. Before accepting a quick settlement, speak to an attorney to understand the true value of your case.
What Can I Do to Increase My Car Accident Compensation?
The best way to improve the value of a Nebraska car accident claim is by hiring an attorney to represent you. Unlike an insurance company, an attorney will want to maximize your payout. Your lawyer can argue against common defense strategies, including contributory negligence or pre-existing injuries, to achieve the best possible case results. With a lawyer advocating for your rights, you can fight for the financial compensation that you need to cover the full extent of your losses. Talk to an experienced car accident lawyer today for more information when you contact Knowles Law Firm for a free consultation.