Wrongful death is a legal term used in the civil justice system. In Nebraska, the definition of wrongful death is the loss of a life caused by the wrongful act, neglect or default of any other person or party. In the event of a wrongful death, surviving family members may be entitled to financial compensation for funeral costs and other damages from the at-fault party. While nothing can take back losing a loved one, a lawsuit can hold a wrongdoer accountable.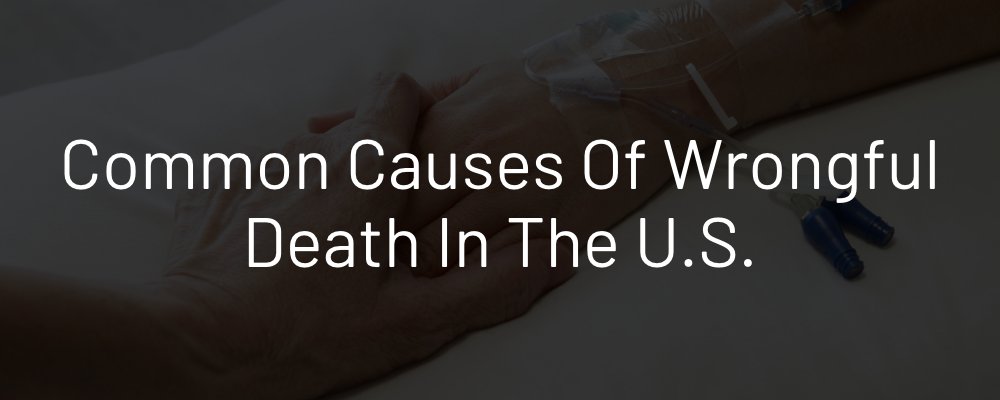 Motor Vehicle Accidents
According to the Centers for Disease Control and Prevention, accidents are the third-leading cause of death behind heart disease and cancer (if you do not count COVID-19 deaths in the latest statistics). In 2021, accidents were responsible for 224,935 deaths in the U.S. The most common type of unintentional injury accident in the U.S. is a motor vehicle accident.
Car accidents can involve two or more motor vehicles, as well as pedestrians, bicyclists and motorcyclists. Reckless driver behaviors increase the odds of a fatal car accident, such as excessive speeding, drunk driving and distracted driving. Commercial truck accidents are also a significant cause of wrongful death, typically to the occupants of the smaller passenger vehicle.
Workplace Disasters
The workers that are most at risk of suffering fatal injuries on the job are those in the industries of transportation, material moving, construction, extraction, protective services (law enforcement, firefighters, etc.), and installation and maintenance. The most common causes of occupational deaths in 2021 were transportation incidents, exposure to harmful substances or environments, slip or trip and fall accidents, and violence by persons or animals.
Despite the legal obligation that employers have to ensure the reasonable safety of their workplaces, thousands of workers throughout the U.S. sustain fatal injuries on the job each year. The U.S. Bureau of Labor Statistics reported 5,190 total fatal injuries across all sectors in 2021 alone. The fatal occupational injury rate of 3.4 deaths per 100,000 full-time workers was the highest annual rate since 2016, equating to about one death every 101 minutes. 
A dangerous premises could result in the death of a customer, visitor, social guest, contractor or child. For this reason, there are state and federal laws in place regarding the safe and appropriate use of a property. These laws make property owners responsible for the reasonable care and maintenance of a premises. Unfortunately, many property owners are negligent or fall short of the duty of care. Examples of potentially deadly premises liability accidents are slip and fall accidents, staircase accidents, swimming pool accidents, dog attacks, fires, and acts of violence.
Premises Liability Accidents
Defective Products
A consumer product or good could contain a manufacturing, marketing or design defect that makes the item unreasonably dangerous for use. In the most severe cases, a defective product could cause the death of the user. Examples of fatal defects can include defective vehicles and vehicle parts, exploding e-cigarettes, dangerous children's toys, and household appliances. In the event of a death caused by a defective product, the manufacturer or distributor of the defective product can be held strictly liable.
Medical Malpractice
By some estimates, medical malpractice is the third leading cause of death in the United States. Medical malpractice is the failure of a doctor or medical facility to provide a proper level of patient care. Examples include failing to properly diagnose a patient, failing to treat a patient, making a surgical error, prescribing the wrong medication or causing a birth injury. If medical malpractice results in the wrongful death of a patient, the facility can be held responsible.To discuss your family's financial recovery options after the tragic loss of a loved one in an accident in Nebraska, contact a Omaha wrongful death lawyer for a free consultation. These cases can be emotional and complex, but a lawyer can help you with the legal process.