Car accidents happen in Omaha for many different reasons. Most reasons will allow a victim to seek financial compensation for injuries and property damages, such as crashes caused by negligent or reckless drivers. You might assume that an accident caused by bad weather, such as rain or fog, is no one's fault – and that you therefore will not have grounds for a claim. This might not be the case, however, depending on the circumstances.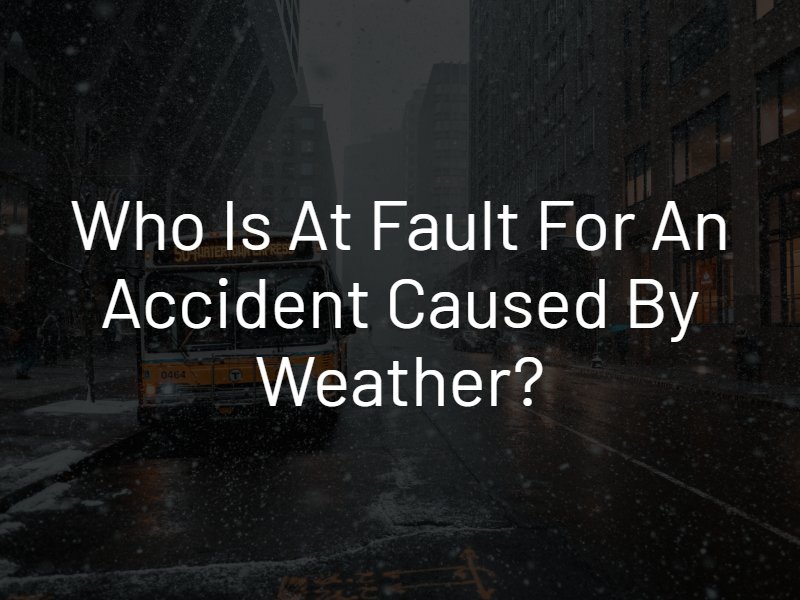 Multivehicle Accidents and Fault
After a car accident involving another driver in bad weather in Nebraska, remain calm and call the police for an investigation. It is important to have a professional investigate while evidence is still available, such as tire tracks in the mud or a police report showing the other driver's headlights were not working. While the weather might have contributed to the collision, the other driver could be at fault for failing to drive safely or prudently based on the conditions. If the other driver was speeding or driving without working windshield wipers, for example, he or she could be at fault for your accident.
Every driver has a duty to drive safely according to existing weather conditions. Driving in rain, sleet, snow, ice or fog requires extra care behind the wheel. A reasonable and prudent driver might reduce his or her speed below the posted speed limit if it is raining, for example, or increase the following distance behind other cars. If a driver negligently fails to drive carefully according to conditions, that driver may be liable for a resultant car accident – even if bad weather also contributed to the crash. An investigation could help you prove the other driver's fault.
Poor Decisions Made By a Company or Driver
If you were on a tour bus, private bus or in an accident with someone who was driving for work, you might have grounds for a claim against the company. It is a company's responsibility to take the weather into account when deciding whether or not it is safe to proceed with a trip, tour or job. If the company does decide to proceed, its driver must use an appropriate level of care and caution to maneuver through bad weather with reasonable safety. If the company or one of its drivers fails in these responsibilities, the company could be liable for your damages.
Bad Weather and Dangerous Premises
Sometimes, car accidents that seem connected to the weather are actually related to issues with the premises. If a storm knocked down a tree, for example, and this caused your car accident, it might be possible to bring a claim against the owner of the property where the tree stood. If a prudent landowner would have noticed issues with the tree that could make it more susceptible to falling in a storm and removed the tree sooner, the property owner could be liable for your car accident. A dangerous premises could point to property owner or government liability for your crash on a private or public road, with or without bad weather contributing to the event.
Dangerously Designed Roads
The government could also be responsible for a crash that stems from a dangerously designed road. If a vehicle struck you in an intersection in the rain, for example, but the driver says he or she did not see you due to an obstructed stop sign, the City of Omaha could be liable for failing to keep the sign clear. It is important to wait for an investigation to determine fault before filing a claim or assuming you cannot file.
While a car accident purely caused by weather or an act of God might not allow you to bring a claim against another party, many crashes in bad weather involve other elements that could make you eligible for compensation, such as driver error or a dangerous property. An Omaha car accident lawyer can help you search for fault after a car accident, even if bad weather was a contributing factor.