Elder abuse is a crime as well as a civil tort. Someone guilty of committing elder abuse could face both criminal and civil liability for the victim's injuries and damages. As the injured senior citizen or a family member, you may have the right to bring a civil claim against a perpetrator for elder abuse in Nebraska. An Omaha elder abuse attorney can help you navigate key laws that may affect your claim, including the statute of limitations.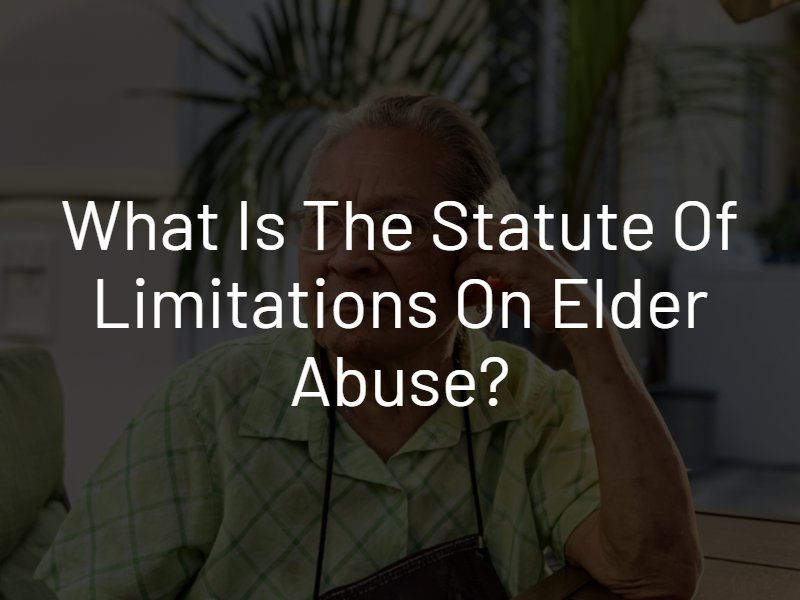 What Is a Statute of Limitations?
All criminal and civil actions in Nebraska have statutes of limitations: legally mandated deadlines. Statutes of limitations push for prompt action by plaintiffs. They force people to come forward with their claims as soon as possible, reducing the risk of losing important evidence on the plaintiff or defendant's side. The courts in Nebraska are strict with their statutes of limitations. It is very important to file an elder abuse claim before your deadline. Otherwise, the chances are high that the court in your county will refuse to let you bring your case.
How Long Do You Have to File an Elder Abuse Claim?
The statute of limitations on your claim can depend on factors such as the type of lawsuit, the date of discovery of abuse or injury, and the identity of the defendant. Contact an elder abuse attorney right away to reduce the risk of missing your deadline. As soon as you notice signs of abuse, take your loved one out of the nursing home or care facility. Report your suspicions to the police. Then, contact a lawyer for a free discussion about whether you can bring a civil claim.
Personal injury claim. Four years. If your family is filing a civil tort claim against the nursing home or another party for abusing or neglecting your elderly loved one, you will generally have four years from the date of the last known incident to file a personal injury lawsuit.
Assault and battery claim. One year. If the alleged abuse meets Nebraska's definition of assault and battery, you may only have one year to bring a civil claim against the perpetrator. The crime of assault is recklessly or intentionally causing bodily injury to someone else or to threaten a victim menacingly.
Wrongful death claim. Two years. Your family has two years from the date of your elderly loved one's death to bring a claim for wrongful death in Nebraska. Wrongful death is the taking of a life intentionally, negligently or recklessly.
Claim against the government. One year. If the entity allegedly at fault for your loved one's abuse or injuries is a government agency, such as the City of Omaha, you will only have one year to submit a written claim to damages.
You may qualify for an exception to the general statute of limitations depending on the circumstances of your case. A common exception to the statute of limitations in Nebraska is the discovery rule. This rule states that if you or your loved one does not discover the injuries until later, the clock will not start counting down until the date of discovery. An elder abuse attorney in Omaha can let you know your exact deadline to file a claim during a free initial consultation.
What If You Miss Your Deadline?
It is up to you as a victim or family member of a victim to bring a civil claim by the deadline. Unlike a criminal case for elder abuse, city prosecutors will not bring a civil claim to damages for you. Personal injury plaintiffs are responsible for filing their claims. Waiting too long to file could lead to the automatic rejection of your claim by the courthouse in charge of deciding your case. The courts are strict in keeping statutes of limitations, with rare exceptions for minors and some other cases. Contact an elder abuse lawyer near you right away to reduce the chances of missing your statute of limitations.