If you file a personal injury lawsuit in Nebraska, you will encounter the legal theory of negligence. Negligence is the foundation for most civil lawsuits. As the injured party, it is your responsibility to prove negligence before you can recover financial compensation. A less common doctrine called negligence per se, however, may reduce your burden of proof and make it easier to achieve compensation.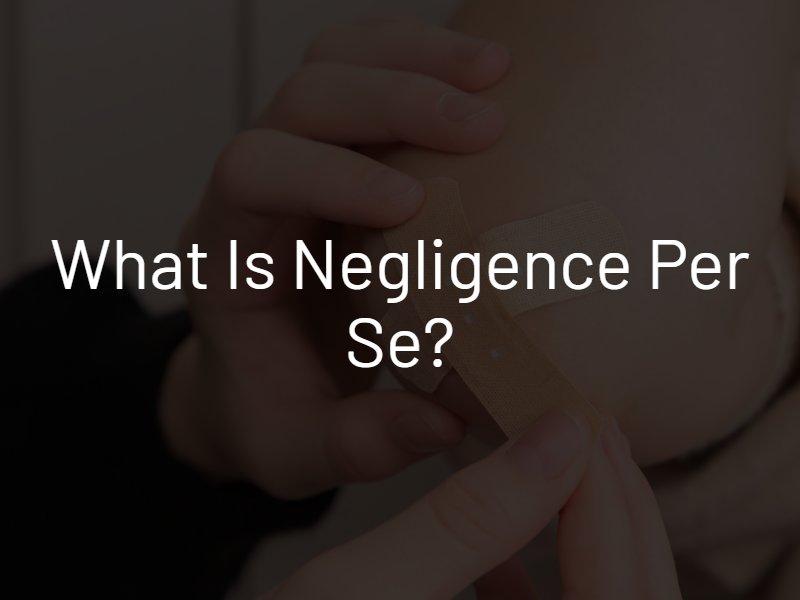 What Is Negligence?
Negligence in personal injury law means that a person or party was careless and that this caused or contributed to an injury. Being careless means using a level of care that falls short of the accepted standards or requirements. If carelessness or recklessness injures another person, the at-fault party can be held financially responsible. It is up to the injured victim, however, to prove negligence.
Proving negligence generally requires clear and convincing evidence that four elements are more likely to be true than untrue:
The defendant owed the victim a duty of care.
The defendant breached his or her duty of care.
The defendant's breach of duty caused the injury or accident.
The plaintiff suffered compensable losses in the accident.
Common examples of breaches of duty of care are violating safety regulations, breaking state laws and ignoring best practices. Proof of negligence can come in the form of expert testimony, eyewitness statements, photographs and videos, medical records, and accident reports. If the doctrine of negligence per se applies to a case, however, you may not need proof of all four elements.
What Is Negligence Per Se?
Negligence per se means negligence by or in itself. Negligence per se holds that a specific action or omission is intrinsically negligent by its nature and that there is no other proof of negligence required. With the doctrine of negligence per se, it is not necessary for a victim to prove that the defendant's actions were unreasonable. Instead, it will automatically be assumed that this is the case if the defendant's conduct violated a law, regulation, statute or rule.
Negligence per se makes it easier to win a case against the defendant, as the defendant either broke the law or did not break the law. There is no need to prove that the defendant breached a duty of care. His or her unlawful violation is enough to establish negligence and demonstrate that the defendant did not meet the standard of care.
When Does Negligence Per Se Apply to a Personal Injury Case?
The laws regarding when a plaintiff can and cannot use the doctrine of negligence per se change from state to state. Some states use variations of this law, such as allowing the defendant to rebut the presumption of negligence or stating that a violation can simply be used as proof of negligence. In general, however, the courts will allow an injured party to use this doctrine if the defendant violated a law and caused an injury that the law was intended to prevent.
For example, if a driver drove while intoxicated and caused a car accident, it may not be necessary to prove the defendant's negligence, as violating the state's drunk driving law would be evidence enough of the defendant's unreasonable behavior. It will still be necessary to prove that the violation was the proximate cause of the damages in question, however.
Note also that negligence per se will only apply if the plaintiff belongs to the class of people that the violated law was written to protect. For example, if a safety rule was written to prevent workplace injuries, but the victim was a bystander, a violation might not be grounds for a negligence per se claim.
To find out if you can use the doctrine of negligence per se during your personal injury case in Omaha, contact a personal injury lawyer for a free consultation.