Every year, thousands of motorcyclists end up in hospitals with serious and fatal injuries from motorcycle accidents. Crash data from the National Highway Traffic Safety Administration (NHTSA) reported that 82,528 motorcyclists were injured and 5,579 were killed in traffic accidents in 2020. Motorcycle crash rates have increased by 20 percent from 2011 to 2020. You can decrease your risk of serious injury by investing in the latest motorcycle safety features and technology. Contact a Nebraska Motorcycle Accident Lawyer to schedule your free accident consultation.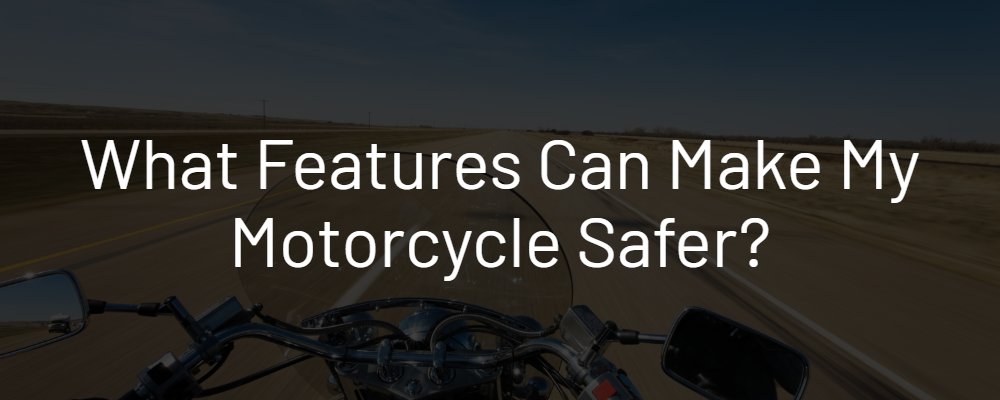 Anti-Lock Braking System
While passenger cars have had anti-lock braking systems for a while, they are relatively new for motorcycles. Anti-lock brakes can prevent a motorcycle's tires from locking up, which can prevent a rider from laying down the bike or being thrown over the handlebars. Anti-lock brakes automatically pump the brakes if a motorcyclist needs to come to a sudden stop, providing more vehicle control in an emergency and preventing the rear tire from locking up and skidding. Currently, anti-lock brakes are available on all motorcycles over 125cc.
Airbag Clothing
According to the NHTSA, motorcyclists are about 28 times more likely to suffer fatal injuries in motor vehicle traffic accidents than passenger car occupants, per vehicle mile traveled. Part of what makes motorcycle riders so vulnerable to serious and fatal injuries is a lack of protection. Motor vehicle drivers have seat belts, airbags and metal shells protecting them. Motorcyclists don't have these options – until now.
Today, motorcyclists can decrease their risk of injuries such as broken bones, muscle tears and soft-tissue injuries with airbag clothing, such as vests, jackets and jeans. Airbag clothing can cushion a motorcyclist's impact with a car, the road or fixed objects by deploying inflatable air bladders in the rider's clothing in the event of an accident. Although airbag clothing can be expensive, it is durable and the CO2 canisters can be replaced over the years, in most models.
New Helmet Technology
Smart helmets are redefining the riding experience, with upgraded hardware and software. Advanced helmets provide additional padding and protection in the event of an accident, as well as features that can prevent a crash to begin with, such as GPS technology for safer navigation. Some motorcycle helmets can automatically alert your emergency contact if you get into an accident, as well.
Adaptive Motorcycle Headlight
A lack of visibility could cause a motorcycle crash if the rider cannot see the roadway ahead. It is imperative for a motorcycle's headlight to adequately light the road ahead and illuminate potential hazards, such as animals crossing the road, pedestrians, potholes, an oncoming turn or guardrails. Adaptive headlights improve visibility for motorcyclists.
These advanced headlights fill in the dark places that are created to the left or right of a motorcycle by traditional headlights when cornering. They provide significantly better illumination that can dramatically improve the safety of the operator when riding at night. LED lights can also be a good investment for a brighter and clearer view of the road, especially in dangerous weather conditions.
Electronic Tire Pressure Monitors
A motorcycle's tires are the most important part of the bike in terms of keeping it on the road. If the tires have low air pressure, it can lead to slower motorcycle handling, which increases the risk of getting into an accident. Luckily, many motorcycles today are equipped with electronic tire pressure monitors. These monitors automatically tell you when the air pressure is low. You won't have to check your tire pressure as often and will never ride on dangerous tires.
Automatic Clutch and Shift
It may no longer be necessary for new motorcyclists to learn how to use a clutch and shift gears to ride. Major manufacturers are now debuting motorcycles that come with automated clutch and shift operation. This can make it easier to learn how to operate a motorcycle, as well as for beginners to control their bikes and avoid accidents.