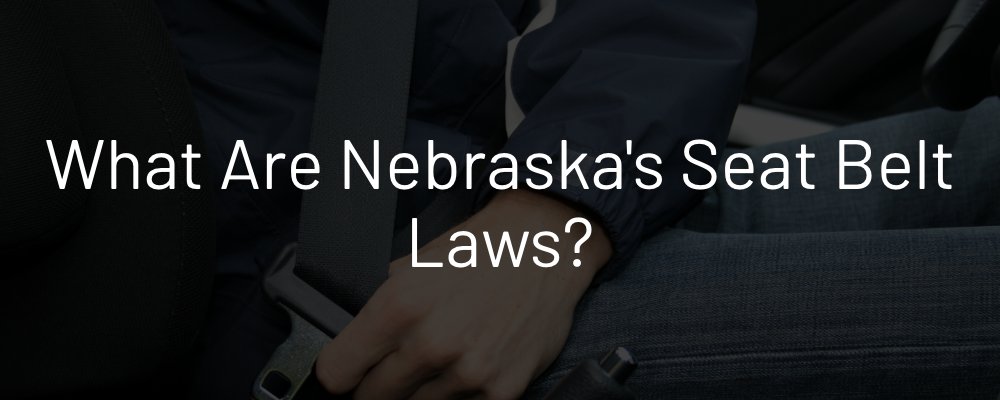 Wearing a seat belt can mean the difference between life and death in a motor vehicle accident. A seat belt is the most effective means of reducing injuries and fatalities in traffic accidents. In an effort to increase the number of drivers and passengers wearing seat belts in Nebraska, the state has a mandatory seat belt law for all drivers, front-seat occupants and children.
Who Must Wear a Seat Belt in Nebraska?
According to Nebraska Revised Statutes Section 60-6,267, any person who drives a motor vehicle must ensure that children between the ages of 8 and 18 wear seat belts at all times. This is true in any vehicle that is required to have an occupant protection system or three-point safety belt system under NRS 60-6,266 (most vehicles that are model year 1973 and newer). 
In addition, under NRS 60-6,270, the driver and any front seat occupant in the vehicle must wear seat belts at all times. This is true regardless of the age of the driver or front seat passenger. No driver shall operate a motor vehicle unless the driver and front seat occupant are correctly wearing a seat belt, meaning properly adjusted and fastened. 
There are exceptions for on-duty drivers of authorized emergency vehicles, delivery drivers and drivers who possess written verifications from physicians that they are unable to wear seat belts for medical reasons. Finally, a vehicle occupant who is under the age of eight years old must be restrained using a special device.
What Are the Child Seat Belt Laws in Nebraska?
Child passengers under the age of eight in Nebraska must be restrained using car seats and booster seats until a certain age, height and/or weight. Nebraska law states that child passenger restraint systems must meet the requirements of Federal Motor Vehicle Safety Standard 213. Three different types of child safety restraint systems should be used, depending on the child:
A rear-facing car seat should be used until a child reaches the age of two or exceeds the upper weight or height limit of the car seat as allowed by the product manufacturer.
A forward-facing car seat should be used from the age of two or three until around age seven, or until the child reaches the maximum height or weight limit allowed by the manufacturer.
A child should be kept in a forward-facing car seat for as long as possible. Once the child outgrows the car seat, a booster seat should be used until the child can properly fit a seat belt (around 4'9" in height).
Using the incorrect type of child restraint system can put a child at risk of serious injury or death in a motor vehicle accident. Finally, all children under the age of eight must ride in the back seat of a motor vehicle unless the vehicle does not have a back seat equipped with a seat belt or the back seat is already occupied by other children under the age of eight.
Is Not Wearing a Seat Belt a Primary Offense in Nebraska?
No, the seat belt law in Nebraska is not a primary offense; it is a secondary offense, meaning a seat belt violation can only be brought as a secondary action after the motor vehicle driver has been pulled over for some other offense. The only time it is a primary enforcement law is if a child under the age of 18 is riding in or on any portion of the vehicle not designed for passengers.

A violation of Nebraska's seat belt law will result in a $25 fine plus court costs. In addition, one point will be assessed against the driver's record. If a driver in Nebraska exceeds 12 points within 2 years, he or she will temporarily lose driving privileges. Furthermore, if a driver gets injured in a car accident and was not wearing a seat belt, this could interfere with his or her ability to recover financial compensation. Contact an Omaha car accident lawyer today for a free consultation concerning your accident injury case.