Securing financial compensation for your losses after an accident in Nebraska requires meeting a certain burden of proof. Proving a personal injury claim generally takes evidence that someone else negligently caused your accident. This means establishing proof that the defendant owed you a duty of care, negligently breached this duty and caused your accident. After a car crash, for example, you will need to establish that the other driver more likely than not caused your accident. An accident reconstructionist is a hired professional that may be useful in helping you prove fault and causation during your case.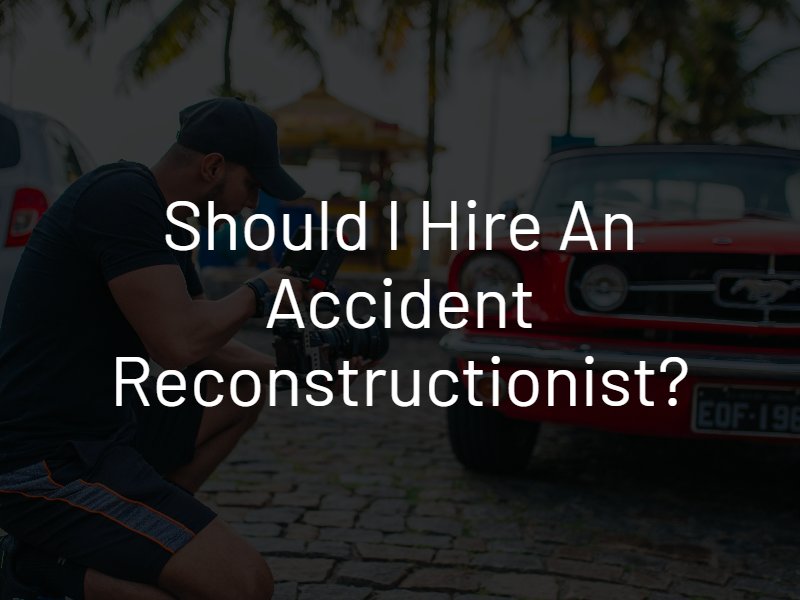 What Is an Accident Reconstructionist?
An accident reconstructionist is a trained professional with expertise in re-creating how an accident happened. They are most commonly involved in car and truck accident lawsuits. A car accident reconstructionist will have the training, education, knowledge and on-the-job experience to analyze the known facts of a case and reconstruct how a car crash most likely happened. In many personal injury cases, the testimony of an accident reconstructionist can decide whether the plaintiff receives compensation.
An accident reconstructionist will rely on data such as information from a police report, collected vehicle data, eyewitnesses, photographs and videos of the scene of the accident, a physical vehicle inspection, medical records, and a return to the accident site to piece together how an accident happened. The reconstructionist can also use special technology, such as crash animation technology and 3D crash scene reconstruction, to re-create an accident and demonstrate how it happened to a jury.
Does Your Case Need an Accident Reconstructionist?
An accident reconstructionist can be an important asset to a case that involves a complicated crash or a liability dispute. Without a professional re-creating how the accident happened, a judge or jury may be at a loss as to deciding liability. Hiring an accident reconstructionist could save your case by demonstrating – often through the use of visual aids – to the courts exactly how the accident happened. This can put to rest any disputes or confusion as to who or what was to blame for the accident. You may not need to hire a reconstructionist, however, for a simple or minor accident case.
Is a Reconstructionist Someone You Can Hire on Your Own?
It is possible to hire an accident reconstructionist or reconstruction team on your own as an unrepresented crash victim. You will need to research your accident reconstructionist carefully, however, as not all have the same level of skill or ability. Accident reconstruction is a difficult job that requires special training and intuition. When hiring your reconstructionist, look for certain traits.
Experience in the field
Experience in the courtroom
State-of-the-art accident reconstruction technology
Visual demonstrations
Reputation for accuracy
Good storytelling capabilities
Lack of inherent biases
Professional credentials
When you hire a personal injury attorney to represent you during an accident claim, you gain access to exceptional resources without having to seek them out yourself. This can include high-quality accident reconstructionists as well as investigators, analysts and subject-matter experts. In addition, you will have an experienced attorney to navigate your claim and negotiate with insurance companies on your behalf. This could lead to better compensation for your damages.
How Much Does an Accident Reconstructionist Cost?
On average, hiring an accident reconstructionist expert for your personal injury case could cost around $3,000 to $10,000. The exact cost will depend on the team as well as the complexity of your case and the amount of work it requires. Another benefit of hiring a personal injury attorney is not having to pay upfront for things such as an accident reconstructionist. Most personal injury law firms will front all the costs of a claim for their clients. They will only charge the client for legal expenses and the hiring of experts after they win the case, and only then as a percentage of the amount won. This type of payment plan (contingency fee basis) could help you avoid paying out-of-pocket for an accident reconstructionist.