No parent should expect a child to go his or her entire childhood without a single injury. Parents should not, however, have to anticipate the risk of severe or life-threatening injuries – especially while at school. Sadly, not every school in Nebraska takes its responsibilities over student safety seriously. Negligence, carelessness and unsafe premises can cause serious student injuries. If your child suffered an injury at school, learn your rights as a parent. Your family may be eligible for a damage award if the school or a staff member should have prevented the accident. Filing a claim with the help of an Omaha child injury attorney could also shed light on dangerous practices at your child's school, pushing for a change.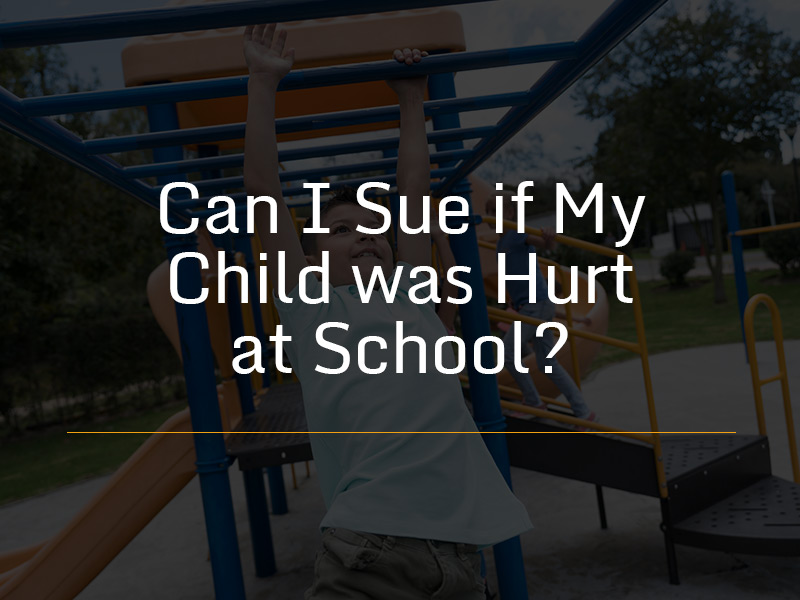 School Injuries That May Lead to Lawsuits
Although it is normal for kids to get the occasional bump or bruise, coming home with a bone fracture or head injury is cause for concern. Schools and their staff members should take reasonable care to prevent serious and unusual child injuries. Failure to do so could yield the opportunity for a student to suffer many different types of serious injuries.
Brain injuries
Broken bones
Concussions
Eye injuries
Lacerations
Muscle sprains
Skull fractures
Slip, trip and fall accidents
Soft-tissue injuries
Injuries at school can stem from normal child's play…or something more sinister. Negligence could have caused your child's injury if it happened because of dangerous playground equipment, lack of child supervision or crime such as child abuse. The school or school district could be liable in these situations.
Determining a School's Liability in Omaha
As a parent, you may have grounds to file an injury lawsuit on your child's behalf against a school in Omaha if it was negligent in preventing the accident. Negligence refers to a breach of duty of care. All schools owe a duty to reasonably prevent student injuries and deaths. This duty of care entails many actions and behaviors schools and their staff members should follow to minimize the risk of student injury. Any breach of this duty could expose the school to liability for a child's serious injuries or death.
Short staffing
Lack of child supervision
Unkempt school grounds
Poorly maintained playground or equipment
Lack of safe hiring procedures
Negligent teacher training
Lack of school inspections
Dangerous parking lots
Inadequate school security
Unsafe bus drivers
If a prudent school in Omaha would have acted differently under the same circumstances, your child's school could be liable for your damages. Your injury lawyer will need to prove that the school should reasonably have done more to prevent your child's injury. Proving negligence may take a full investigation of the accident, along with gathering evidence and speaking to witnesses who saw your child's incident. A lawyer can help you with this burden of proof.
Is a Public School Immune?
No, public schools in Nebraska are not immune to accident liability. Although the sovereign immunity rule protects most government entities from liability, it does not apply to situations in which the government or one of its agents was negligent in causing or contributing to the accident. If your child's public school or one of its employees contributed to your child's injuries, you may use the state's Tort Claims Act to bring a lawsuit.
If you wish to bring a claim against a public school, you will need to file a claim with all pertinent information regarding your case to the Office of Risk Management in Lincoln, Nebraska. You or your lawyer will need to include the total amount of the claim, place of occurrence, insurance information and relevant known facts regarding the injury claim. If your case is worth more than $5,000, you or your attorney will need to attend a hearing. Hiring a lawyer can help you go up against your child's school in pursuit of fair financial recovery in Omaha.