Lane splitting refers to riding between two lanes of same-direction traffic on a motorcycle, rather than keeping only in one lane. Motorcyclists may try to lane split to pass slower-moving vehicles in heavy traffic. Lane splitting is an illegal traffic maneuver for motorcyclists in every state except California and Utah. It is not legal to lane split on a motorcycle in Nebraska. Doing so could mean a traffic infraction and fines, as well as civil liability if the motorcyclist causes a motorcycle accident.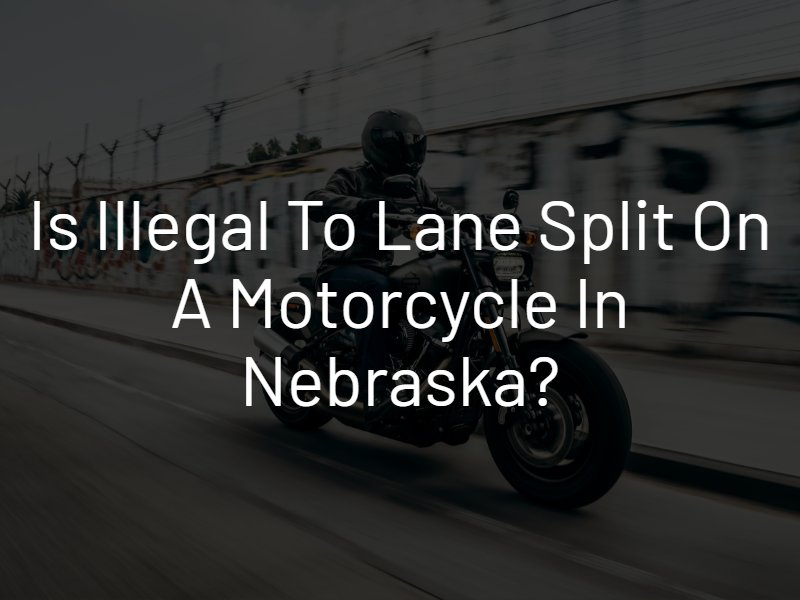 Why Do Motorcyclists Lane Split?
Lane splitting became a subject of debate in many states due to motorcyclists advocating for the right to ride between lanes. Many motorcyclists believe lane splitting is a safe and effective way to avoid traffic on busy streets and highways. Some motorists also support the practice, believing lane splitting could help clear traffic congestion. Many motorcyclists also believe lane splitting could help them avoid rear-end collisions. Stopping a motorcycle between two vehicles helps prevent an oncoming vehicle from being able to rear-end the motorcyclist.
People who are against lane splitting assert that it is a dangerous practice that can risk the lives of motorcyclists and other roadway users. Those opposed to lane splitting often believe it puts motorcyclists too close to other motor vehicles, increasing the risk of accidents. Drivers may also be afraid to switch lanes for fear of striking a fast-moving motorcycle riding between the lanes.
State Guidelines
In 2016, California became the first state to remove the language in its traffic laws prohibiting lane splitting. Lawmakers voted on the bill after a study from Berkeley announced the relative safety of lane splitting when done prudently. After California moved to legalize lane splitting, Utah followed with the passing of a modified lane filtering bill. Lane splitting on a motorcycle remains illegal in every other state. Nebraska's motorcycle laws state that no one can operate a motorcycle between two or more lanes of traffic or between two rows of vehicles.
State law also says no motorcycle operator may overtake or pass in the same lane as the vehicle he or she is passing. It is against the law for a motorcyclist to share a lane with a motor vehicle. However, two motorcyclists may share a lane. According to Nebraska's motorcycle handbook, riders should maintain center-lane positions. This is especially important when surrounding drivers are trying to pass, to keep the motor vehicle at a safe distance away from the motorcycle. Otherwise, drivers may try to squeeze past the motorcycle and get too close.
In Nevada, traffic laws assert that lane splitting can leave a motorcyclist vulnerable to accidents, including a door opening or a vehicle suddenly turning. Nevada prohibits lane splitting and suggests all motorcyclists discourage lane sharing by others. Nebraska is one of many states that explicitly prohibits motorcycle lane splitting in the language of its laws. Several other states do not address lane splitting in its statutes, either to legalize it or make it illegal. Currently, Oregon, Washington, Connecticut, Maryland and Washington, D.C. are considering legislation that could legalize lane splitting. Nebraska currently has no such bills underway.
Will Lane Splitting Place Accident Liability With the Motorcyclist?
If a motorcyclist in Nebraska breaks state law and rides between two rows of cars, he or she could be liable for a related vehicle collision. The driver could argue that the motorcyclist breached a duty of care by breaking the state's lane-splitting law and that this is what caused the collision. If an insurance company or the courts agree with the driver, the motorcyclist may have to pay for the driver's damages – including medical bills and vehicle repairs – out of pocket or through his or her automobile insurance. The motorcyclist may also have to pay for his or her own crash injuries, even if they are worse than the driver's. Avoiding lane splitting is the best way for motorcyclists in Nebraska to protect themselves and their rights.