Winter is one of the deadliest times of year for drivers in Nebraska. Bad weather such as ice, snow and sleet make for extremely dangerous roads. Even the most seasoned driver in Nebraska could get into a car accident due to an unexpected storm or a dangerous road condition. With a few safety tips, you can decrease your risk of getting into a car accident in Omaha this winter.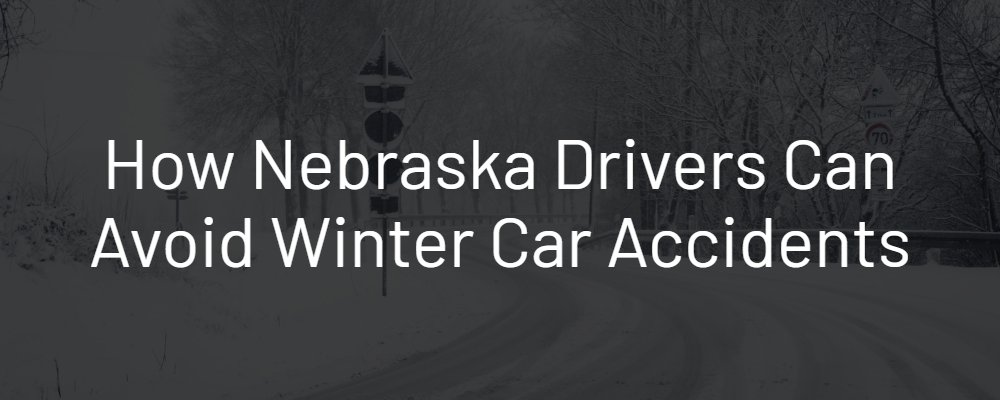 Inspect Your Vehicle
Before you ever hit the road, carefully inspect your vehicle to make sure it is in proper working order for winter weather conditions. Check your tire tread, tire pressure and make sure you have the correct tires for winter weather. Motorists in Nebraska may use studded snow tires from November 1 to April 1, according to state law. Check all of your fluids, windshield wipers, and headlights and taillights, and make sure you have at least half a tank of gas. Clear all snow from the hood, roof, windows and lights before driving.
Check the Weather
Being caught unexpectedly in a snowstorm or other bad winter weather can lead to disaster. You may be unprepared to handle snow-covered, wet or icy roads if you don't check the weather ahead of time. Plan your route and check the weather in the cities that you will pass through along the way. Know your destination and the highways you will travel. For real-time updates about current road conditions, you can check the 511 Nebraska Traveler System online, call 511 or download the 511 app.
Slow Down
Many wintertime car accidents can be prevented by reducing speeds in bad weather. For example, driving slower could help you avoid losing control of your vehicle if you hit a patch of ice or puddle of water. According to the Federal Highway Administration, wet pavement accounted for 15 percent of all vehicle accidents over a 10-year period. It caused the highest number of weather-related injuries (78 percent) and deaths (76 percent). Reducing your speed lowers your risk of hydroplaning or losing control on wet and icy roads in Nebraska. Give yourself plenty of time to get to your destination so that you are not in a hurry.
Keep to Main Roads
As much as possible, only drive on main roads in winter – especially during or after a storm. Main roads are more likely to have been recently snow plowed, salted and maintained than small or private back roads. Steady traffic also melts the snow and ice on the road faster than on less-busy roads. The Nebraska Department of Transportation makes maintaining main roads and highways a priority during the winter months.
Pass Carefully
The safest thing to do on winter roads is not to pass the person in front of you at all. If you must pass, do so safely when weather conditions are bad. Keep your speed low and controlled. Signal your intent to pass the driver and complete the maneuver only when it is safe to do so. If you need to pass a snowplow, give it plenty of room and do not pass on the right side. Stay where the operator can see you. Keep in mind that the operator may be unable to see you in swirling snow. Turn on your headlights for added visibility.
Pay Attention to the Road
Driving while distracted is always a car accident risk, but it is especially dangerous when a driver is navigating winter weather or bad road conditions. No driver in Nebraska should ever use a handheld electronic device while driving, except in an emergency. Do not use your cell phone to send a text message, check emails, scroll through social media apps, take photographs or for any other reason while driving. Pay attention to the road and stay on the lookout for icy spots and black ice. If you do get into a car accident in Nebraska this winter, the personal injury lawyers at Knowles Law Firm are here to help.