Motor vehicle collisions involving commercial trucks are often devastating. Small passenger cars are no match for large and heavy big rigs, which can weigh approximately 20 times more than standard vehicles. Every year, thousands of victims sustain catastrophic injuries and lose their lives in truck accidents throughout the country. In recent years, the death toll in Nebraska has even exceeded the national average.
Why Are Truck Accidents in Nebraska Often Fatal?
Commercial trucking is a dangerous industry. Large trucks can weigh up to 80,000 pounds and carry hazardous substances. If an 18-wheeler gets into an accident with a smaller car, the latter can sustain immense damage. Passenger cars may get crushed or completely obliterated upon impact with a large truck, as the truck will generate too much force for the smaller vehicle to withstand. This can result in life-threatening or fatal injuries for motor vehicle occupants. In addition, cargo containing hazardous materials could lead to fires, explosions or exposure to toxic substances that exacerbate the damage.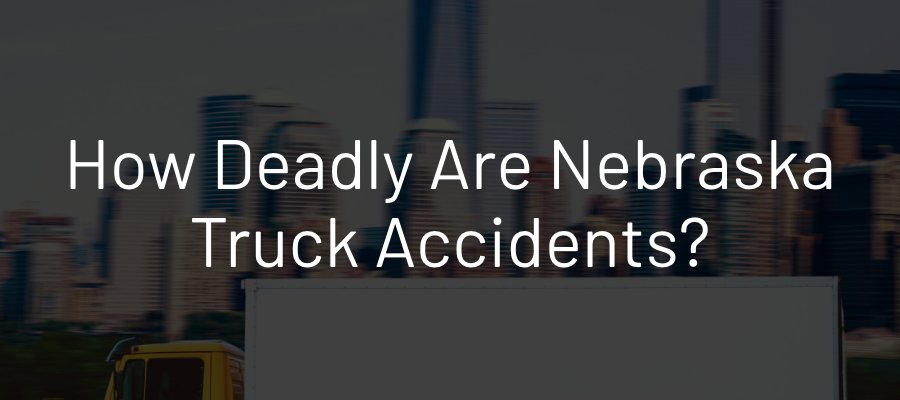 Fatal Truck Accident Statistics in Nebraska and the U.S.
According to the Nebraska Department of Transportation (NDOT), Nebraska recorded 29,418 total motor vehicle accidents in 2020. Of these accidents, 217 were fatal, resulting in 233 deaths. This was the equivalent of one crash every 18 minutes and one person killed every 38 hours. Of these accidents, 1,261 involved semi-trailer trucks and 954 involved other heavy trucks. 
In 2020, a total of 51 people in Nebraska lost their lives in accidents involving semi-trailer trucks and other heavy trucks. The national death toll from trucking accidents was 4,965 in 2020, according to the Federal Motor Carrier Safety Administration (NHTSA). The rate of fatalities in large truck accidents per 100 million vehicle miles traveled was 1.64 nationally. 
Crash data from the NDOT states that approximately 1.2 people in Nebraska were killed every 100 million miles traveled in 2020. This was slightly lower than the national fatality rate of 1.35. In 2014, 2015 and 2019, however, Nebraska's fatality rate exceeded the national average. In each of these years, dozens of motor vehicle deaths were attributed to trucking accidents.
Are Truck Accident Rates in Nebraska Increasing?
Nebraska has shown a steady increase in the rate of large truck accidents over the last several years. Although there was a drop in numbers in 2020, this has been attributed in part to the COVID-19 pandemic reducing the number of large trucks on the road. In the five years prior to 2020, truck accident rates in Nebraska (semi-trailers as well as other heavy trucks) increased from 2,138 in 2015 to 2,698 in 2019. The number of truck accident deaths increased from 42 fatalities to 50, respectively. While the number of truck accidents in 2020 was lower than the historic trend (2,215), the death toll was the second highest in six years at 51 deaths.
Negligence and Nebraska Trucking Accidents
Truck accidents are a significant injury and death risk for drivers in Nebraska. Most of these collisions are preventable with a reasonable amount of care used by trucking companies and their drivers. Unfortunately, trucking companies often try to save money by cutting corners on safety measures, such as failing to properly train their truck drivers or maintain their fleets of trucks. This enhances the odds of truck accidents occurring on Nebraska roads. If a negligent truck driver or truck company caused or contributed to your recent collision in Omaha, contact the Omaha truck accident lawyers at Knowles Law Firm for a free case consultation. You may be eligible for financial compensation for your medical bills, property damage, pain and suffering, and more. Our attorneys can help you hold one or more parties accountable for the wrongful death of a loved one after a fatal truck accident, as well. Call (402) 431-9000 today.