Unexpected accidents take lives every day. If you receive the devastating news that someone you love has passed away in a tragic accident, your first thought might not be taking legal action. As more details are discovered about the circumstances surrounding the death, however, you may come to suspect someone's negligence or intent to harm your loved one. In this case, you may have grounds to file a wrongful death claim in Omaha for justice and financial compensation.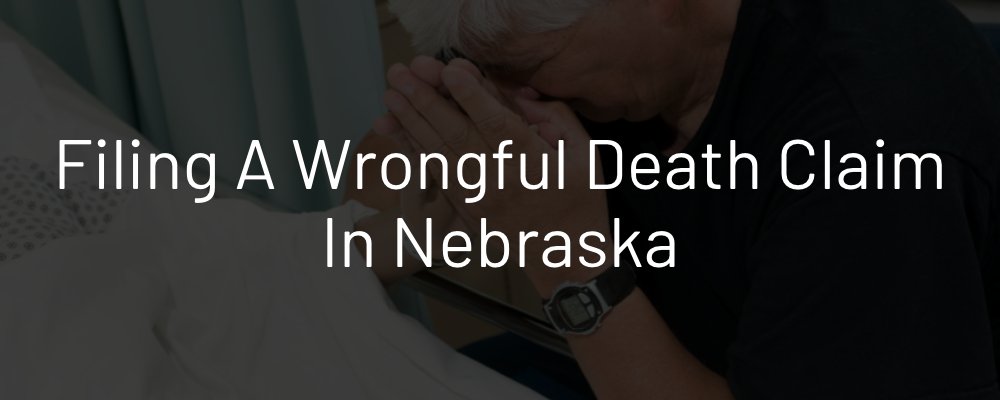 What Is a Wrongful Death Claim?
Wrongful death is defined in Nebraska Revised Statute 30-809 as the death of a person (including an unborn child in utero) when caused by the wrongful act, neglect or default of another person or entity, and the act is such that if death had not ensued, the injured person would have been entitled to maintain an action to recover damages. A wrongful death claim is a legal action that pursues financial compensation from the person or party at fault for causing the fatality.
Who Can File a Wrongful Death Claim Under Nebraska Law?
Different states limit the ability to file a wrongful death claim to different parties. In many states, the deceased person's surviving family members can file this type of suit. In Nebraska, however, only the personal representative of the deceased person's estate may file a wrongful death claim. Also known as the administrator or executor of the estate, this individual may be named in the decedent's will or appointed by the courts.
What Damages Are Available for Wrongful Death?
There are many reasons to file a wrongful death claim in Nebraska, including getting justice for your loved one and holding a negligent party accountable. Another compelling reason is to secure the financial compensation that your family deserves for the traumatic loss. Obtaining a monetary award can help your family move on with greater financial stability.
The damages that could be available include reasonable funeral and burial expenses, medical bills, lost income and inheritance, loss of the victim's companionship, loss of consortium, the decedent's pain and suffering, and family members' mental anguish. NRS 30-810 states that any verdict or judgment won shall be distributed to the surviving spouse or next of kin.
What Is the Statute of Limitations?
Anyone who wishes to bring a wrongful death cause of action in Nebraska must act within the state's deadline, also known as the statute of limitations. If your family attempts to take legal action after the statute of limitations has expired, the courts will most likely refuse to hear the case. This is why it is critical to contact a wrongful death attorney and initiate a claim as soon as possible. The statute of limitations for most wrongful death claims in Nebraska is two years from the date of the deceased person's death. If the death was caused by a defective product, however, you have four years.
How to File a Wrongful Death Claim in Nebraska
If you wish to take legal action for the wrongful death of a loved one, start by contacting an attorney who accepts these types of cases near you. A lawyer can review your case for free and let you know if it has merit. If so, the lawyer may offer to represent your family and assist you with the legal process. A lawyer can help you determine the personal representative of the estate, for example, or go through the process of having one appointed. 
To bring a wrongful death claim, the representative of the estate must file the required paperwork with the civil courthouse in the county where the decedent lived or the fatal accident took place. This claim must be filed within Nebraska's two-year deadline. The defendant will be notified that the claim has been filed and have the chance to respond, either by accepting the claim and working out a settlement or denying liability. While most wrongful death cases reach settlements, some go to trial. An Omaha wrongful death lawyer can handle insurance claim negotiations or a wrongful death trial on your behalf.
For more information about a potential wrongful death claim in Nebraska, contact Knowles Law Firm at (402) 999-4839 for a free case evaluation.