Operating a commercial truck under the influence of drugs or alcohol is an extremely reckless mistake that can result in catastrophic traffic accidents, injuries, and deaths. If you get involved in a truck accident and believe the truck driver was under the influence of something, the trucking company will most likely have to conduct a drug test under federal law. You may be able to use the results of an employer-provided drug test as evidence against the truck driver during a truck accident claim.
Federal Drug and Alcohol Testing Requirements
The federal government has many rules in place to regulate the trucking industry and improve its safety. These rules are enforced by the FMCSA or the Federal Motor Carrier Safety Administration. One of the government's main concerns is preventing truck drivers from operating under the influence of drugs and alcohol. Under federal law, employers must test their truck drivers for substance use in the following circumstances:
Before hiring them.

At random throughout the year.

After most truck accidents.

If there is reasonable suspicion that the driver is under the influence.

When the driver returns to duty after testing positive.

A follow-up with drivers who test positive or refuse to be tested.
If a drug test comes up positive, the trucking company or employer must take reasonable steps to prevent the driver from putting others at risk of harm. This may mean suspending or terminating the driver's employment. If an employer negligently allows a trucker who tested positive for drugs or alcohol to continue operating a big rig when this could put others in danger, the employer could be liable for a subsequent truck accident.
Drug Tests Required By Employers After Most Accidents
According to Section 382.303 of the FMCSA Code of Regulations, truck drivers must submit to drug and alcohol tests administered by their employers after most types of traffic accidents. There is a chart that is used to determine when an employer lawfully must test a truck driver after a crash. The chart creates the following rules: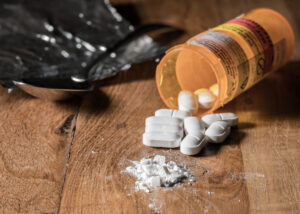 Mandatory testing for a truck accident involving a human fatality, whether or not law enforcement issued a citation to the driver.

Mandatory testing for bodily injuries with immediate medical treatment away from the scene, but only if a citation is given to the driver.
Mandatory testing for disabling damage to any motor vehicle that requires a tow, unless no citation was given to the truck driver.
Federal law gives employers no more than 32 hours after a qualifying truck accident to administer a drug test to a truck driver. The employer only has 8 hours to perform an alcohol test. They should administer drug and alcohol tests as soon as is practical after the accident. If an employer fails to perform tests within the time limit, the company must give a reason why the test was not promptly administered.
Always Call the Police After a Truck Accident
If you are driving in Omaha and see a truck driver that you suspect is under the influence of drugs or alcohol, such as a driver who is drifting in and out of a lane or driving erratically, keep a safe distance and call 911. Explain why you believe the driver is intoxicated and give the responder a description of the truck and the truck number, if possible. Do not attempt to get closer to the truck to see the number, however. If you get into a collision with a commercial truck, always call the police to report the accident.
Note that the Federal Highway Administration allows law enforcement agencies (local, state or federal) to substitute for employers when it comes to administering post-accident drug and alcohol tests. If you call 911 after a truck accident, law enforcement will administer a blood or urine test to check for any drugs in the driver's system. You could then use positive test results as evidence against the driver during an injury claim. Calling the police can ensure that the driver gets drug tested, even if the truck company doesn't administer a test.
Contact a truck accident attorney at Knowles Law Firm for more information about what to do after a collision.