Motorcyclists are always at risk of potential accidents, regardless of how long they've been riding. Some risk factors are outside of their control, such as the actions of other drivers or dangerous road hazards. In 2020, there were 447 motorcycle crashes in Nebraska, 34 of which were fatal. Although a motorcycle accident can happen anywhere, certain roads in Nebraska are historically more dangerous for motorcyclists than others.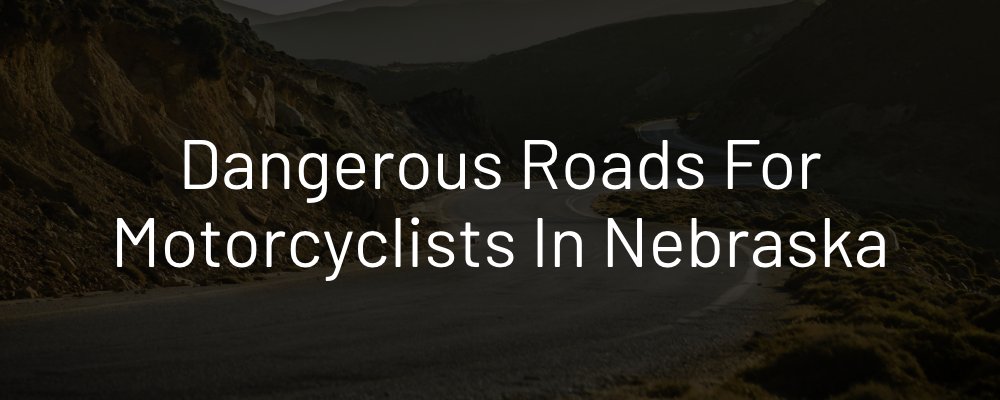 Interstate 80
Interstate 80 is a highway that stretches over 455 miles across Nebraska. In the last ten years, more than 180 people have lost their lives on I-80. This includes many motorcyclists. Interstate 80 regularly sees heavy traffic, a high risk of speeding, distracted drivers, improper lane changing and intoxicated drivers. It is also a route frequently used by commercial trucks.
In 2018, Nebraska lawmakers were considering increasing the speed limit on several state highways. I-80 was excluded, however, to prevent further accidents on this dangerous stretch of road. If you operate a motorcycle on Interstate 80, maintain a safe speed and stay alert. Watch for unsafe lane changes, tailgating and other irresponsible actions by drivers around you.
72nd and Dodge Street
Intersections are dangerous places for motorcyclists and all road users, as they are where multiple lanes of traffic traveling in different directions intersect. If a driver fails to yield the right-of-way, does not come to a complete stop or isn't paying attention, he or she could cause a devastating accident such as a T-bone collision at an intersection.
One of the most dangerous intersections in Nebraska for motorcyclists is where 72nd Street and Dodge Street intersect. This intersection sees a higher number of accidents than any other intersection in Omaha. The high crash rate is partially due to a heavy traffic flow, as well as distracted drivers. However, the road itself also has chunks missing due to worn asphalt, and potholes put motorcyclists at risk.
Highway 81 and Highway 91
When motorists merge onto Highway 81 from Highway 91, they are supposed to come to a full stop. They should stop and yield the right-of-way to traffic that is already on Highway 81 before merging or crossing this road. Unfortunately, many motorists do not come to a stop. They travel through the intersection at high speeds and run the risk of causing rear-end accidents, lane-change accidents and T-bone collisions where these highways merge. Come to a complete stop before entering Highway 81 on your motorcycle to prevent this type of crash.
27th Street and Cornhusker
Heavy traffic and complicated turn lanes make this intersection more dangerous than most in Lincoln, Nebraska. This intersection is in a busy area, filled with tourists and residents who are visiting the state capitol tower or nearby exotic gardens. Drivers who aren't used to this intersection may get confused and crash into nearby motorists, including motorcyclists that are hard to see. If you have to ride through 27th Street and Cornhusker, take extra caution at this intersection.
How to Stay Safe as a Motorcyclist in Nebraska
When riding a motorcycle through Nebraska, stay vigilant and pay attention to the road. Never ride while drunk, distracted or drowsy. Watch the drivers around you for dangerous behaviors, such as a driver who is texting while driving or who does not see you in a blind spot. Maintain a reasonable speed and be prepared to stop at any given time. Be especially careful at intersections, as these are particularly dangerous locations for motorists in Nebraska. If you have to ride your motorcycle on one of Nebraska's most dangerous roads, go slowly. Your safe riding practices could protect you from a harmful motorcycle accident.If you do get involved in a motorcycle accident in Nebraska, contact an Omaha motorcycle accident lawyer for a free consultation about a potential personal injury case.