Pedestrian safety is paramount, especially when the pedestrian is a vulnerable young child. Despite school zones being heavily marked and recognized as areas where children frequently cross the road, school crosswalks are often the setting of serious and catastrophic pedestrian accidents in Nebraska. Teach these crosswalk school safety tips to your child to help protect him or her from this risk.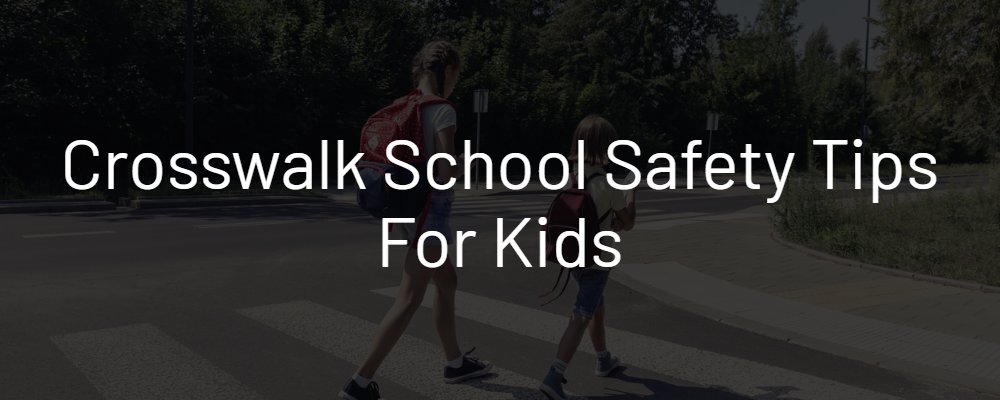 Cross Only With the Right-of-Way
Teach your child the basic right-of-way laws for crosswalks. If your child walks to school or has to cross the road to get to school, make sure he or she knows to wait for the "Walk" signal before entering the crosswalk. If there is a crossing guard, teach your child to wait until the guard has given kids the go-ahead or is escorting a group across the road. 
Tell your child that it is never safe to cross the road without the right-of-way, even if there appear to be no approaching vehicles. Drivers are not expecting children to enter the crosswalk without the right-of-way. This can decrease the odds of a driver stopping in time if a child does enter the crosswalk. It is especially important to tell your child never to dart out into the road from behind a parked vehicle or run into a crosswalk.
Look Before Crossing
This is perhaps the most basic crosswalk safety tip, but it is still one of the most important. Teach your child from a young age to look both ways before crossing the street. Make sure your child knows that this rule has no exceptions; it does not matter if the child is using a crosswalk or if the child has the right-of-way. Kids should never cross the road without looking left, right and left again for oncoming cars. Be a good role model by doing the same before you cross the road with your child.
Wait for a Complete Stop
Your child should never assume that an oncoming driver is going to stop, even if the driver has a red light or stop sign or the child has the right to enter a crosswalk. Unfortunately, drivers break the law all the time and cannot be trusted to come to a stop, obey the speed limit, follow school zone warnings or pay attention to the road. It is in your child's best interest to always assume that approaching cars are not going to halt, and to wait from the safety of the curb until a car is completely stopped.
Make Eye Contact
Being a smart pedestrian means making eye contact with a motor vehicle driver before crossing the road. This is a good tip to teach your child, as it ensures that the driver sees him or her and knows the child is crossing the road. Visibility is a common issue with small children. The eye contact rule makes sure a driver sees the child, will come to a complete stop and will wait for the child to cross before proceeding.
Avoid Distractions
Distracted walking has become a more common issue among school-aged kids due to portable electronics. A distracted child may not notice that he or she is approaching an intersection or does not have the right to enter a crosswalk. Teach your child to stay vigilant, avoid distractions, and always pay attention to his or her surroundings. Walking while texting, looking down at a cell phone or iPad, scrolling through social media, talking on the phone, taking pictures or videos, playing video games, or listening to earphones should be strictly prohibited.
Stick to the Sidewalk
Finally, make sure your child knows to never walk in or on the road. If your child walks to school, he or she should only use sidewalks and marked crosswalks and pedestrian crossings. Crossing the street in the middle of the road (jaywalking) or walking in the road are extremely dangerous and should be expressed as unacceptable behaviors to your child. Even on a sidewalk, teach your child to stay alert for vehicles that are backing up, leaving driveways or turning.
If the worst happens and your child is struck by a car in a school crosswalk, contact the Omaha pedestrian accident attorneys at Knowles Law Firm for aggressive legal representation.