Riding a motorcycle comes with a relatively high risk of suffering serious and fatal injuries in an accident. Motorcyclists are approximately 28 times more likely to die in traffic accidents than other motorists, according to the National Highway Traffic Safety Administration. If you lost a loved one in a tragic motorcycle accident in Nebraska, knowing what comes next can help you and your family prepare for the process ahead.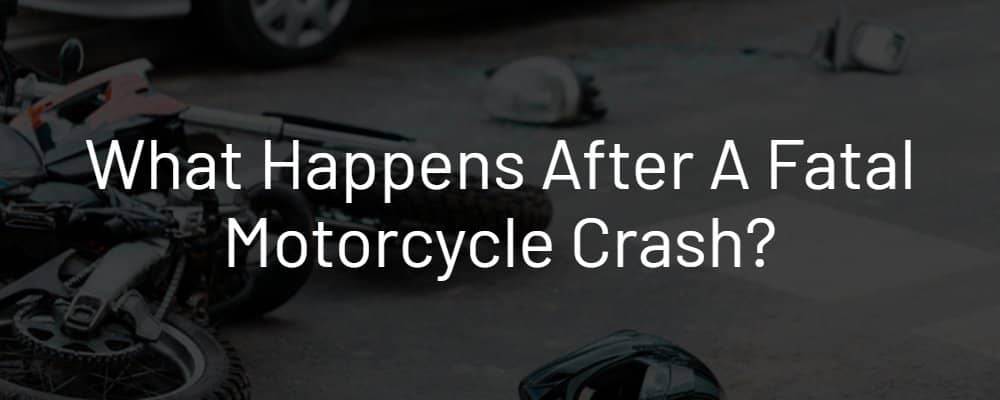 Reporting the Accident
Immediately after the accident, someone at the scene should call 911 to report a severely injured, unconscious or deceased motorcyclist. It is against the law in Nebraska to fail to report a traffic accident that results in injuries, deaths or significant property damage. In 2019, 25 motorcyclist deaths were reported in Nebraska accidents. When the police are notified about a potentially deadly accident, they will send officers to the scene to collect information.
A fatal motorcycle accident report often includes:
The date, time and location
The names of everyone involved
Descriptions of all involved vehicles
Vehicle identification numbers (VINs)
Names, contact information and statements from eyewitnesses
A description of all injuries and property damage
Each motorist's insurance information
Official photographs of the scene of the wreck
Copies of any footage that caught the crash on tape
The police report can contain important information that a deceased motorcyclist's family can use to file an insurance claim in the aftermath. For example, if the at-fault driver broke a traffic law before causing the accident, such as by running a red light, the police report will include a citation given to that driver. The report may also have the police officer's opinion of what caused the deadly crash.
Gathering Evidence
As a surviving family member, it is helpful to obtain evidence and copies of documents related to your loved one's deadly motorcycle accident and the death itself. This may include a copy of the police report, medical records, autopsy report, investigative reports bills and receipts, wage documents, and any photographs and videos.
Anything you can find that is connected to the accident could be used as evidence. The strength of your evidence is key in a fatal accident case, as insurance companies often have biases against motorcyclists. Since your loved one is not able to defend himself or herself, you will need evidence to speak for him or her to prove someone else's negligence or fault.
Possible Criminal Charges Against the Driver
The driver involved in the fatal motorcycle accident may get arrested for a suspected crime in connection to the crash. Examples include driving under the influence of drugs or alcohol, reckless driving, manslaughter, or vehicular homicide. If the other driver faces criminal charges or is convicted of a crime, your family can use this as evidence against the driver in a civil liability lawsuit. It is possible to file a civil suit at the same time as an ongoing criminal trial, but criminal charges against a defendant often extend the time limit for a family to file.
Fatal Accident Insurance Claim or Wrongful Death Lawsuit
A deceased motorcyclist's surviving family members may be entitled to financial compensation in Nebraska through a wrongful death claim. This may include compensation for related medical costs, reasonable funeral expenses, losses of income and inheritance, and pain and suffering. While no amount of money is enough to make up for a fatal motorcycle crash, fair compensation can help a grieving family move forward.
Most cases reach settlements, meaning a successful insurance claim that results in fair compensation awarded to resolve the legal dispute. However, if an insurance company is not offering enough for the death of your loved one, you may need to hire an attorney to help you with negotiations or a wrongful death trial. A wrongful death lawyer in Nebraska can help you understand each step of what happens after a fatal motorcycle accident.