Car accidents can be financially devastating for those involved. From inflicting serious physical injuries and emotional distress to causing expensive property damage, a car accident can lead to significant losses for a victim. The most common costs associated with car accidents can add up to thousands of dollars over a victim's lifetime.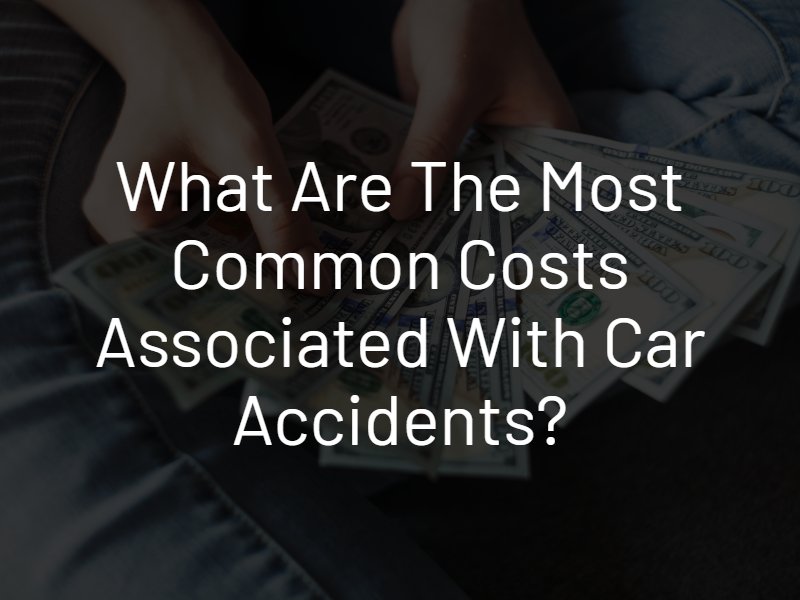 Medical Bills
A car accident can cause serious and debilitating injuries that require a great deal of money and necessary medical care. Some of the most common injuries suffered in car accidents are bone fractures, muscle tears, internal injuries, brain injuries and spinal cord injuries.
Although even a minor injury can require emergency care and expensive treatments, a serious or catastrophic injury may require weeks, months or years of medical care, physical therapy and medications. A car accident could also inflict disability-related costs such as home or vehicle modifications, necessary mobility devices, and live-in care.
Property Damage Repairs
When a vehicle collides with another vehicle or a fixed object, it will sustain property damage. Depending on the type of vehicle and the dynamics of the crash, property damage can cost thousands of dollars to repair. If a severe car accident totals a car, the owner will have to pay to replace the entire vehicle. Other types of property can also sustain damage in a car crash, such as fixed objects, homes or property within the vehicles, such as cell phones or radios.
Rental Vehicle
Most people cannot go days or weeks without a motor vehicle. They need a car to drive to essential places, such as work, school and religious institutions. To resolve this issue while a damaged vehicle is in the repair shop or while the owner of the car is waiting on a settlement check from an insurance company to purchase a replacement vehicle, the owner will have to rent a car. Vehicle rental costs are often at least $30 to $50 per day.
Lost Wages
If a car accident inflicts injuries that take a victim out of work, this can result in significant lost wages and employment benefits. The victim may lose his or her hourly wages, tips, commissions, bonuses, vacation hours and other benefits while recovering from his or her injuries. If the injury inflicts damage that permanently interferes with the ability to work, the victim could suffer a lifetime of lost wages (known as lost capacity to earn).
Police Citations
In a car accident case where a driver is guilty of a traffic infraction, he or she may have to pay a fine or ticket for a moving violation, such as speeding, a broken taillight or running a red light. A citation in Nebraska typically ranges from $25 to $300 or more depending on the violation and its severity.
Increased Insurance Premiums
If a driver in Nebraska is found guilty of causing a car accident, his or her insurance premiums will most likely increase. Insurance companies often charge their policyholders more money to provide coverage after they cause car accidents. Insurers do this to recoup what they spent on the claim and because the policyholder is a now higher risk for future car accidents.
Who Pays for the Costs Associated With a Car Accident?
Nebraska is an at-fault state, meaning the insurance company of the at-fault driver will have to pay for damages. If you get into a costly car accident in Omaha, the other driver's insurance company should pay for your losses if you did not cause the wreck. You may also be able to bring a lawsuit against a third party, such as an auto part manufacturer.
If you were to blame, your own insurer may pay for your damages if you have collision or comprehensive insurance coverage. For assistance recovering financial compensation for the costs associated with a car accident in Omaha, consult with an attorney.