An evening out at a bar, restaurant or nightclub in Omaha should not end with a serious personal injury. Unfortunately, hazards such as negligent security, over-served patrons and dangerous premises can make establishments perilous for customers. If someone or something injured you while at a bar in Nebraska, you might have the right to file a claim against one or more parties for damages. You or your Omaha bar injury lawyer, however, will have to prove your case to recover compensation.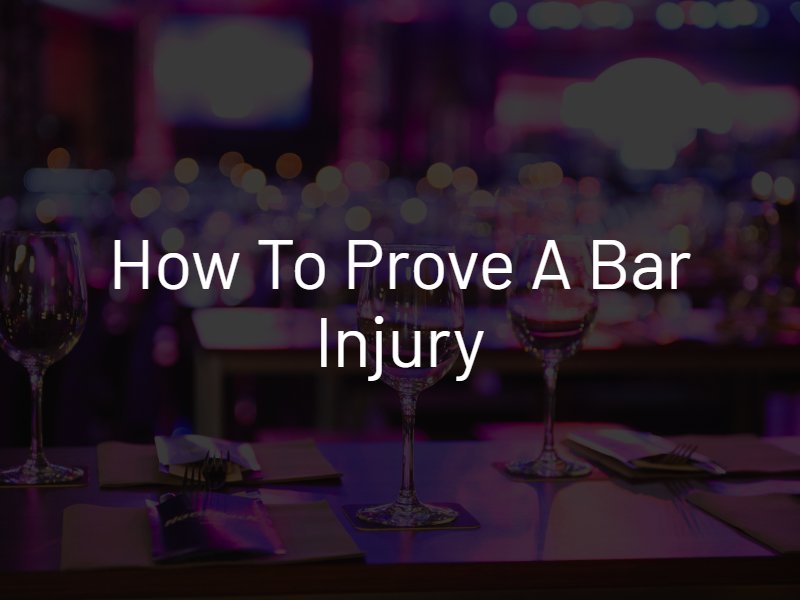 Types of Bar Injury Claims
The laws that pertain to your case, including the burden of proof, will depend on the type of claim you need to bring. An injury in a bar setting could arise from several different examples of the establishment's negligence. The first step in obtaining compensation for a bar injury is determining your claim type.
Attacked by an assailant. If a fellow bar patron attacked you, you may be able to claim damages against the assailant and/or the establishment. The assailant may be individually liable for your damages if you were not the one who started the fight. You may also be able to file a claim against the bar if negligent security or overserving by bartenders contributed to the assailant attacking you.
Bouncer-caused injuries. Sometimes, bars and nightclubs have overzealous or poorly trained bouncers and security guards that cause unnecessary injuries to patrons while performing their duties. If bar security injured you, the bar might owe you compensation for your related medical bills and damages. All bars have a duty to properly hire and train their staff members.
Dram shop liability. If a drunk patron injured you by causing a fight or crashing into you while driving intoxicated, the dram shop (bar or alcohol vendor) may be vicariously liable for your damages. Bars have a responsibility not to overserve patrons. If a customer appeared obviously intoxicated and the bar served him or her anyway, the bar could be liable for the injuries the drunk patron caused, including a drunk driving accident.
Dangerous premises. Some bar accidents and injuries arise due to defects or hazards on the premises. Common premises defects include slip and fall hazards, negligent security, broken barstools, collapsing structures, and fire hazards. You may be able to file a premises liability claim against the establishment for injuries connected to a property defect if a reasonable bar would have repaired the defect previously.
If you are unsure about what type of claim you have, speak to an attorney for an in-depth overview of your case. A personal injury lawyer can review the facts of your case, determine fault and help you identify the defendant. Then, your lawyer can assist you with the steps of proving a claim to damages.
What to Do After a Bar Injury in Omaha
You can prove your bar injury claim by showing the defendant responsible for your injuries owed you a duty of care, breached this duty of care and caused your injuries. These, along with proof of damages, are the main elements for a negligence-based claim in Nebraska. Proof of negligence can come in the form of eyewitness statements, testimony from subject-matter experts, photographs of your injuries, and an analysis of your medical records.
A personal injury lawyer could help you prove the defendant owed you a duty to act reasonable and provide a safe premises, the defendant failed to meet the standards of care under this duty and that this is why your injuries occurred. Your lawyer can navigate state and municipal laws relating to your specific case type on your behalf. Your lawyer could also take over negotiations with the bar's insurance company for you, fighting for a fair settlement while you focus on healing from your injuries.
A lawyer in Nebraska will know how to investigate and prosecute bar or club injury cases for you. Contact an attorney well before your deadline to file a lawsuit. In Nebraska, the statute of limitations for most personal injury claims is four years from the date of your accident or injury. It is only one year, however, for an assault and battery claim. Act quickly to maintain your right to hold a bar responsible.