Distracted driving is one of the deadliest driver habits on today's roads. It is a common act of negligence that can lead to preventable car accidents. Distracted driving refers to operating a motor vehicle without paying due attention to the road or the driving task. Distracted driving killed 2,841 people in the US in 2018 and injured about 400,000 others. One of the most common sources of driver distraction is cellphone use. Many companies have created apps to provide solutions to this problem.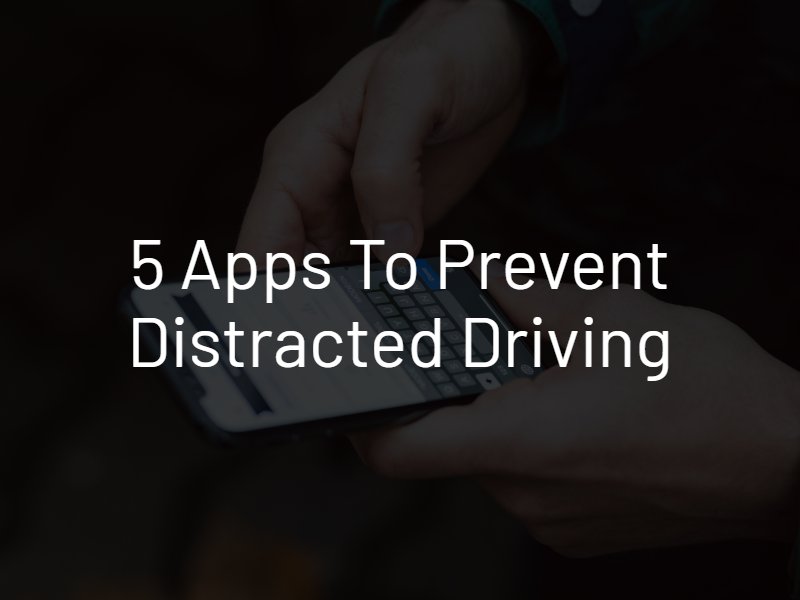 Drive Smart
If you are looking for a free app that can track your driving habits, give you performance reports and provide safety-related savings to encourage you to ban distracted driving, try Drive Smart. This top-rated app focuses on all-around safe driving habits rather than cellphone use alone. It can change the way you drive, bringing your attention to common issues that could be dangerous, such as driving while distracted, slamming on the brakes and speeding. It will track your driving metrics to allow you to see what needs improvement in your driving habits. Then, it gives you benefits for being a safe driver by connecting you to organizations that offer rewards.
Drivemode
Drivemode focuses more on stopping cellphone use behind the wheel than safer driving overall. This app changes the way your cellphone works to enable safer connected driving in your vehicle. It makes common cellphone commands simpler to keep your visual, cognitive and manual attention on the road more while you navigate things such as maps, phone calls and music apps.
Drivemode creates a straightforward, streamlined interface on your cellphone so you can safely access favorite applications using hands-free technology such as voice commands. If you need to touch your phone, the app creates larger buttons to make it easier while you focus on driving. It also has features such as single taps and broad swipes to make cellphone control easy while you drive. It works with common apps such as Google Maps, Waze, Spotify, Google Play Music, SMS, Facebook Messenger, WhatsApp, Slack and Google Now.
True Motion Family
Distracted driving is especially common among teens and inexperienced drivers. Teens may not yet recognize the dangers of texting and driving, or feel confident enough using a cellphone to believe they can do safely while driving. They are less experienced and often more reckless than adult drivers. One family-oriented app that could change the way teens drive is True Motion Family. It captures the driving skills and habits of your entire family and can send parents alerts. True Motion Family enables you to track your family members' whereabouts while they drive, as well as give you specific information about their driving – including if they used their phones in transit. Your teen might drive safer if he or she knows you are watching.
LifeSaver
The LifeSaver app also encourages safe driving by discouraging driver distraction. It aims to change the distracted driving culture by automatically blocking cellphone use while the user is driving. The app can detect driving and lock certain cellphone features that may be dangerous, such as text messaging and making phone calls (other than for emergencies). It is a popular app for families as well as fleets, such as commercial truck driving enterprises, to ensure better behind-the-wheel safety.
Down for the Count
Down for the Count is an app that provides incentives for drivers to improve their safety on the road. It lets users create safe-driving campaigns with goals, such as 5 to 25 hours of safe driving time. Once they reach the goal, they receive the incentives, such as $25 gift cards. Most sponsors are parents or family members who wish to encourage their teen drivers to put their phones down behind the wheel. This app can increase the odds of teens and others driving safely by giving them incentives for doing so.
If you've been in a serious accident caused by distracted driving, contact an Omaha car accident lawyer.